Displaying present location in the site.
NEC Storage Virtual Volume
Policy-based provisioning
On the basis of SLA for service operations, the server administrator can allocate storage that agrees with the requirements (performance level, and others) according to the policies by using management software (including vCenter and SSC).
As accessible VVOLs are automatically created by generating virtual machines, operations to set up storage are no more required.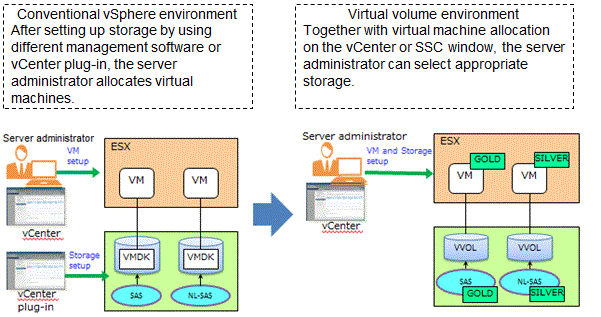 Virtual machine backup and restore
Backup and restore operations using the replication function of storage (DDR) are possible on a virtual machine basis.
VM-based backup and restore
Disruptive backup
Non-disruptive backup
The backup volume of the storage's replication function (RV) is automatically generated when you select Backup in the policy definition for more simplified setup of backup environment.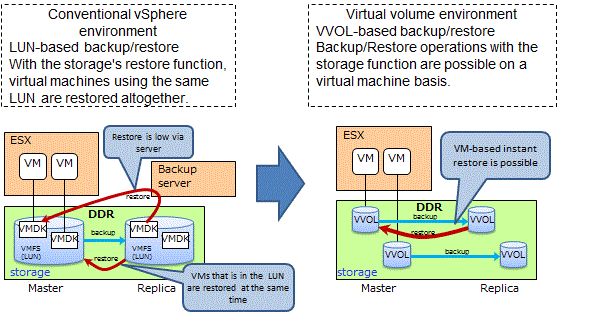 Snapshot creation and restore of virtual machines have become available using the storage function from VMware (vCenter) without burdening service operations.
Snapshot creation and restore are possible on a virtual machine basis.
Snapshot is available with the reduction of load on servers and without impacting on service operations.
Snapshot creation (using VMwareTools) is possible without stopping service operations.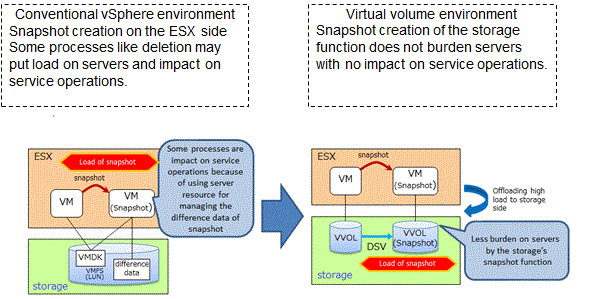 Preferentially allocating storage resources has become possible according to the importance and SLA on virtual machines.
I/O flow control settings (upper and lower limits) according to SLA on virtual machines
L2 cache allocation (ON/OFF) according to SLA on virtual machines
Appropriate device allocation (SSD, SAS, and NL-SAS) according to SLA on virtual machines