MasterScope SystemManager
Server Management Software "MasterScope SystemManager"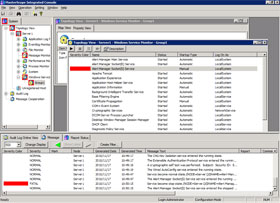 MasterScope SystemManager is a server management product for the management of server configuration, failures, and performance information, supporting multi-platform environments.

SystemManager helps server systems construct each job separately and thus provide a fragmented method of management; you can plan on optimal, equalized operations with centralized monitoring.
Have you encountered these problems?
Missing warnings and errors due to unsuccessful monitoring
Starting with monitoring functions that cover log, performance, and process monitoring, MasterScope SystemManager is also equipped with notification functions using mail and alarm lights. In this way failures are discovered at an early stage for a faster and quicker initial response.
Managing multiple platforms is costly
MasterScope SystemManager can be used to manage the failures, configurations, and performance information of multiple multi-vendor, multiplatform servers from a single screen. SystemManager provides a complete set of features necessary to understand the status of servers, significantly decreases management-related workloads.
System lacks extensibility
Since all MasterScope products can be managed centrally from an integrated GUI, features can be smoothly extended, including the addition of step-by-step monitoring requirements for server, network, and application management.
It is difficult to make changes to settings and manipulations, and to successfully use tools
Does your current management product have unintuitive tools that take time to learn how to manipulate and require difficult scripts to make changes to settings? MasterScope System Manager was designed around concepts in human engineering so that changing settings and manipulating devices is simple.