Displaying present location in the site.
MasterScope Network Manager
Network Operations Management Software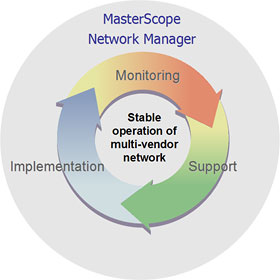 MasterScope Network Manager is operations management software for managing multi-vendor networks. In addition to managing configuration, troubleshooting, and performance of a network, Network Manager fully supports the many tasks involved in network management such as required backing up of device configuration files and software version updates.

Network Manager offers comprehensive and flexible support for large to small scale networks to achieve stable network operation and optimal operational efficiency.
Have you encountered these problems?
With the current management, it is difficult to provide support for a complex and multi-vendor network
With the power of MasterScope you can manage large to small scale multi-vendor networks centrally and visually. You will have a clear view of your network's configuration, hence addressing failure root cause, and detecting abnormal traffic status.
Cannot see the warning signs of network errors
Have you ever first realized that there is an error only after receiving a complaint from a user? Use MasterScope Network Manager and through threshold monitoring and performance management, you will keep track on the load status of devices, so you can prevent serious problems before they even develop.
Once an error has been detected, notification takes time
You can detect many types of errors found on networks through regular monitoring of status, SNMP traps, and SYSLOG of multi-vendor devices. Administrators are notified at once when an error is detected via e-mail, alarm light, command execution, or SNMP trap forwarding.
Maintenance procedures are complex and wasteful
MasterScope Network Manager contains many features so you can centralize and reduce work that was once dispersed throughout the system, including the backup and generation management of configuration files, and the batch updating of configuration files and software.