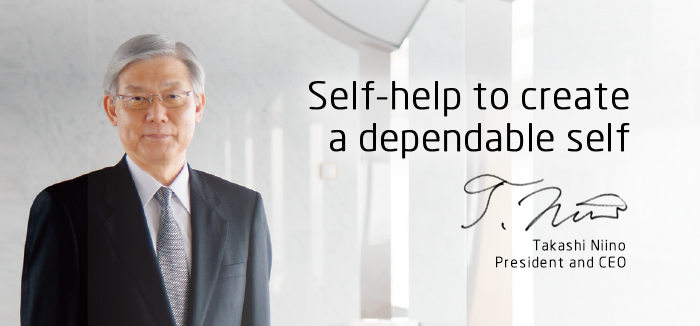 To Our Stakeholders
At NEC, our greatest strengths include our superior Information and Communication Technology (ICT) assets, cultivated over a history spanning 117 years, and our ability to integrate and combine these and deliver them to our customers. Making the best use of these strengths, we endeavor to provide social value for our customers as well as for people in countries and regions across the world, in order to establish abundant societies and lifestyles, and bright futures full of hope. In 2014, we sought to embody this mission through our corporate brand statement "Orchestrating a brighter world," devoting our energies to delivering "Solutions for Society" and addressing seven themes on the creation of social value, thus clarifying the future direction for NEC.
As a Social Value Innovator, and to continue creating value for our customers into the future, each of us at NEC needs to demonstrate the spirit of self-help, displaying the appropriate initiative, thought, and behavior to meet the expectations of society and customers. In this process, we will continue to engage in dialog with a variety of stakeholders and build relationships of trust. With these principles established as part of our corporate culture, constructing a business model that allows us to continue to create value is essential.
Based on my strong belief that in managing the NEC group we should practice "Self-help to create a dependable self," I hope we can establish an NEC that continues to create value for the next 100 years and beyond.
July 2016