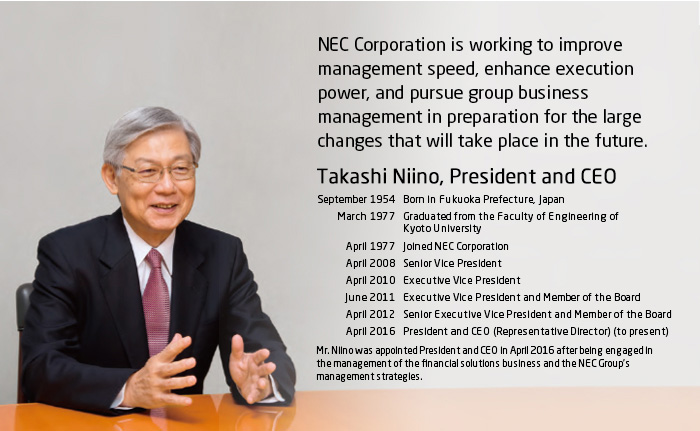 Introduction
Ever since its establishment in 1899, NEC has strived to maintain high ethical standards, create products and services that provide value to our customers, and become a company trusted and chosen by all of its stakeholders, including customers, under our motto of "Better Products, Better Services." This philosophy is alive and well today as a part of The NEC Way, a cohesive framework that outlines the NEC Group' s management practices and operations such as the NEC Group Corporate Philosophy and NEC Group Vision. By implementing The NEC Way we ensure continual development of the NEC Group and contribute to a sustainable society by working to create social value under the brand message, "Orchestrating a brighter world."
NEC is working to realize "an information society friendly to humans and the earth" as asserted in the NEC Group Vision, based on NEC' s Corporate Philosophy. With the belief that NEC, as an enterprise, must contribute to the well-being of society, everyone at NEC values ethics and is committed to meeting compliance standards in daily business operations by practicing the NEC Group Core Values. In doing so, the NEC Group aims to solve social and environmental issues that affect people' s lives.
In 2005, NEC became a signatory to the United Nations Global Compact (UNGC). Based on this commitment, NEC is promoting corporate business activities in compliance with the ten principles in the areas of human rights, labor, the environment, and anti-corruption based on the UNGC framework. NEC is working to solve social issues by providing value in the four areas of safety, security, efficiency and equality. This is aimed at creating a sustainable society and making contributions to building a peaceful and just society, which is the stated goal of "Transforming Our World: the 2030 Agenda for Sustainable Development" (SDGs*) adopted by the United Nations in 2015.
* SDGs: Sustainable Development Goals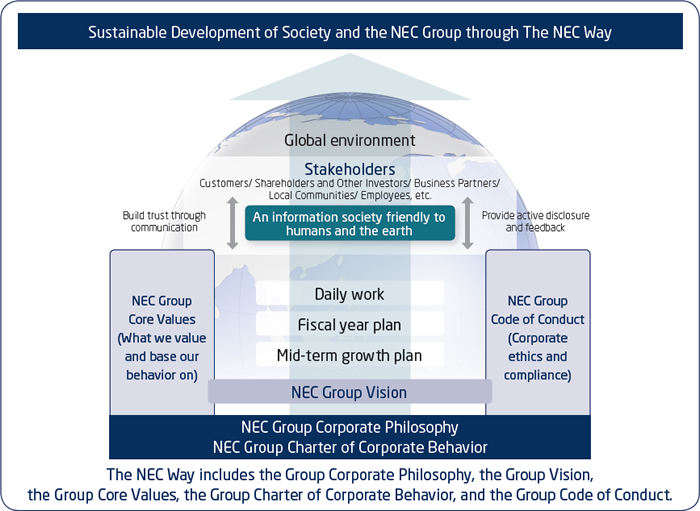 Review of Mid-term Management Plan 2015
The Mid-term Management Plan 2015, announced in April 2013 as a three-year plan up to the fiscal year ended March 31, 2016 (the fiscal year under review), calls for NEC to further strengthen its four focus businesses of Big Data, Cloud, Safety/Cyber Security, and SDN (Software-Defined Networking), given the expected decline in our existing businesses in Japan. The other major goal of this plan is to create new businesses primarily in international markets. Prior to the previous fiscal year, our profits exceeded the targets in the plan, underpinned by demand in major public infrastructure replacements mainly in Japan. However, in the fiscal year under review, we fell largely short of our targets in terms of net sales and operating income.
Comparing the operating income target and results for the fiscal year under review shows a major gap between the two for the telecom carrier business and smart energy business. I believe this is because both businesses had excessive expectations for their markets and lacked the execution power to achieve our targets.
Meanwhile, looking at the results from the previous four years, we achieved operating income of ¥100 billion or higher, and net income grew slowly but steadily. Additionally, we lowered our debt-equity ratio (on a net basis) steadily, which I believe shows the strengthening of our profitability and the progression of our financial strength.
Our progress under the three management policies cited in the Mid-term Management Plan 2015 is as follows. In terms of focusing on "Solutions for Society," we achieved solid results in strengthening the core assets in our four focus businesses and restructuring our business portfolio in the consumer business. Nevertheless, we are left with the challenge of having to make up for delays in launching new businesses, including transforming our business model. In terms of focusing on Asia and promotion of "locally-led" businesses, we accumulated positive results in Asia and Latin America, mainly in the safety business, while our international operations also grew steadily, but both sales and operating income fell short of the target.
Finally, in terms of stabilizing the financial foundation, we achieved a sound balance sheet and increased the dividend, but again we fell short of our goals for free cash flows and return on equity (ROE).

NEC' s Challenges
We set out three years ago to devote our energies to "Solutions for Society," and our goal of finding solutions to social issues through ICT as a social value innovator remains the same today. I know that NEC has the necessary technical and human assets to create value in this growth field. However, one of the reasons we did not achieve our targets was that measures to address various risks were not included in our action plans in the essential planning stage of the PDCA cycle. Another challenge was that we were unable to create new value fast enough to stay ahead of the rapid changes in the market.
Management Policy
A commitment to thorough enforcement of compliance and the evolution of corporate culture represent the very foundation of business operations and, for this reason, we are working to thoroughly improve and reinforce these areas as a top priority.
First, from the perspective of improving management speed, we will clarify decision making for the corporate, business unit and business division levels, and also quickly implement the PDCA cycle to achieve continual improvements. In order to accelerate the pace of execution after decisions are made, we will ensure thorough discussion takes place and that business is executed with alignment among all those involved. Also, in the arena of new value creation, it is essential that our organizations are closely intertwined both vertically and horizontally and work closely together. In order to do this, from the perspective of enhancing execution power, firstly we will clarify each person' s authority and responsibility in new business creation. Also, we will always consider potential partnerships to speed up execution. Until now, NEC' s culture has been strongly inclined to go it alone, believing that our own technologies and know-how would be enough. However, we will now work to change this mindset.
Finally, in terms of promoting corporate group business management, we will work to optimize the entire NEC Group. Currently, the NEC Group comprises more than 200 affiliated companies employing some 100,000 employees. Through the work style transformation by each employee and the creation of a more open and collaborative culture as "One NEC," we will continue working on optimizing the entire NEC Group to respond to the constantly changing world of tomorrow.