Teamwork Makes The Dream Work (Part 1)


NEC recently received The Commendation for Science and Technology by the Minister of Education, Culture, Sports, Science and Technology "Awards for Science and Technology" (Reiwa 4; 2022) for its face recognition technology, which has also been ranked number one in the world.

The five recipients of this award are Hitoshi Imaoka (age 52), an NEC Fellow who has led the way for NEC in face recognition, and NEC Biometrics Research Laboratories' Principal Researcher Akihiro Hayasaka (age 39), Principal Researcher Yusuke Morishita (age 38), Principal Researcher Koichi Takahashi (age 34), and Senior Research Architect Hiroshi Hashimoto (age 33). In recent years, this team of young researchers have been driving the growth of NEC's face recognition technology.
From 70% accuracy to world's number one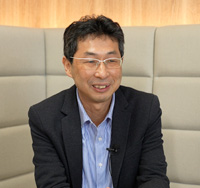 This award was presented to the team for its achievements in developing a highly-accurate face recognition technology that contributes to the safety and security of the world.
But what exactly is it that makes NEC's face recognition technology so remarkable?

The September 11 terrorist attacks on the United States in 2001 led to a dramatic increase in demand for facial recognition, most notably the introduction of biometric passports. Now, two decades later, face recognition technology is not only used at airports but also in various other situations, including smartphone personal authentication and access control at events.

NEC has been an active player in bringing these technologies to the world, and even developing new and groundbreaking use cases.

According to Hitoshi Imaoka, "NEC's strength lies in the ability of its technology to adapt to both changes over time and face orientation."

NEC has made continuous efforts to improve both the accuracy and speed of its face recognition technology, resulting in it being ranked first in the world five times in benchmark tests conducted by the U.S. National Institute of Standards and Technology (NIST) for face recognition technology. Today, NEC's face recognition technology is used in 45 countries around the world, and it is Mr. Imaoka who has blazed the trail.

Mr. Imaoka shares, "I first became involved in face recognition research at NEC's Biometrics Research Laboratories in 2002. Accuracy was approximately 70% at the time, and at one point the Biometrics Research Laboratories was comprised of just two members. Fast forward to today—we now have an error rate of less than 1%, which is outstanding compared to our competitors. This award is the culmination of those times and the hardships we have experienced along the way. I am delighted that the results of my many years of research have been recognized, and that I was able to receive this award together with the four other team members."
Mistakes cannot be allowed in the business world, the same principle applies for face detection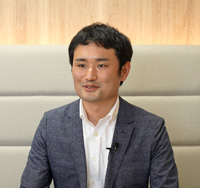 Young researchers are being nurtured under NEC's face of face recognition—Hitoshi Imaoka. Aside from Mr. Imaoka, the other award recipients are all in their thirties. NEC's strength in face recognition can be better understood by looking at the accomplishments of these four individuals.

The first step in face recognition is face detection, which is used to identify where the face is in the image. This is the area for which Mr. Morishita is in charge. When joining NEC in 2008, Mr. Morishita was appointed as a member of the face recognition benchmark project team. He has remained involved in the face recognition research for the more than ten years since then.

Mr. Morishita reflects, saying, "Back in my university days, it was said that face recognition technology was not cutting-edge research. However, once I joined NEC, I realized that there were still issues to tackle before it could be utilized in the real world.

Even back then, NEC's face detection rate was 99%. Yet, if you test 10 million images with an error rate of 1%, you will make errors on 100,000 of the images. This is simply not acceptable in the business world. 'Mistakes cannot be allowed when it comes to detection.' These are the words I clung to as I engaged in daily efforts aimed at improvement. Our error rate is currently at 0.00000……%, which is nearly zero. Receiving this award makes me feel as if I have contributed as a member of the team, and that makes me very happy."

(Part 2 – To be continued)