Chat-type emergency consultations
― The future emergency medical service: AI supports humans ―

Saitama Prefecture Government has been advancing the expansion of an emergency phone consultation service in cooperation with Saitama Medical Association and Saitama Nursing Association. It aims at ensuring the safety and security of prefectural residents and optimizing the availability of emergency medical services. In order to further improve the convenience of the service and respond to a rapid increase in the number of consultations, Saitama Prefecture has started the development of Saitama AI Emergency Consultation service utilizing NEC's state-of-the-art AI technology lineups, NEC the WISE, in collaboration with the Saitama Medical Association. After a trial operation from April 19 to May 31, 2019, the Saitama AI Emergency Consultation service goes to full operation on July 19, 2019. We talked with two doctors who have been playing key roles in this project, over the purposes, issues, and overview of the service.
AI Emergency Consultation has started in Saitama Prefecture in July 2019
When suddenly sick at midnight, should one call an ambulance immediately, or wait until morning to see a doctor? — In case of a sudden illness or injury, many people are not sure what they should do and feel anxiety.
Given the circumstances, Emergency Telephone Consultation service for Children (#8000) started in 2004 under the initiative of the Ministry of Health, Labour and Welfare. Saitama Prefecture has started Emergency Phone Consultation service for Children in 2007, and for Adults in 2014, in cooperation with Saitama Medical Association and Saitama Nursing Association. In 2017, Saitama Prefecture has lengthened its consultation services to 24 hours and introduced the national access number *7119. The Ministry of Internal Affairs and Communications and the Fire and Disaster Management Agency have promoted the use of this number by the public.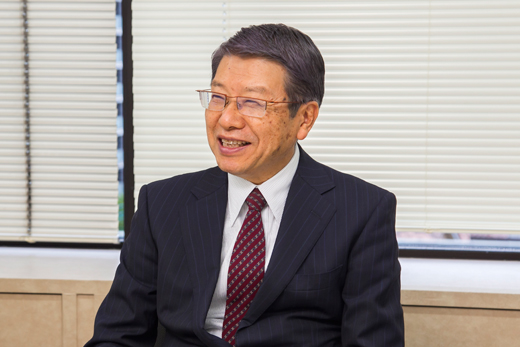 "Most of emergency phone consultations are for a minor ailment. The analysis showed that serious cases with an immediate need for a doctor or an ambulance account for approximately 20 percent of the total cases, while the remaining 80 percent do not need immediate medical service within the day. Recently, emergency medical sites have seen increasing calls for ambulances which places a burden on emergency resources. The Emergency Phone Consultation service will guide patients with a sudden illness or injury to the appropriate help. This enables medical workers to focus their attention on the most serious patients. In terms of reducing the burden on emergency medical staff through promoting the optimized hospital visits, the Emergency Phone Consultation service is critically important," says Takashi Yuzawa, the vice president of Saitama Medical Association, who has played a central role in establishing an emergency consultation system.

At present, Saitama Prefecture is working toward the introduction of an emergency consultation tool with AI aiming at further enhancing the emergency consultation service. Saitama Prefecture has developed a system using AI and chatbots in cooperation with the experts at the Saitama Medical Association, Saitama Nursing Association, and NEC. Saitama AI Emergency Consultation service is planned to go into full-scale operation on July 19, 2019.

The word "Chatbot", coined from combining "chat" and "bot (an abbreviation of a robot) refers to an automatic conversation program. In this plan, in addition to the existing emergency phone consultations, an automatic response service with AI chatbots is provided to allow chat-type consultations. It aims at expanding the emergency consultation service and optimizing emergency medical care.
Alleviating the burden of both patients and medical staff
What prompted Saitama Prefecture to start developing AI emergency consultations was the need to respond to the smartphone generation.

"With the use of emergency consultations expanding, we see more young people hesitating an inquiry by telephone. Especially in urban areas, the number of younger generations has been increasing, and mothers who use the emergency consultation service for children are smartphone savvy. Some of them prefer to text rather than talk on the phone. Also, there are people who have hearing difficulties. We thought that a new technology, if it contributes to the improvement of the services for prefectural citizens, should be utilized. This is another reason for us to start AI chatbot," said Yuzawa.

Given this background, Saitama Prefecture has started considering to build the emergency consultation system with AI chatbots. With a new vision of "Shift to Smart Society" mapped out by Kiyoshi Ueda, the governor of Saitama Prefecture, the plan quickly became more concrete. In the end a proposal from NEC has been adopted and the project of developing Saitama AI Emergency Consultation service has started in cooperation with the experts in Saitama Medical Association and Saitama Nursing Association.

The number of requests for Saitama Emergency Phone Consultation service has been increasing year by year. Now it has amounted to 150,000 calls a year, and many calls are made between 5 pm and 10 pm when hospitals are closed, making it difficult to establish phone call connections. In response to these situations, Saitama Prefecture has increased the number of phone lines, but consultants having medical expertise cannot not be added easily. Being easily accessible from multiple people simultaneously, Saitama AI Emergency Consultation service was expected to eliminate difficulties in connection. Prior to full-scale operation, the trial period was set from April 19 to May 31, 2019. During this period, there were approximately 100 cases of consultations a day, and the Prefecture received positive comments on the value of the service, including "more handy than telephone," "very useful," and "consultation according to symptoms relieved insecurity."
Emergency consultation service easily accessible via PCs and smartphones
Not only medical workers but also prefectural residents have expectations of AI Emergency Consultation service. Its flow is as below:

First, access the link of Saitama AI Emergency Consultation service on the homepage of Saitama Prefecture and enter the basic information of the patient. Next, enter the symptom freely. If "I feel dizzy" is entered, AI grasps the meaning of the entry and extracts possible symptoms such as "heatstroke" or "hypertension" from the symptom table (108 patterns) created under the supervision of the doctors.
According to the scenarios supervised by the doctors, the symptom is displayed in five levels: (1) Red―Call an ambulance immediately, (2) Orange―See a doctor immediately, (3) Yellow―See a doctor early, (4) Green―See a doctor during the normal office hours, and (5) White―No hospital visit is necessary.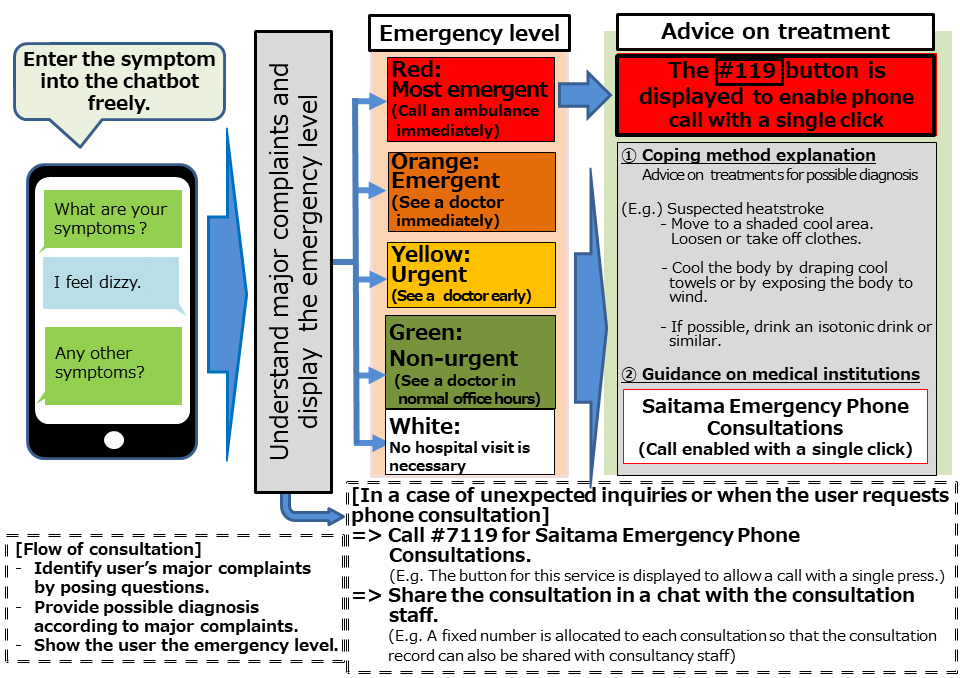 If the emergency level is judged as (1), the #119 button appears in the screen to enable the user to call an ambulance with a single press. In cases of (2) to (5), advice is offered according to symptoms: for example, cooling one's neck, armpits, and groin area with ice packs which are available at home. If the user wants to speak with the consultation staff directly, pressing the Emergency Phone Consultation button enables a phone call to the staff sharing the communication record until then.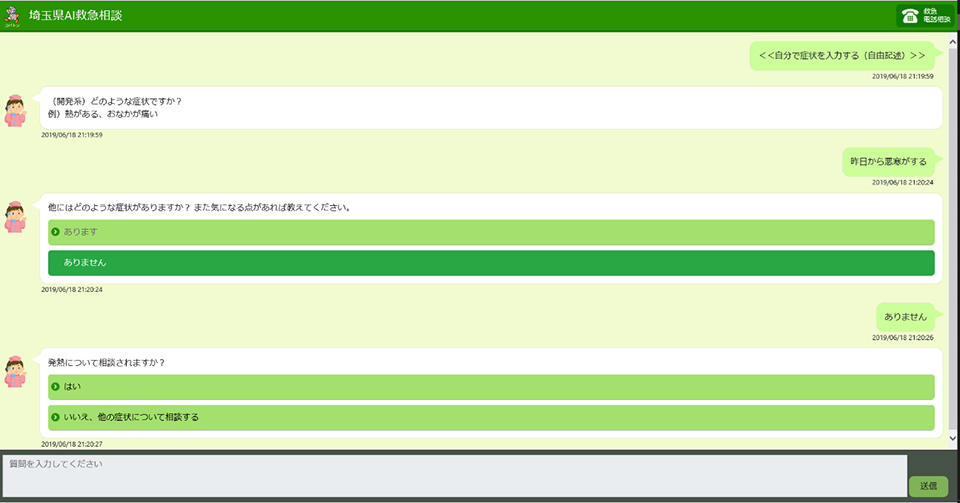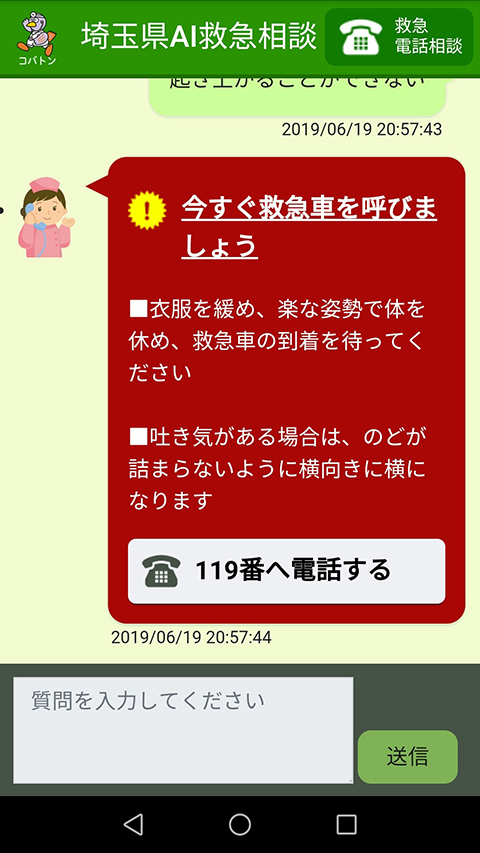 The AI Emergency Consultation service thus comes in handy to eliminate residents' insecurity and encourages an appropriate use of an ambulance. The main focus of this service is the optimization of emergency medical services, by ensuring that serious patients are immediately transported and those with mild illness are appropriately advised.
Overcoming challenges to automate emergency consultations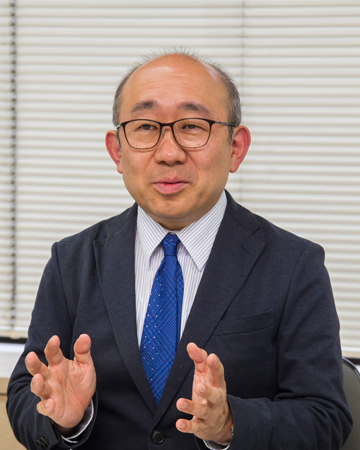 There existed several issues to be solved in automating emergency consultations.

"I thought this was a new challenge and would contribute to the progress of emergency medical services in Saitama Prefecture. The most concerning was, how to link major complaints (freely entered) to the symptom in the symptom table (108 patterns). Making mistakes will lead to a serious consequence. We paid due consideration to this in its supervision. Another important point was to make the scenarios of AI consultations closer to those of phone consultations as much as possible. We conducted a hearing with the nurses in charge of emergency phone consultation service, and sought for advice from medical care experts in the Japanese Society for Emergency Medicine, Jichi Medical University Saitama Medical Center, and Saitama Medical Association," says Takashi Moriya, a professor of Department of Emergency and Critical Care Medicine, Jichi Medical University Saitama Medical Center, who supervised the AI Emergency Consultation service.

These issues have been overcome by AI technologies from NEC.

Normally, fluctuations in expressions are a stumbling block for automating the linking between main complaints and symptoms. For example, the symptom of emesis can be expressed by various expressions such as "feel sick," "feel nauseous," or "vomit." In order to collect synonyms from different expressions and extract relevant symptom accurately from the symptom table, fluctuations in expressions need to be absorbed.

To solve these issues, NEC's Text Entailment Recognition Technology, which is one of the cutting-edge AI technologies "NEC the WISE," has been introduced to the system. This technology ranked first in a benchmark test by the National Institute of Standards and Technology (NIST), in determining whether two sentences have the same meaning. This world's No. 1 precision recognition technology has supported an ambitious experiment of "automation of emergency consultations."

The evaluation and verification of the system have currently been proceeded based on the feedback from the users collected during the trial period of AI Emergency Consultations.

"The system still needs to be fine-tuned. However, an appropriate support can be provided to a case where several symptoms exist (e.g. headache and feverish)," says Dr. Moriya.
Aiming at "AI Concierge" with automatic inference technology
NEC is currently planning voice input for AI chatbots and foreign language compatibility to enable people with impaired hearing and foreign residents to use emergency consultations.
Takeshi Kanbara at NEC talks about future visions as below:
"NEC seeks further evolution to AI Concierge with AI technologies, which is a tool that grasps the intent of inquiries and helps find answers. In fact, even with current AI technologies, it is difficult to understand speaker's intentions. To overcome this, NEC is working toward the development of automatic inference technology, which infers the intention that lies behind explicit statements. With this technology, we would like to assist medical institutions and improve services for all prefectural residents."

If AI Emergency Consultations developed by Saitama Prefecture gets on track, the movement towards the utilization of AI for emergency treatment services will spread in Japan. Creating the future for emergency medical care through AI utilization ― Dr. Moriya expressed his thoughts regarding its issues and possibilities at the end of the talk as follows:

"Current emergency medical services are offered based on the communication between people. The staff working at emergency consultation services, in ambulances, or in specialized medical care departments perform a huge number of tasks including listening to patients' clinical complaints and transferring such information to the next site. If sharing of patients' information is enhanced with digitalization, medical workers can put more focus on the examinations and treatments. We hope AI assumes some of the roles of emergency medical care and helps find severely ill patients who need immediate transportation."