Full Session Summary from the Wall Street Journal's "Japan and the U.S. Innovation and the Future of Connectivity" Partner Event

Introduction: A Distinguished Panel Met to Discuss Key Technologies of the Future and their Anticipated Impact on Society
On December 8, 2020, a distinguished panel of guests met online to participate in a discussion titled "Japan and the U.S.: Innovation and the Future of Connectivity" as part of the Wall Street Journal's CEO Council series to discuss the future of Digital Transformation. Attendees included incoming NEC CEO Mr. Takayuki Morita, former US Ambassador to Japan Ms. Caroline Kennedy, professor at Keio University Dr. Jun Murai, known as "the father of the Japanese Internet" and President and Chief Executive Officer, NTT Research, Inc Mr. Kazuhiro Gomi. The panel was moderated by Chief Executive Officer at News Corporation Mr. Robert Thomson.

Despite coming from a wide variety of backgrounds, the panel unanimously agreed that digital technologies are becoming increasingly critical in this era, especially in the wake of the COVID-19 pandemic. Within the session several key themes were discussed, with an emphasis on how new technologies such as 5G and 6G, biometrics, AI, and other technologies are helping to tackle some of the greatest challenges facing society. There was also considerable emphasis placed on how the public and private sectors need to adopt more open and collaborative working relationships going forward to enable these new technologies to create a more efficient, sustainable, and secure societies.
How is Japan Preparing for the Digital Era?
Dr. Murai, who is a longstanding advisor to the Japanese government, explained that he has been working to update Japan's national IT strategy and vision, and that the onset of COVID-19 was a huge reality check for the country. On one hand, Japan's ICT infrastructure including fiber optic and mobile connectivity was able to withstand the pressure of increased data traffic as many people started to work remotely. However, COVID-19 also clearly highlighted that the government has a low level of digitization. As a result, Japan will put increased emphasis on digital services going forward, which could even include creating a new governmental body to promote Digital Transformation.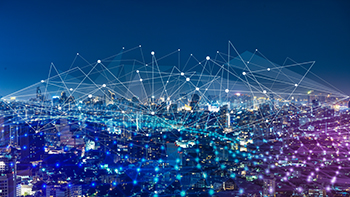 Dr. Murai also pointed out that in Japan, technologies like 4G and FTTH reach nearly 100 percent of the population, but high-speed coverage only covers 60 percent of the land area, thus increasing geographical coverage should be a key directive. He also believes that quantum computing is bound to be a key technology in the coming years, and devoting resources into further researching the field is much needed.

Mr. Morita believes that the coverage issue will be resolved in the coming years, perhaps via satellite technology, and once this coverage metric is attained more technologies can be more widely deployed, including as AI and IoT sensors. The combination of all these technologies will enable digital twins to become widespread. These digital twins will collect real time information and can be used to simulate and predict future behavior of machines and processes, allowing for supply and demand calculations to be optimized. He also listed virtual reality, remote control of machinery, and better predictive analytics as technologies that are helping to generate efficiencies across society. He believes that all of these new ICT solutions will help to achieve Japanese Prime Minister Suga's goal to make Japan carbon neutral by 2050.
Preparing for 5G Connectivity and Beyond
Mr. Gomi of NTT Research explained how his company is currently deeply involved with the development of 5G technology and has even started initial efforts to create 6G technology which is expected to debut roughly ten years from today. He thinks that the overall objective of 6G technology will be to enhance the connectivity to humans and machines that 5G technology is delivering, hence even more devices will be able to be connected at a faster speed with a quicker response time. But there are even more "wild" ideas surrounding future 6G networks including coverage expansion, as these networks might deliver connectivity to very remote places such as under the sea and in outer space to collect scientific data even in these locales, and 6G might be the solution which enables this.

One question for the panel asked by the audience was regarding the 5G networks currently being deployed for new use cases such as connected cars and drone delivery, and how to ensure that networks are robust enough to handle these new services. Dr. Murai shared that in Japan there has been a higher degree of cooperation in the market with respect to 5G which was not seen when deploying previous generations of mobile technology. There are now active partnerships between the public and private sectors, for example the government is allowing 5G base stations to be installed on streetlights, which will be used for services such as self-driving cars and pedestrian safety monitoring.

Mr. Morita explained that companies will need to perform better in terms of expanding coverage in a cost-effective manner as well. The type of 5G currently being deployed is only the very basic type, which focuses on faster downlink speeds, but as telcos upgrade their core networks and start using millimeter wave frequencies they will be able to enjoy the full benefits of 5G network services. Many current IoT devices are too expensive for mass adoption so more work needs to be done on this front, and there also needs to be more convergence in computing for end-to-end services such as self-driving cars as for example edge computing, server-based computing and cloud computing all need to work seamlessly in order for a self-driving car to operate safely. Hence he thinks that significantly more optimization is needed across the sector to enable these next generation services.

In addition, he highlighted that there are currently two main themes, security and openness, among technology companies in Japan. Of course, security is a top priority for the industry as a whole and will remain so especially as more sensitive data moves into the cloud and protecting this data will always remain extremely important. For the theme of openness he referred Open RAN as an example of the industry moving in this direction, as NEC is working with NTT and several other partners to develop open standards for mobile network infrastructure. He believes this is critical as it creates a competitive environment which accelerates innovation in the sector and will eventually create a new ecosystem.
Which Technologies Will Have the Most Impact on Our Daily Lives Going Forward?
Mr. Gomi gave a prediction about what technology which is still relatively unknown which will have a major impact on our daily lives. He believes that quantum computing has a good chance of being one such technology, as quantum computers are expected to considerably exceed the capabilities of today's computers. In addition, under the right conditions, a quantum computer might be able to formulate a COVID-19 vaccine much faster that today's applied methods.

Mr. Morita also gave a prediction about which technologies will transform our daily lives in the future that biometric technology will have an increasing impact on society as it becomes increasingly ubiquitous and real-time. He explains that biometrics will enable individuals themselves to become "passwords" in that if a user gives consent, they will be able to do practically anything by only using their face as an ID token. The second big technology trend he named was AI. The world is currently suffering from a lack of data analysis and the rise of AI will allow the world to become increasingly automated and explainable, and hence AI technologies will become more widespread in a variety of new applications. The third key technology is quantum cryptography, which will deliver a new level of IT security to the extent that people will no longer need to worry about information security and hacking as it will be practically impossible to steal one's personal data. Mr. Morita concluded by saying that all three of these technologies are core focus areas for NEC's research and development efforts, and he looks forward to helping to deliver these new services to society in the coming years.
NEC Highlights Recent Accomplishments and Plans for the Future
Mr. Morita feels that new approaches to business will be needed in a post-COVID-19 world. He mentioned that there must be a greater emphasis on security as new services are deployed and believe that facial recognition technology will play an increasingly important role in digitalization by providing a touchless and unique ID and cited NEC's recent work with Delta Air Lines and Star Alliance as examples of how Digital Transformation can be enabled. NEC's capability has evolved to the extent that 10 billion individual faces can be distinguished in only one second, meaning that every single person in the world can be uniquely identified in real time. He confirmed that privacy and opt-in capability are key success factors for this technology and core features of NEC solutions.
In fact, the Star Alliance Biometrics launched in November, 2020 deploys opt-in and privacy control features so that users can select the range of use for their unique IDs.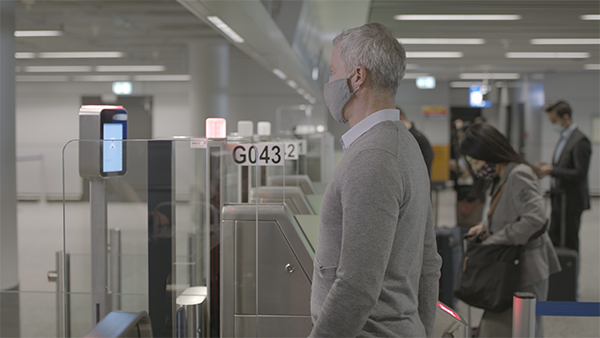 In this session, quantum computing was mentioned several times as a key technology which will have a very transformative effect on our daily lives going forward and NEC has been involved in researching and developing applications for quantum computing for many years. The actual mechanics of quantum computing are quite complicated, but in essence quantum computers use quantum bits or "qubits" as opposed to binary bits to process information. Quantum bits can therefore exist in several states at the same time as opposed to a 1 or a 0 used by standard computing. This means that processing time could be exponentially increased using quantum computers and quantum encryption would essentially be unhackable.

Recently NEC has partnered with some of the leading financial institutions in Japan to test quantum cryptography for use in securing financial transactions. Once quantum computers are commercialized, in theory it will be much easier to decode data using standard encryption methods, hence data will also need to use quantum encryption to ensure data safety and integrity. The tests will test the robustness of NEC's current solution and will aid in future product development efforts. NEC is also testing the potential use of quantum cryptography in the healthcare spaces. NEC partnered with several industry peers and healthcare institutions in Japan to quantumly encrypt 10,000 dummy medical records and test their transmission among institutions in terms of speed and data integrity. It is hoped that quantum cryptography will encourage medical institutions to increasingly store medical data in the cloud as they will no longer need to worry about securing very private healthcare information.

To watch the entire panel discussion please watch from here;