Digital Inclusion: Digital creates a brighter future for all
Global Digital Summit 2020 -5G and NEXT-
Tokyo, June 8, 2020
(organizer:Nikkei Inc.)

Driving New Normal Digital Transformation
While the impact of the 2007 global financial crisis and the March 2011 earthquake in Japan settled after a few years, the lightening spread of COVID-19 has triggered a fundamental shift in personal concerns, working practices, and social priorities, which will likely make the Post COVID-19 "New Normal" permanent. While encroaching infectious diseases and rapid global change has unnerved us all, it has also helped us all focus our mission and our methods. As a social value-creating company, we at NEC believe that, whatever the circumstances, people will always maximize their potential, and that the synergy of people and digital technology will always reap maximum benefit. However, that benefit must be inclusive and that's why NEC is now more determined than ever to use our IT, network, and AI expertise to help guide this new normal, and accelerate the digital transformation of companies, communities, and countries in such a way that will guarantee safe, secure, fair, and efficient living for all in a post-COVID world.

NEC has already leapt into action to alleviate public unease and the impact of COVID-19 by offering telework solutions for businesses and educational organizations. Our AI chatbots have attracted great interest since March and we have provided smartphone apps in countries such as New Zealand to visualize the health and location of users and ringfence infection.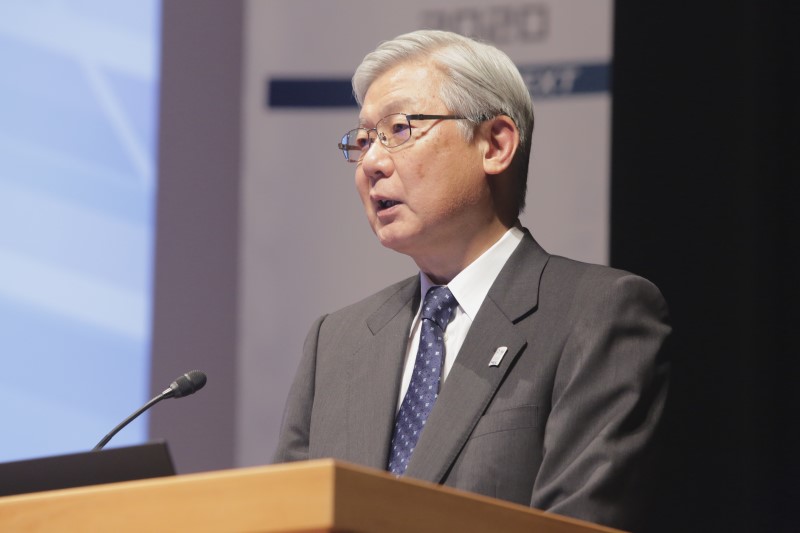 Changing Post COVID-19 Behavior and Values
The acute sense of danger felt by many during COVID-19 is likely to permanently influence behavior at both a personal and a societal level, and increase interest in other problems that could potentially threaten our safety, livelihoods, and lifestyles, such as future viruses or environmental issues.

On a personal level, this behavioral shift is being fueled by an increased readiness to work from home, a tendency to reprioritize existing services by, for example, valuing the "touchless" nature of cashless payments over their "efficiency," and a desire to reevaluate our ambitions and the way we live.

At a society level, the new priority will be to keep society moving under any circumstances considering both economic efficiency and business continuity. Instead of tackling labor shortages, future division of labor between machinery and people will focus on reducing physical contact, ensuring business continuity, and protecting the safety of people working in essential fields such as infrastructure, logistics, or medical care. Another top priority will be ensuring safe and equitable social, medical and educational services for all, anytime. COVID-19 has also emphasized the importance of understanding actual situations by collecting and visualizing various data in order to optimize resources.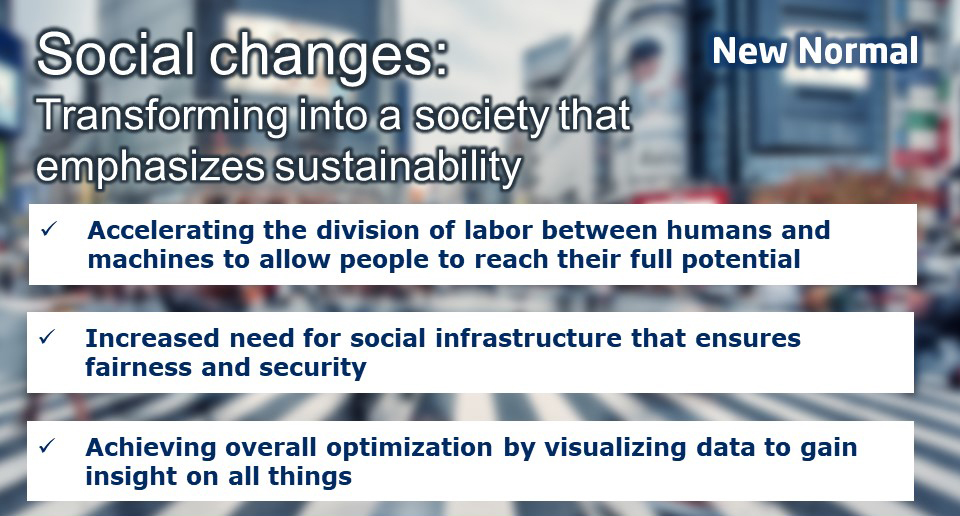 Connectivity and Personalization: The Key to New Normal Digital Transformation
Connectivity and personalization are vital to the development of inclusive digital power. In other words, the ability to instantly connect and distribute all kinds of data volumes and create meaningful individualized value from those data.
CONNECTIVITY: 5G/AI Infrastructure, Partnerships and Local 5G Networks
For more than 120 years, NEC has developed global communications technologies spanning satellites to submarine cables with the same motivation: to connect anyone, anytime, anywhere. Today, vast amounts of digital data move across borders, supported by high-capacity optical communication technology on submarine cables. Now, for the first time in the world, NEC will apply optical AI technology to achieve high-speed, low-power, low latency data transmission and help expand capacity.

With 5G coming online in Japan in 2020, NEC is looking to accelerate digital transformation by facilitating commercial services that take advantage of 5G networks offering high-density ultra-multi-connections and real-time ultra-low-latency communications. In addition to building 5G networks to connect equipment, data and people, NEC is also using its advanced AI/IoT technologies to derive data insights and support long-term network utilization for maximum value creation. At the same time, we are developing dedicated local 5G networks for companies and organizations that provide isolated, quality communications tailored to unique needs that can help realize innovative business ideas.

To help develop 5G infrastructure, NEC is currently working with Rakuten Mobile to co-create the world's first fully virtualized cloud-native mobile network, 5G open V-RAN. The network uses open-architecture and multi-vendor equipment for increased flexibility. It offers end-to-end virtualization that separates software and hardware for a higher-quality, lower-cost network. The standalone network format also maximizes 5G capacity and isolates application execution from other processes to minimize computer resource use. Having signed a 5G Strategic Technology Partnership on June 3, Rakuten and NEC are promoting new global social value creation.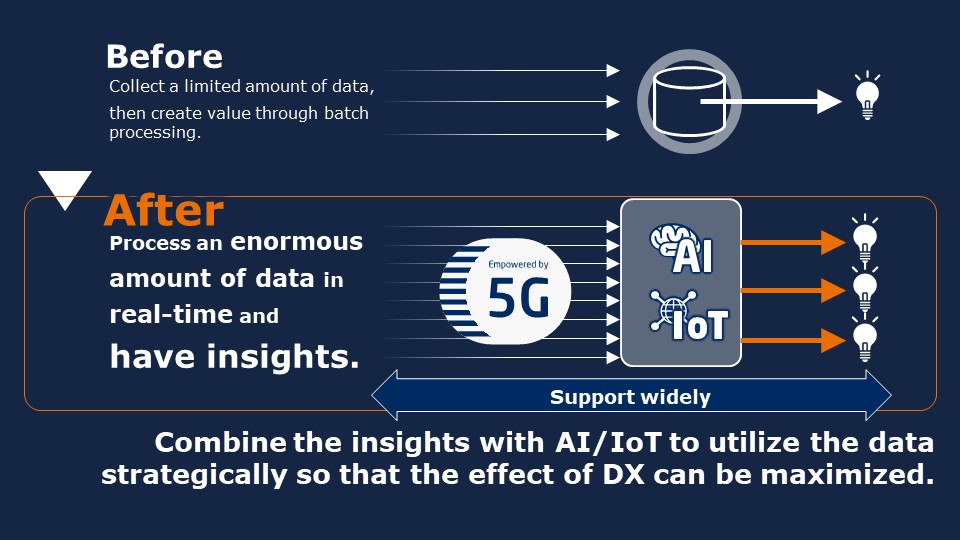 Local 5G networks in action:
Obayashi Corporation local 5G network facilitates autonomous operation of construction equipment using robot controls to improve productivity and safety on construction sites and complement workstyle reforms.
All Nippon Airways (ANA) local 5G network in the Group's comprehensive training center offers high speed, high capacity, low latency multi-connection capability. This world-first local 5G network collects and analyzes real-time data on posture, procedure, line of sight, emotional connection using IoT devices to provide customer service feedback. We intend to use terminals and simulators to develop further businesses and services with ANA that transcend conventional industry demarcations.
Konica Minolta local 5G network: Combining Konica Minolta's image IoT/AI technology, office equipment, medical devices, and other instruments with NEC's 5G and AI technologies, we aim to construct behavior analysis and responses to reduce staff workloads. We are also seeking to manage data to improve 5G-connected production lines, and to help achieve Sustainable Development Goals by building higher value-added industrial optical systems, medical devices, and office equipment.
PERSONALIZATION: World-leading Biometric Authentication & AI Analysis
5G will bring a myriad of new services, but those services will only offer true value if they are suit your conditions and preferences. That requires accurate identification of the individual and sophisticated analysis of his/her needs. NEC's proven world No.1* face recognition and other biometric identification technologies can accurately identify individuals from a large pool of people and data. On the analysis side, having pioneered AI technology for over 50 years, NEC has been working on explainable "white-box" AI to ensure individuals receive the best services in the most expedient way. White-box AI now forms the cornerstone of our AI business experience across multiple fields.
*

In benchmark tests conducted by the U.S. National Institute of Standards and Technology (NIST).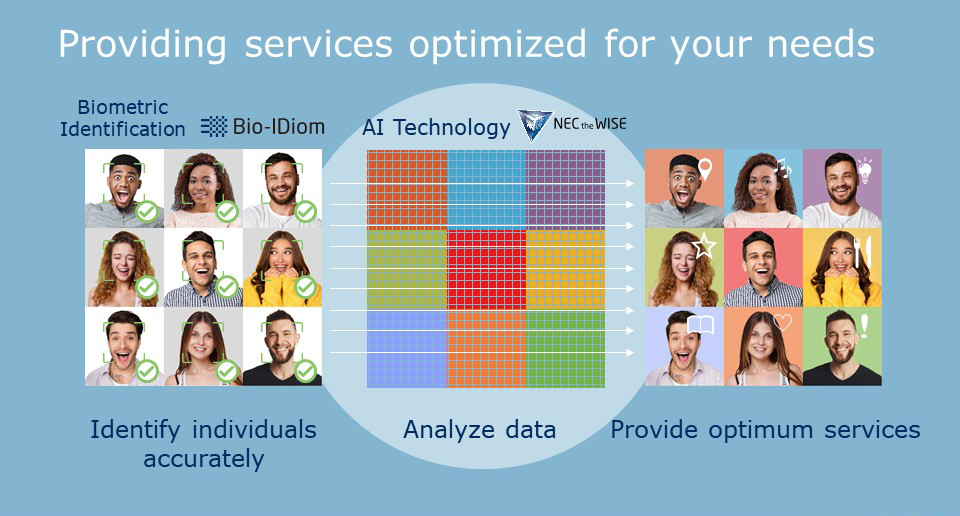 Already a world leader in face recognition and fingerprint authentication, NEC's is working on a Bio-IDiom suite of biometric authentication technologies using iris, voice, ear acoustic, and palmprint facilitates highly accurate, contactless identification. Right now, we are focusing on advanced face and iris identification technologies. In March, NEC began a demonstration using this technology at our Tokyo head office to accurately identify our employees when they walk into the office even when wearing masks. We aim to apply this technology at entrances to factories or medical sites where masks are required, and other contact-sensitive locations.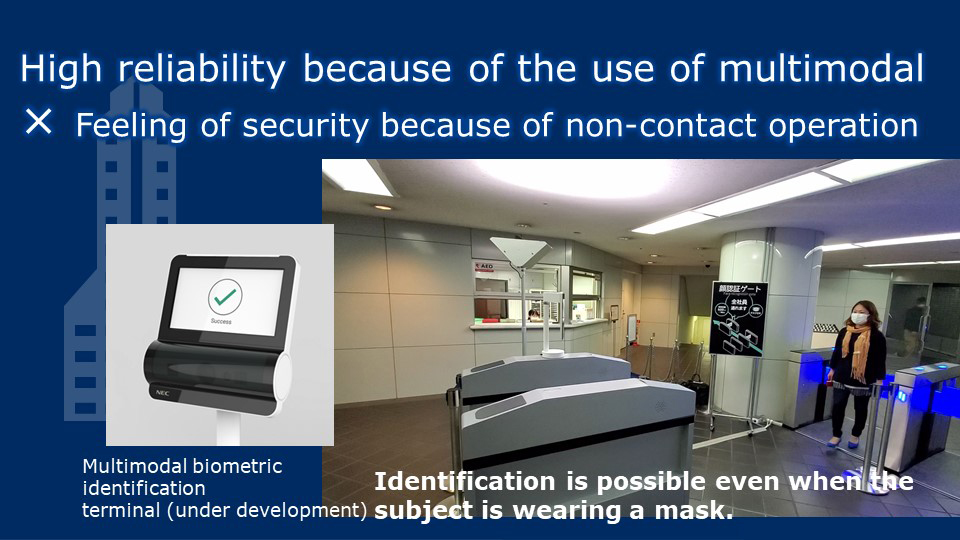 Authentication/AI technology in action:
NEC's unstaffed store in our head office uses Bio-IDiom authentication to confirm an individual's identity upon entering and deduct payment automatically for items taken out of the store. Removing cash registers and reducing instore contact or congestion optimizes customer and store safety.
India's national ID system, used by over one billion people, combines ultra-high-precision NEC multimodal biometric authentication technology (fingerprint, face, and iris) to prevent double registration or spoofing when accessing educational or social services. During COVID-19, the national ID has been used to deliver emergency cash support directly into the ID-linked bank accounts of poorer farmers across the nation within a week of the announcement.
Denmark boasts one of the world's most advanced digital governments. The adoption rate is close to 100% for connecting citizens' personal numbers and bank accounts to
allow online payment of emergency benefits. As part of this system, NEC Group company KMD provides a software platform to enhance social value.
AI Drug Discovery Business
Finally, NEC is applying its long-standing expertise in predicting immunogenic targets from cancer genes for personalized cancer vaccine development. In January 2020, NEC and Transgene, France started two clinical trials of a personalized cancer vaccine for ovarian, head and neck cancers that involve analyzing the genetic information of an individual cancer to find the most effective immunotherapy targets for each patient.
Then in April, NEC, NEC OncoImmunity in Norway, and NEC Laboratories Europe in Germany applied similar AI-driven analysis to map blueprints for a COVID-19 vaccine. Prediction algorithms scan thousands of virus strains, explore epitopes across all the virus proteomes, and investigate the whole range of Human Leukocyte Antigens (HLA) that regulate the immune system in order to select target antigens that are least likely to mutate, have fewer side effects, and cover the broadest percentage of the global population. We are currently looking for a pharmaceutical partner to help create a longer-lasting vaccine for all.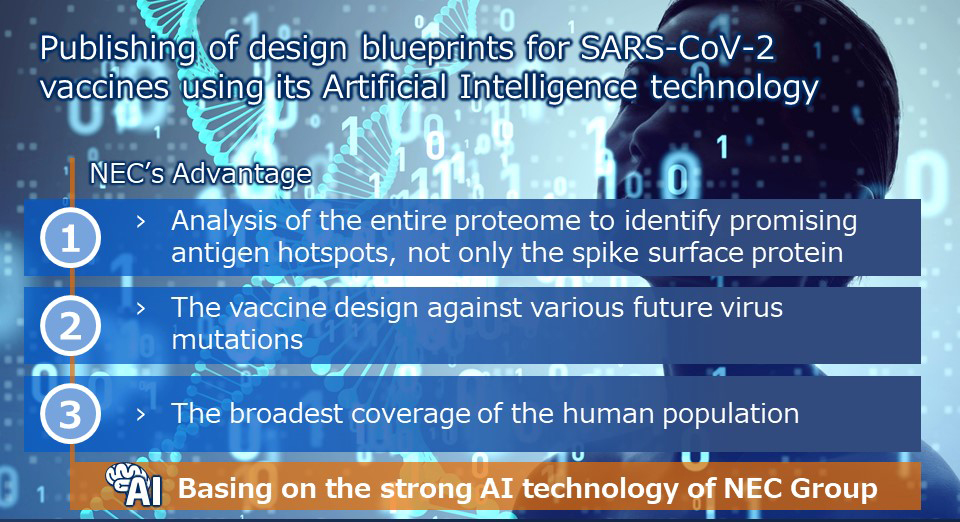 Co-create Digital Power for the Common Good
All our connectivity and personalization projects share common threads. They are designed to advance digital transformation, improve individual lives, and contribute to society, and they all require co-creation. COVID-19 has inspired us to come together to develop urgent digital solutions that focus on protecting individual human welfare and humanity as a whole. Going forward, it is our job to work together to develop digital power in a way that lauds New Normal values of safety and sustainability, and enables individuals to shine.