NEC's AI-driven Blueprint for a Safe, Universally Effective New Coronavirus Vaccine


Burning the midnight oil in lockdown conditions across several time zones, a small but diverse team of global NEC experts has developed a breakthrough AI-driven blueprint for a new coronavirus vaccine that could not only prove more effective at combatting rapidly mutating strains of the new coronavirus (COVID-19) that has infected millions and claimed hundreds of thousands of lives worldwide, but also insulate the majority of the human population against future infection for longer. The proven vaccine design approach, published on April 23, 2020 on the open research forum bioRxiv, uses AI prediction platforms and NEC's experience in personalized neoantigen cancer vaccines to select the most effective vaccine antigens for maximum immunity and design vaccine blueprints to help combat COVID-19 and future infectious diseases. NEC is now looking for a pharmaceutical partner to reliably synthesize, test and administer the new coronavirus vaccine. We talk to key players about the motivation behind this extraordinary grassroots effort.
Personalized Cancer Vaccine Technology Applied to Infectious Diseases
While you often hear of biotech companies acquiring new AI expertise, the confident entry of an AI company into the drug discovery industry is a much rarer occurrence. So how is an IT and network giant such as NEC able to credibly support international COVID-19 vaccine development efforts?


Scientific teams from NEC OncoImmunity (NOI) in Norway, NEC Laboratories Europe (NLE) in Germany and NEC's AI Drug Development Division– Japan have transferred cutting-edge AI prediction technology perfected by NEC and NOI in the development of personalized neoantigen cancer vaccines to designing blueprints for a vaccine for SARS-CoV-2, the virus which causes COVID-19. This advanced AI technology improves the selection of the most effective vaccine antigens (foreign molecules that trigger an immune response) for each individual patient by analyzing individual genome data.
"While the object of the genome analysis is now a virus not a person, the same technology of antigen selection can be applied to the development of vaccines for infectious diseases," explains Akira Kitamura, general manager of NEC's AI Drug Development Division. "In other words, this project has enabled us to verify that expertise in immune system drug discovery such as AI-driven genome analysis and antigen selection can be developed horizontally for both cancer and infectious diseases, despite their differences."
NEC OncoIummunity CEO Dr. Richard Stratford is extremely optimistic about the vaccine's potential impact.
"We are confident that a vaccine designed using these blueprints can lead to the generation of herd immunity in the global population and bring an end to the COVID-19 pandemic."
Polished NEC AI Technology to Help Develop a Safe, Effective COVID-19 Vaccine
As international efforts to develop a COVID-19 vaccine surge ahead, NEC is quick to clarify it is offering an AI-driven vaccine design approach rather than a finished product, but one with potential obvious advantages:
Activates accurate, vigorous immunoactivity
Responds well to virus mutations
Is easy on the body with few side effects
Covers a large proportion of the global population
At this stage, it might be beneficial to quickly review how vaccines work in the body.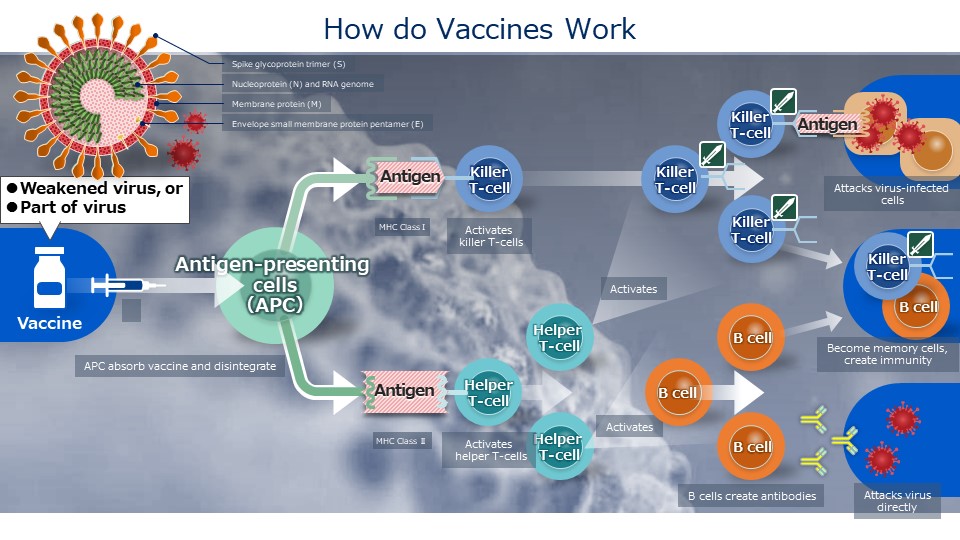 A vaccine is a drug that uses immune mechanisms to prevent the spread of infectious disease. By administering a portion of a virus or a weakened down version of a virus, the vaccine encourages the body to develop an advance immune response and swiftly counteract a virus if it invades the body. Antigen-presenting cells (APC) absorb and breakdown the invading virus in the vaccine and present as antigens, which mark damaged cells as wanted "enemies." Killer T-cells and helper T-cells then attack the virus and virus-infected cells and create immune memory cells and antibodies.

"When developing vaccines, it is important to ensure that antigen-presenting cells clearly mark the targets for killer T-cells to attack. NEC has the specific technology to do this, and that's a key strength," explains Naoko Yamagata, business manager for NEC AI Drug Development Division.
Activate vigorous immunoactivity: Hotspot Analysis of multiple proteins
It is not easy to make a vaccine that reliably prevents viral infection and is safe. NEC uses AI predictive algorithms to perform "Hotspot Analysis" of thousands of sequences of published COVID-19 genome data to pinpoint antigen sites, or hotspots, that appear to have the highest levels of immune activity, and use them to produce a more effective vaccine blueprint. Furthermore, instead of limiting analysis to the conventional "spike protein" portion from which the coronavirus gets its name, the AI platforms analyze the whole repertoire of COVID-19 virus proteins to locate multiple promising antigen sites, which NEC hopes will be used in combination with conventional spike proteins to help develop vaccines with greater immunoactivity.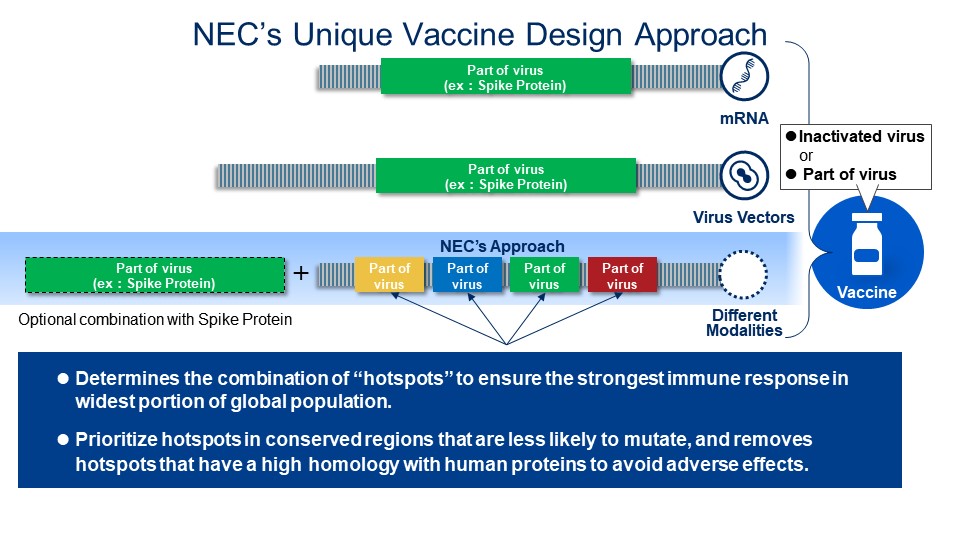 Pinpoint low-mutation and potentially harmful antigen sites with filtering
Viruses are constantly mutating and multiplying to prevent attacks from immune cells. Some say there are already thousands of new coronavirus variants, so NEC's COVID-19 vaccine blueprint prioritizes hotspots occurring in conserved parts of the virus protein string which are less likely to mutate in future strains.

NEC's filtering process also ensures its vaccine designs do not attack normal cells and have fewer side effects. Antigens that trigger immune responses are present not only in pathogens such as viruses, but also in regular body tissue. If the vaccine antigen has a similar sequence to antigens contained in important human organs such as the brain and heart, the immune system could get out of control and cause serious autoimmune diseases.
Best immune response in broadest human population (population analysis)
NEC's AI population analysis feature identifies antigen sites for the 100 most frequent human leukocyte antigens (HLA) in order to select a combination of hotspots that covers the greatest proportion of the human population.

"The NEC blueprint describes viral hotspots which, when engineered into a suitable vaccine delivery system, have the potential to cover and protect the vast majority of the human population, and are less prone to the emergence of escape variants," explains Stratford.

"NEC's delayed entry has enabled us to analyze genome data from thousands of new coronavirus strains and incorporate information on the many mutations that have occurred since the pandemic broke out," explains Kitamura. "By filtering antigens and combining optimum hotspots, we can design vaccine blueprints that could remain effective for longer against current and future coronavirus strains."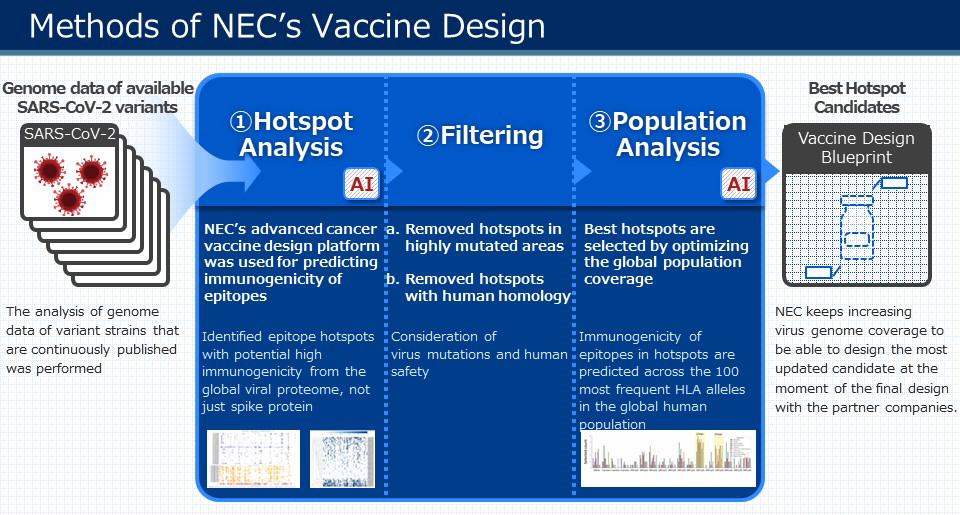 A Dynamic Global Team of Specialists Overcomes All Odds
NEC had so far concentrated AI-driven drug development investment into cancer immunotherapy vaccines, but a series of events in early 2020 convinced the president, chairman, and senior management to get behind eager grassroot proposals to use NEC's proven AI technology to help combat COVID-19 and alleviate suffering worldwide.

Soon after visiting the Oslo headquarters of NEC OncoImmunity early in the year, Kitamura received a convincing proposal from the Norwegian-based subsidiary, which specializes in immune response prediction technology, to try and apply NEC's expertise in cancer vaccines to map a vaccine blueprint for infectious diseases. COVID-19 was already showing signs of spreading to Italy and beyond, and, at the urging of NEC chief technology officer Motoo Nishihara, NEC Laboratories Europe (NLE) was also looking at using AI to analyze coronavirus genome data. Spurred by the degree of local passion, Kitamura brought NOI, NLE and NEC together to form a voluntary global coronavirus research team with expertise in immunology, life information science, AI, and genome analysis.

"We have always considered applying and developing our oncology neoantigen technology toward the infectious disease market and our team entered the COVID-19 project highly motivated to help with the international crisis and use our skills to contribute toward solutions," says NEC Oncolmmunity's CTO Dr. Trevor Clancy.

Many were amazed at the fearless dynamism and swift results achieved by the team despite significant challenges.

"By the time the project started, Norway had officially entered lockdown and the whole NOI team was working from home, so we adapted our usual work routines to help circumvent and mitigate communication and coordination challenges. We had regular project meetings, using video-conferencing software to share and discuss results and plan the next steps and activities, and adopted flexible working hours to enable those employees home-schooling children to be more productive. While this led to long days for many, I was humbled to see how the team pulled together and supported each other to deliver fantastic results," says Stratford.

"I was surprised to see how this successful integration of complementary ideas managed to generate such great results over a very short period. Everyone got really fired up as soon as we announced the specific goal to develop a vaccine. As researchers and business developers, it's extremely rewarding to be working so close to the clinical application," adds Yamagata.

The team used AI prediction technology to conduct genetic analysis and successfully design a COVID-19 vaccine. By April 23, the vaccine blueprint results had been proven and the paper published on the open access bioRxiv biomedical research website.

"Initially, we were concerned that our blueprints may remain as merely blueprints," explains NEC Laboratories Europe Senior Researcher Dr. Brandon Malone. "However, due to tireless efforts to find partners that share our vision, we are now confident that our work will become concrete and really help protect people against this disease."

While Kitamura did suggest a way to minimize the cost of developing a COVID-19 vaccine by partnering with pharmaceutical or other companies, he believes NEC's senior management were also drawn by the project's attractive potential synergy benefits.

"Proving the method for activating an immune response against coronavirus could be similar to that used in the cancer field, successfully establishing a design concept for developing a new coronavirus vaccine, and seeing the results published will surely benefit NEC's cancer vaccine business and help build its reputation as a valuable AI expert in drug development."
Forging Biotech Partnerships and Strong Drug Development Expertise
NEC already has over 20 years of experience in applying machine-learning technology to immunotherapy drug development, including developing of peptide predictions, contributing to multiple clinical trials for cancer peptide vaccine testing and establishing Cytlmic Inc. in 2016 to research common antigens for peptide vaccines.

In 2017, NEC declared its mission to use AI technology to develop advanced immunotherapy treatments for cancer, infectious diseases, and autoimmune disease. In 2018, NEC partnered with French biopharmaceutical company Transgene, which specializes in immunotherapy treatments, to jointly develop individualized cancer vaccines, and opened patient registration for clinical trials in January 2020. In 2019, NEC promoted the development of personalized neoantigen cancer vaccines by acquiring biotech company OncoImmunity AS, which uses the same AI prediction platform technologies as NEC, and conducting joint clinical collaboration with Swiss/German biotech firm VAXIMM, which focuses on oral T-cell immunotherapies.

Thanks to the COVID-19 project, the same AI technology and immunotherapy drug development expertise has now been applied to the design of a new coronavirus vaccine. NEC is keen to feed its AI prediction platforms with as much up-to-date virus genome data as possible to improve the effectiveness of the antigens presented in the published paper, and confirm potential vaccine partners as soon as possible.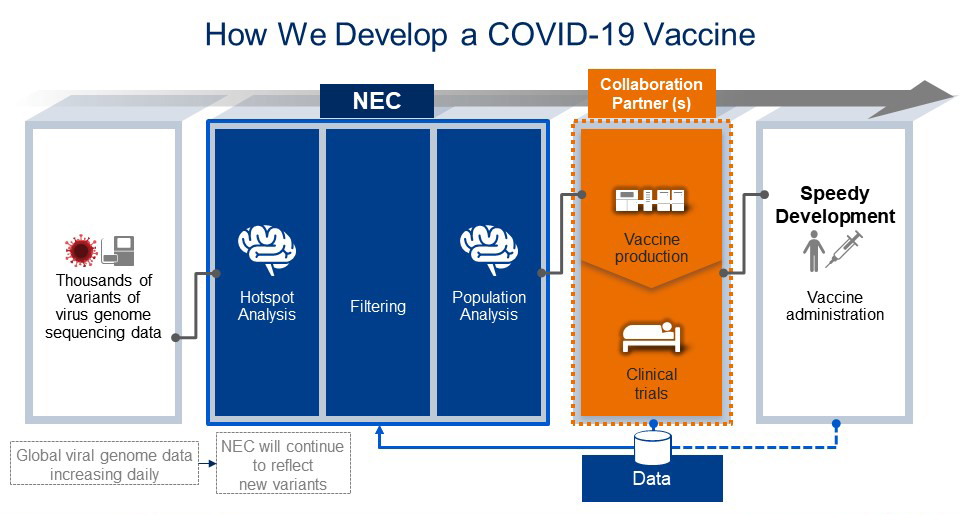 "We are now looking to identify an optimal partner(s) to develop vaccine products based on the COVID-19 blueprints that we have generated. The ideal partner will have a robust vaccine delivery system that has an established clinical safety profile, relatively low cost of goods, and is easy to manufacture with scalability to supply the global market," says Stratford.

While the project was initially motivated by an urgent desire to help alleviate suffering caused by the COVID-19 pandemic, looking forward the project analysis clearly demonstrates the significant capabilities of the NEC Group to leverage their AI platforms to design blueprints for safe and effective vaccines in a global population and address current and future divergent coronavirus strains.

"This project has helped us to scientifically improve our understanding of how to computationally predict the determinants of immunogenicity. We believe that we can offer the world the technology needed to identify optimal molecular targets for vaccines under a rapid response during future infectious disease outbreaks," says Clancy.

The COVID-19 vaccine project is a great example of NEC's corporate mission to use advanced AI and IT technologies to "orchestrate a brighter world" and improve global welfare. The project will also likely help consolidate AI immunotherapy prediction as one of the core analytics technologies in the NEC the Wise arsenal of AI tools. Having published its research to support advancements in the field, the team is now looking forward to partnering on the manufacture of a highly effective COVID-19 vaccine, something which it hopes will the first of many future immunotherapy successes designed to protect our human population, medical infrastructure, and global society.

"Looking forward, I hope that we continue to contribute to the open, worldwide efforts to develop a drug to cure this disease. By demonstrating both our AI expertise and our dedication to developing solutions which truly help society, we can find new business opportunities with partners that complement our AI strengths and share our values." (Malone).

For Kitamura as the coordinator of the COVID-19 project, what challenge could be more worthy? What result more rewarding?

"This project, the standard of our biotech specialists, and the potential of NEC AI are truly invigorating. There are a great number of infectious diseases on this earth, many still without a vaccine. We are keen to build on this success and continue expanding our infectious disease vaccine research beyond corona so we can contribute to the global challenge of combating infectious diseases and further apply NEC's AI strengths in the biotech field."