New Business Creation

Transforming our perspective on business
In the Solutions for Society that we focus on, we are trying to create new businesses that provide social value by adding global, social and customer perspectives to our current technological perspective.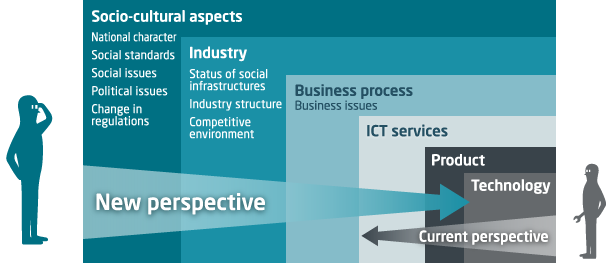 Framework for accelerating new business creation
We have incorporated the processes of "lean startup" and "design thinking" into our business creation process, and established the following framework to promote and accelerate this process.

We will accelerate new business creation through the efforts of accelerators and designers, based on the commitment of management.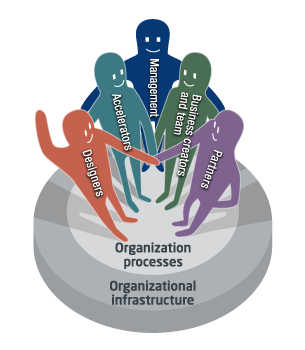 Management
Management that is committed to creating businesses.
Business creators and team
Individuals and teams working in NEC to create new business by devising solutions to the issues faced by customers
Partners
Customers and key partners.
Designers
Members handling MVP* design and discovery of customer issues, and providing support in structuring and visualizing NEC values, and in designing scenarios.
Accelerators
Members providing advice on processes and support in hypothesis-verification design, implementation and connection to outside networks, in order to overcome difficulties in business creation.
*

MVP is an abbreviation of Minimum Viable Product.
An MVP is "a product with the minimum functions required for verification."
Initiatives to accelerate new business creation
Designers promote the development of new businesses through design support, such as objectively identifying social and customer issues, determining themes by sharing problems with partners (customers and key partners), and quickly developing high quality MVPs.

In order to overcome difficulties in business creation, accelerators have the role of providing advice on processes and supporting hypothesis-verification design and implementation and connecting to outside networks with project leaders.

Co-creation Workshop Space
The co-creation workshop space is a place where we get together with customers and other stakeholders to find solutions to issues and create value for society. It is located at each site, the headquarters, and the Kansai office and used for workshops, seminars, networking events and other activities that can lead to new business creation.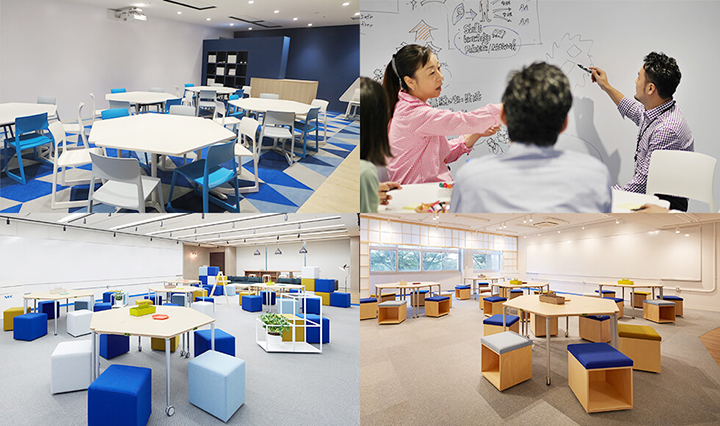 (Top left) Headquarters (Shiba, Minato-ku, Tokyo) 2F (Top right) A scene of workshop
(Bottom left) Tamagawa Plant (Bottom right) Fuchu Plant
Contact
Click here to inquire about the contents of this page.