New business development efforts by NEC
NEC is making organizational efforts to create new businesses that solve social problems for "a brighter world".
Grow an innovative business with NEC!
NEC is now running a worldwide business contest, "NEC Innovation Challenge"!
This project invites startups to deliver a proof of concept for a new innovative product or service, which addresses any of three key categories; "Healthcare & Life Sciences", "Metaverse" and "Carbon Neutrality".
Don't miss this wonderful opportunity to realize your ideas!



https://nec.agorize.com/en/challenges/nec-innovation-challenge/
Submission Deadline: December 4, 2022, 23:59 GMT+9 (Japan Standard Time)
New business development that NEC is seeking to achieve
A new business is born from tireless efforts and brings enormous value to society. Amid the increasingly globalized economy and the changing industrial structure, it leads to ideas about new social systems being generated.

NEC has long been committed to new business development. In 2013, we established the Business Innovation Integration Unit to consolidate all our corporate assets to develop core solutions in focus areas. Later, in 2018, we launched the Business Innovation Unit, which contributed to the creation of many new businesses. This was followed by the Global Innovation Unit, which was set up in 2021 to further accelerate our innovation.

The Global Innovation Unit, which leads innovation efforts across NEC, is not after new businesses that are in name only. We define innovation as the act of developing a business for which neither customer segments nor value propositions are known. We are committed to developing innovative new businesses that are difficult to be attained only by a single organization. Our aim is to create new social values on the world stage, by generating a new out-of-the-box aggregation of diverse knowledge.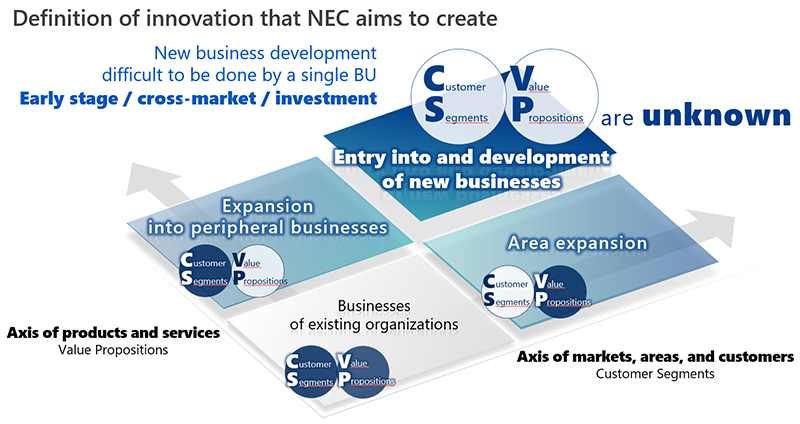 Six innovation models for implementing new businesses
1 Strategic Carve-out

One innovation model that NEC adopts is the carve-out method whereby a company separates one of its divisions and turns it into a new independent venture. To create products and services that survive the global competition, we drive innovation using a technique called Strategic Carve-out. By strategically carving out NEC's core technologies, we accelerate business development while acquiring external capital such as venture capital.

We adopt Strategic Carve-out for several reasons. This approach maximizes the speed of business growth. Refining a new business in a severe market environment helps build robust visions and products. And the company can attract competent human resources from across the world.

One example is the establishment of dotData, a company focused on delivering end-to-end data science automation. This start-up was established in Silicon Valley, with a leader in NEC's cutting-edge development activities being among the founders. The dotData software acquired over 50 corporate users just in one and a half years after its commercial launch. NEC has obtained an exclusive license from dotData to provide this software in Japan, offering a broader range of new data-driven services in the field of DX.

◇dotData (Available in Japanese only)
https://jpn.nec.com/solution/dotdata/index.html
2 Build & Acquisition

Build & Acquisition is an innovation model where a company creates new businesses as it builds an eco-system that scales as an industry through merger and acquisition of enterprises and businesses.

A typical example of Build & Acquisition is drug discovery business. NEC amended its articles of incorporation in June 2019 and began full-scale entry into the drug discovery business to discover cancer treatment drugs using AI technologies. We adopted the Build & Acquisition approach to make effective use of our outstanding AI technologies in the field of drug discovery.

NEC launched a joint development effort with Transgene SA of France to develop personalized neoantigen vaccines with the aim of providing treatment drugs tailored to individual patients. Clinical trials are currently underway. We have also invested in BostonGene Corp. of the U.S. and VAXIMM AG of Switzerland. In addition, we acquired OncoImmunity AS of Norway and made it a subsidiary (NEC OncoImmunity AS), further strengthening our world-class neoantigen prediction technology. Moreover, NEC OncoImmunity AS acquired the personalized neoantigen cancer vaccine business of VAXIMM AG. We are bolstering our AI drug discovery business through these and other open innovation activities. Our goal is to increase the worth of our drug discovery business to 300 billion yen in 2025.

◇NEC's AI Drug Development Business
https://www.nec.com/en/global/solutions/ai-drug/
3 Crowd-funding

One of the innovation models that NEC adopts for new business development is Crowd-funding, whereby a company seeks to fund a new business by raising money from a large number of people via the Internet. One advantage of this model is that it allows the company to conduct test marketing while raising money, making it easier to predict the acceptability of the new business.

An example of active use of Crowd-funding by NEC is the development and commercialization of a wellness solution. In a crowd-funded project, we promoted our new products by taking advantage of the partnering and promotional capabilities of the Makuake support purchase service run by Makuake Inc.

Specifically, we brought to market the A-RROWG walking sensing insole. The A-RROWG analyzes the gait of the user or in other words, the quality of walking, to improve the user's walking posture. We developed this insole jointly with FiNC Technologies Inc. When we recruited supporters through the Makuake service, the A-RROWG got supportive purchases in excess of 10 million yen, far above the target amount of 1 million yen. Following the A-RROWG insole, which gave momentum to the commercialization of new businesses, we have continued with new business development efforts using Crowd-funding. These include the True Wireless Hearable Device jointly developed with Foster Electric Co., Ltd. and the waneco talk service that lets users "talk" to their dogs and cats on LINE.

◇ Walking sensing wellness solution (Available in Japanese only)
https://jpn.nec.com/wellness/index.html
4 Joint Strategic partnership

Joint Strategic Partnership is an innovation model that allows a company to create new value through a strategic partnership with another company. NEC also employs this Joint Strategic Partnership model to develop new businesses.

A major example of a Joint Strategic partnership is a new business that NEC developed through a strategic partnership with Kagome Co., Ltd. in the field of AgriTech that applies ICT to agriculture. In April 2020, NEC and Kagome signed a strategic partnership agreement to launch AI-based agricultural management support services for tomato processing companies in Europe. We provided a service to visualize tomato growth and soil conditions based on sensor data and satellite images by using NEC's agricultural ICT platform, CropScope, as well as a service to offer advice on farming management using AI.

This newly developed business was expanded in June 2021 as the CropScope functionality was enhanced. We will continue to seek to create social values through the strategic partnership by increasing the versatility of the AI-based farming management advice service and improving the convenience of the application based on user feedback.

◇ Smart farming management
https://www.nec.com/en/global/solutions/agri/index.html
5 Incubation Studio

NEC X, which NEC established as an Incubation Studio in Silicon Valley. in 2018, has also contributed significantly to the creation of new businesses. This is an incubation company focused on driving business development through open innovation in the Silicon Valley's startup eco-system by using NEC's human resources and technologies as core competencies.

NEC X develops entrepreneurial human resources and businesses underpinned by competitive technologies and gives these assets back to NEC to help create new social values. By leveraging NEC's leading-edge technologies, the company accelerates new business development through outbound open innovation. In fact, NEC X has contributed to new business development by establishing 5 independent startups during its first 3.5 years.

In 2021, NEC X signed a strategic partnership agreement with Alchemist Accelerator, one of the leading accelerator companies in Silicon Valley. Through the NEC X's incubation program backed by the partnerships, Metabob was founded in January 2021, which provides machine-learning-powered tools for quick bug detection. In addition, an AI start-up called Exponential AI Labs was established in December 2021, which offers an AI-based comment analysis service for e-commerce (eCommerceInsights.ai).

◇NEC X
https://nec-x.com/
6 R&D Eco-system

NEC also pursues new business development through the R&D Eco-system. With advances in digital technology making social issues more complex, it is becoming increasingly necessary to solve them more quickly. This is making research and development all the more important. Given this situation, we are pushing a new research and development approach, called collaborative R&D, whereby industry, government, and academic experts come together for research and development activities regarding a variety of issues and technologies.

An example of collaborative R&D is BIRD INITIATIVE, Inc. (BIRD) established in September 2020. Jointly funded by six organizations from different industries (business companies, financial firms, and academia) including NEC, BIRD is a unique collaborative R&D company that is internationally unprecedented. It drives business innovation to solve social issues most quickly through the active use of external resources.

BIRD engages in a business development consulting service and solution development. The business development consulting service is growing rapidly, with sales expected to increase seven times from the previous year (as of November 2021). Also, the company plans to carve out two projects into new businesses in 2022. One is assimee, an AI simulator designed to boost productivity using digital twin technology. The other is Automated Negotiation Plus Drones, which aims to achieve automated negotiation and coordination management for the social implementation of drones.

◇BIRD INITIATIVE


https://bird-initiative.com/ (Japanese)
New business development process
Using the lean start-up methodology starting with customer development, we define the entire business development process, from business strategy formulation to product launch, based on a process reference model known as PLCOR.

The first step of this process is business vision and business strategy. In this step, a company formulates its business vision and strategy by analyzing social issues and markets as well as by evaluating existing businesses and key resources. In the second step of business verification and business model creation, the company identifies and selects business opportunities and builds a lean start-up framework through customer discovery and validation. The third step is product development and commercialization preparation, in which the company engages in organization development, value expansion, market penetration, and commercialization preparation. In the final fourth step of market entry preparation and start of commercialization, the company allocates necessary resources and makes preparations for products, services, and marketing in order to launch the business.

We continue to brush up this process constantly. Refining the process based on the feedback we get from the projects we have implemented in various fields allows us to create a unique approach.
Two frameworks that support NEC's new business creation
The Global Innovation Unit, which is responsible for new business development in NEC, evaluates performance based on the process appropriate for each individual division involved in the new business. In the steps of the new business development process from business strategy formulation to business model creation, process results are evaluated. In the steps from product development to start of commercialization, the business value is evaluated. A new business will not take shape if we pay attention only to sales and profits and do not evaluate the progress of efforts and the business value.

And developing human resources is essential in realizing a new business. Not only do we help employees upgrade their skills through training and boost their motivation using a specialist certification program, but we also have various other measures in place that involve changing the existing system, such as increased flexibility in mid-career hiring and the establishment of a personnel and education program for new business developers.

We are also focused on developing and increasing talented human resources. Under the selective research professional system, young top researchers get unlimited rewards for their contributions. We have the highly-skilled specialist certification program as well for properly rewarding business developers and researchers with outstanding skills on a job basis. Moreover, we introduced internal side job rules in fiscal year 2022 to allow employees to use up to 20% of their working hours to work in other divisions or across divisions, thereby accelerating the integration of the R&D divisions and business development divisions. These systems and programs get employees more motivated toward new business development.
Creation of new social values that open the future
With the focus on the six innovation models and the new business development process presented so far, as well as the human resources and frameworks for implementing that process, the Global Innovation Unit seeks to achieve innovative new business development to further enhance the value of our technologies through company-wide technological synergy and co-creation and develop business incubation into our next core business in a speedy manner.

We are going to keep providing information on these efforts to earn public empathy and making steady steps toward the creation of new social values that open the future.