NEC is the Global Leader in Biometrics Solutions
Frost & Sullivan has named NEC a Biometrics Solutions Leader for the second time in a row. The Frost Radar report provides buyers with vendor insights based on Frost & Sullivan's research criteria and methodology. NEC has been placed highest in both Growth and Innovation indices.

In the report, you'll discover why NEC has been positioned again this time as a Leader, which validates NEC's breadth of biometric solution capabilities that sets the standard for innovation.

Why NEC?
Innovating to its extensive portfolio, including edge-enabled biometric touch points for physical/digital access and multimodal platform.
Providing easy integration and more secure solutions, which enabled a quick recovery of the revenue during the pandemic.
Guiding the conversation about new technologies and use cases and how it affects end users while providing thought leadership on decentralized identity and self-sovereign ID including a human rights principles.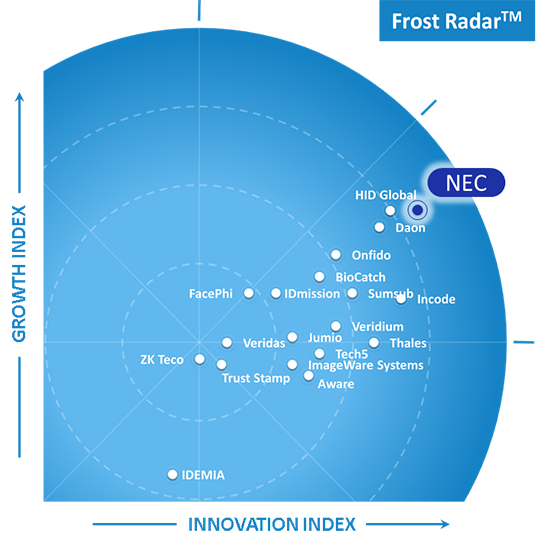 "NEC's robust biometric authentication solution emphasizes how NEC's ability to meet existing and new customer demands, empower end users to take control over their biometric data, and steer the biometric industry into the next phase of growth."

Danielle VanZandt
Industry Manager, Commercial & Public Security Research
Frost & Sullivan
NEC's outstanding achievement was evaluated based on the following categories;
Innovation

NEC maintains its position as the biometric authentication leader (in both its Frost Radar™ position and market share) as a result of ongoing innovations to its extensive portfolio. These additions include the expansion of edge-enabled biometric touchpoints for physical and digital access; the creation and provision of its extensive Bio-IDiom multimodal platform and services capability; and the further integration of the its NeoFace facial biometric as a core function for multiple identity applications in both the physical and digital applications.


NEC also is leading much of the conversation in the biometric authentication industry regarding self-sovereign ID for end users to control their biometric data, and how decentralization capabilities in the authentication portfolio will add protection layers to any biometric-enabled system.

Growth

While NEC did witness some slight revenue slowdowns during the pandemic, its agility in pivoting toward the emerging needs of its client base for touchless, easy integration and more secure, multimodal solutions enabled a quick recovery.


Throughout the pandemic, NEC focused more on building out conceptual designs and customer relationships outside of the public sector and hospitality industries, which saw more impactful slowdowns to their business. By late 2021 and throughout 2022, as many businesses settled in to changes that the pandemic brought about, NEC was ready with multiple authentication capabilities that were in line with demands of its border control, hospitality, retail, and commercial customer base.

Frost Perspective

Through initiatives such as the NEC Group's AI and Human Rights Principles, as well as the company's thought leadership on decentralized identity and self-sovereign ID, NEC has a solid grip on its role as the market leader and remains poised to guide much of the conversation about new biometric authentication technologies and use cases and how they can affect end users for the foreseeable future.


NEC is considering the gradual expansion of its portfolio to include more software-as-a-service options for its biometric solutions. This will help it simplify the integration periods for customer installation and enrollment, and reduce the introductory costs that may be prohibitive for customers that operate smaller-scale businesses but want robust biometric authentication services.

Read the Full Report here

Please fill out the form after having carefully read and given consent to the following:
1. Controller of the Personal Data
(1)

Company name: NEC Corporation (hereinafter referred to as "NEC")

(2)

Means of contact: Corporate Communication Division, NEC Corporation at ar@ghq.jp.nec.com or global@adv.jp.nec.com
2. Purposes of Processing for the Personal Data
The purpose(s) of Processing your Personal Data is
(1)

to respond to inquiries

(2)

to respond to requests (such as by providing materials or information, or returning verification results)

(3)

to introduce or relay information about companies (NEC Group companies, NEC distributors, etc.) that deal with NEC products, services, and solutions that you may be interested in

(4)

to provide information or publicity materials about NEC products, services, and solutions

(5)

to provide information about events such as seminars and exhibitions

(6)

to conduct surveys and analysis, and analyze website access trends so as to improve products and services

(7)

to contact consumers for any further follow-up in communications
3. Legal Basis for Processing
The legal basis for processing your personal data is your consent freely given by accepting this privacy policy.
4. Categories of the Personal Data
(1)

information that are collected on or through the website: name, email address and corporate information (name and job title)

(2)

personal data automatically collected from user devices: usage history of services provided, IP address, location data, and device ID (app operation history and advertising ID) of user devices contained in cookies
5. With Whom we Share your Personal Data with
For the purposes states above, we may share information you provide with one or more of our affiliates and distributors throughout the world. We also share information provided by you with service providers that have been retained to perform services on our behalf or on behalf of our affiliates. Please note that some affiliates and third parties may be located in countries outside of the EEA that do not have data protection laws that are equivalent to those of your country. However, we take adequate measures to ensure that your personal data will at all times be protected in accordance with applicable regulations.

We way also disclose your personal data to comply with any court order, law, or legal process, including to respond to any government or regulatory request.
You have the right regarding the personal data you provide as follows:
(1)

the right to request from the controller access to and rectification or erasure of personal data or restriction of processing concerning the data subject

(2)

the right to object to processing concerning the data subject

(3)

the right to data portability: the right to receive the personal data, which the data subject has provided to a data controller, in a structured, commonly used and machine-readable format, and to transmit those data to another data controller without hindrance from the controller to which the personal data have been provided (NEC)

(4)

The right to withdraw consent at any time, without affecting the lawfulness of processing based on consent before its withdrawal

(5)

The right to lodge a complaint with a supervisory authority, if it exists, in the country or region that the data object belongs
7. Statutory or Contractual Requirement Concerning the Provision of Personal Data
Provision of personal data is not a statutory or contractual requirement, or a requirement necessary to enter into a contract, and you are not obliged to provide personal data. However, if you choose not to provide your personal data, we may not be able to meet your requests or give access to our services.
We collect certain personal data through the use of cookies and other technologies. You can control cookies through the "Privacy Preference Center", your browser's settings and other tools. However, if you block certain cookies, we may not be able to provide some of our services to you. For more details, please see NEC Cookie Policy below
https://www.nec.com/en/global/cookies/index.html
Personal data may be stored for as long as necessary to achieve the stated purpose for using it.
10. Non-existence of Decision-making Based Solely on Automated Processing
The access log for this website undergoes analysis, however, we do not make decisions that might affect you based solely on automated processing of the personal data that you provide, including profiling, to analyze or predict your likes and dislikes or personal behavior.
If you are a minor, please provide your personal data only after obtaining consent given or authorized by the holder or parental responsibility over you.
12. Encrypted Communications
The website uses encrypted communications via Secure Socket Layer (SSL) for personal data protection.
13. Security of Processing Personal Data
Recipients of the personal data implement appropriate technical and organizational measure to ensure a level of security appropriate to the risk.
Notice for Californian Residents
California's California Consumer Privacy Act ("CCPA") and California Privacy Rights Act ("CPRA") provide California residents with certain rights: Please note that this notice, which is aimed solely for transparency and compliance with CCPA/CPRA, must be construed in addition and not in lieu of the Privacy Policy above.
Personal Information That We Collect
NEC collects the following information:
(1)

information that are collected on or through the website: name, email address and corporate information (name and job title)

(2)

personal data automatically collected from user devices: usage history of services provided, IP address, location data, and device ID (app operation history and advertising ID) of user devices contained in cookies
We do not collect any sensitive personal information from you.
Use of Personal Information
NEC uses your personal information to respond to your inquiries and requests related to the event and to provide relevant marketing materials (DM, email, phone, etc) to you.
How We Collect Information
In relation to the MWC2023 event, we collect your personal information directly from you through the inquiry page or other means when you actively submit to us.

We also use cookies and similar technologies to collect information automatically from your computer or devices.
Sharing of Personal Information
NEC does not share personal information of Californian residents with third parties, including NEC group companies and NEC affiliates.
Sale of Personal Information
Your personal information is sold when it is shared with a third party for monetary or other valuable considerations.
NEC does not sell your personal information, thus we do not provide an opt-out.
NEC retains the information it receives about you for a period of 2 years, unless a shorter or longer period is required by California or Federal law
CCPA and CPRA provide you with the following rights:
Knowledge of information collected;
Deletion of information collected;
Opt-out of information collected;
Opt-in of information collected;
Correction of information collected;
Go to court;
Limit use of information collected;
Not to be discriminated or retaliated against for exercising rights under the law.
You can submit a request to us using the contact form provided on our website. However we reserve the right to use information obtained previously to verify your identity or take other actions that we believe are appropriate. If you are an authorized agent making a request on behalf of the individual, we may require additional information to verify that you are authorized to make that request.