HAYABUSA-related information Q&A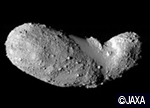 Many discoveries were made using the results of Hayabusa's scientific observation. We learned about Itokawa's shape, for example, by analyzing the images sent back by the probe. Images of the face of Itokawa are available at the following website:
---
Associate professor of space information and energy engineering research Makoto Yoshikawa has commented on Itokawa at the following website:
NEC Online TV provides beautiful videos of Hayabusa's miraculous journey, which was achieved by teamwork between leading-edge technology and humanity, as well as interviews with NEC engineers. These videos clearly explain the unique technologies used for Hayabusa, as well has how the probe's many successes were achieved.
---
The JAXA channel on YouTube is loaded with videos that can be used in classrooms and for other purposes, including videos of the control room when Hayabusa touched down on Itokawa in November 2005, an overview of Hayabusa, the latest aerospace-related videos, and videos introducing JAXA projects.
The public Hayabusa blog maintained by JAXA is available at the following website:
---
The project team will continue to post the latest information about Hayabusa until it returns to Earth at the following website: