Ultimate Integrated Solution for Business Continuity & Disaster Recovery with High Availability
EXPRESSCLUSTER X
EXPRESSCLUSTER in One Minute
If you come to EXPRESSCLUSTER for the first time, click HERE to find out what the EXPRESSCLUSTER is in one minute!

Also, in HERE, you can see the partnership activities of EXPRESSCLUSTER.
Overview
EXPRESSCLUSTER X is a "Business Continuity / Disaster Recovery" solution which is designed to maximize uptime for any critical system
Our integrated EXPRESSCLUSTER X solutions can minimize the damage organizations experience from system outages, whether they are planned or unplanned.

Our EXPRESSCLUSTER X solutions are cost effective and easy to deploy. They protect critical systems that run such industry-standard applications, operating systems and virtualization platforms such as:
DataBase -- Microsoft SQL Server, Oracle DB, IBM DB2, My SQL, Postgre SQL, FileMaker

Email Servers -- Microsoft Exchange, Sendmail
ERP -- SAP, Microsoft NAV
Virtualization Platforms -- VMware Server/ESX, Microsoft Hyper-V, KVM
Operating Systems -- Windows, Linux
Cloud Platforms -- Amazon Web Service (AWS), Microsoft Windows Azure



Solutions
Application and Data Protection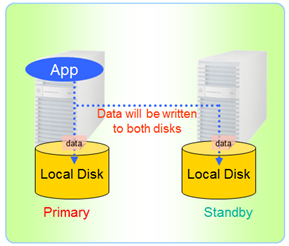 Robust disk mirroring capability including both synchronous and asynchronous mirroring modes. With flexible support for multiple configurations, EXPRESSCLUSTER enables up to 99.99% data availability.
Business Continuity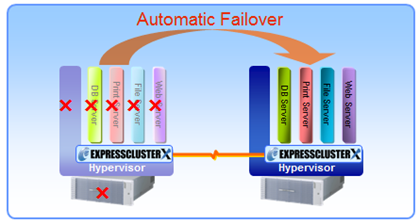 EXPRESSCLUSTER ensures application-level business continuity on physical, virtual and cloud environment. It always offers the high availability today's business environment demands.
Disaster Recovery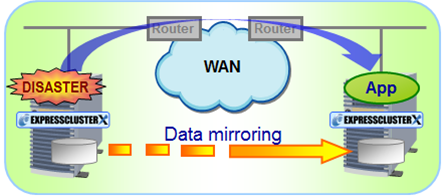 Powerful disaster recovery capabilities for business critical transactional applications and data.
It ensures near-instant recovery after system failure for full data protection, even over standard T1 WAN spanning hundreds of miles.
Key Features
Reasons to Choose NEC
Here What Customers Are Saying
What's New