NEC launches two new UNIVERGE RV1000 series private 5G base station models in Japan
- Ideal for small-scale networks -
Tokyo, Japan, January 20, 2022 - NEC Corporation (NEC; TSE: 6701) announced today the launch of two new models of all-in-one integrated compact base stations from the UNIVERGE RV1000 series. These models include base station radio units (RUs) and baseband units (CU: Central Unit/DU: Distributed Unit) in a single enclosure, primarily for small-scale networks. NEC will begin sales of the standalone (SA) UNIVERGE RV1200 base station (hereinafter referred to as Sub6 integrated UNIVERGE RV1200), compatible with the 4.7GHz band, and the non-standalone (NSA) UNIVERGE RV1300 base station (hereinafter referred to as the millimeter-wave integrated UNIVERGE RV1300), compatible with the 28GHz band, from the first quarter of 2022 in Japan.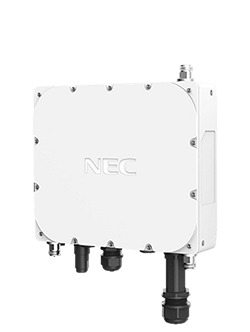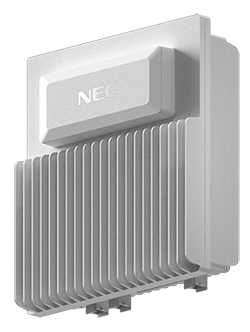 Private 5G is expected to be utilized throughout a wide range of applications, such as enhancing the competitiveness of industries and solving social issues, by enabling organizations to flexibly build their own networks in response to the individual needs of specific industries and regions. However, the introduction of private 5G is generally considered costly and time-consuming, making it difficult to meet the needs for small-scale installations, such as at store locations, public facilities or the single floor of an office building.

These new products will reduce initial investment costs and facilitate the rapid development of small-scale private 5G networks, which helps to promote the adoption of private 5G and to resolve issues faced by customers.
1. Miniaturization achieved by integrating radio units (RUs) and baseband units (CU/DU)
These all-in-one models have been developed with a completely new concept that houses the radio units (RUs) and baseband units (CU/DU) of the base stations in a single enclosure. The Sub6 integrated UNIVERGE RV1200 base station, for example, has been downsized to the A4 paper-size.
2. Simple, highly scalable, and speedy network construction
By integrating the radio unit (RU) and the baseband unit (CU/DU), these products can be introduced at a lower cost than conventional separate-type base stations.

Conventionally, separate base stations require RU, CU, and DU to be installed, and connections between RU, CU, and DU must be made. However, these products have simple system configurations, enabling quick network construction. Furthermore, for systems incorporating these products, the systems can be easily expanded simply by adding only a new integrated base station if necessary.

Moreover, since the products are dustproof and waterproof (IP65) they can be conveniently installed in almost any outdoor location.
Item
Sub6 integrated
UNIVERGE RV1200
Millimeter-wave
integrated
UNIVERGE RV1300
External dimensions
WxDxH (mm)
250×210×57
364×335×118
Weight
3kg
8.5kg
Frequency
(band width)
4.6-4.9GHz
(100MHz)
28.2-29.1GHz
(400MHz)@5G
2,580~2,590MHz
(10MHz)@4G
Transmission power
250 mW/RF
terminal × 2
EIRP 400mW@5G
250 mW/RF terminal × 2@4G
Dustproof/Waterproof
IP65 compliant
(IEC-compliant)
IP65 compliant (IEC-compliant)
"The addition of these products to NEC's private 5G lineup will help accelerate DX and enable us to respond to a variety of user needs, from small-scale networks, such as store locations, public facilities and office settings, to large-scale networks for factories, construction sites and others," said Suhun Yun, General Manager, Digital Network Division, NEC Corporation.

Through the provision of these products, NEC will flexibly utilize networks and accelerate the provision of "NEC Smart Connectivity," which dynamically connects data generated by people and goods, beyond the boundaries of any single industry, to create new social value.
About NEC Corporation
NEC Corporation has established itself as a leader in the integration of IT and network technologies while promoting the brand statement of "Orchestrating a brighter world." NEC enables businesses and communities to adapt to rapid changes taking place in both society and the market as it provides for the social values of safety, security, fairness and efficiency to promote a more sustainable world where everyone has the chance to reach their full potential. For more information, visit NEC at https://www.nec.com.

NEC is a registered trademark of NEC Corporation. All Rights Reserved. Other product or service marks mentioned herein are the trademarks of their respective owners. © NEC Corporation.