NEC qualifies 24 fiber pair subsea telecom cable system
- Fully qualified end-to-end solution for larger capacity and better connectivity -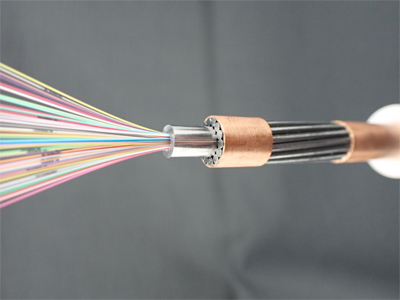 Tokyo, March 19, 2021 - NEC Corporation (NEC; TSE: 6701) and its subsidiary OCC Corporation announced today that they have completed full qualification of subsea repeaters and optical cable containing up to 24 fiber pairs (FPs) (48 fibers). This is a 50% improvement in fiber count over the 16 fiber pair systems generally available today. This development allows cable owners worldwide to construct subsea telecom cables with superior traffic capacity while reducing the cost per bit of the wet plant. This approach is fully in line with SDM (Space Division Multiplexing) system architectures. NEC's 24 FP solution not only provides more flexibility to operate in the subsea fiber pair market, it also enables better connectivity in high-density subsea branches.

NEC achieved this milestone with minor modifications to its proven repeater and cable designs. Keeping NEC's quadruple pump redundancy in the repeater (established more than 10 years ago) and maintaining OCC's outstanding cabling performance has resulted in cabled attenuations lower than 0.150dB/km. Low attenuation is critical to achieve large spectral efficiency as well as lower power consumption.

"As global demands for capacity and FP flexibility continue to soar, NEC is committed to helping our customers to build up their subsea networks with large spectral-efficiency, lower power consumption and large-scale subsea connectivity," said Yoshihisa Inada, Deputy General Manager and Head of Subsea Technology Development at NEC's Submarine Network Division. "We continue to evaluate multiple technical options to further increase capacity and reduce the cost/bit of the networks."

OCC's 24 fiber pair cable can be manufactured using a wide range of existing optical fibers, according to the needs of each new cable system. Each fiber can be visually identified using a field-proven combination of ring marking and conventional fiber coloring, first introduced in 2013. Furthermore, in OCC cable, the fiber's transmission performance is completely unaffected, either by the fiber marking or cabling processes.

"We have concluded that the use of our fibers in OCC's 24 pair cable results in a cabled attenuation matching the nominal value. We are confident that our ultra-low loss fibers can contribute to achieve large capacity, high spectral efficiency and low power consumption in transoceanic networks," said Dr. Masashi Onishi, General Manager at Optical Fiber and Cable division of Sumitomo Electric Industries Ltd.

"To support growing bandwidth, next generation subsea systems will offer Petabit-scale transmission. To achieve the required performance, cabling processes must capture the advantaged optical attenuation and large effective area of our ultra-low-loss fibers. OCC's cabling process for 24 fiber pairs works with our high quality fiber to meet the challenge," said Dr. Bernhard Deutsch, VP & GM, Optical Fiber & Cable, Corning Incorporated.
About NEC Corporation
NEC Corporation has established itself as a leader in the integration of IT and network technologies while promoting the brand statement of "Orchestrating a brighter world." NEC enables businesses and communities to adapt to rapid changes taking place in both society and the market as it provides for the social values of safety, security, fairness and efficiency to promote a more sustainable world where everyone has the chance to reach their full potential. For more information, visit NEC at https://www.nec.com.

About Corning Corporation
Corning Corporation: (

http://www.corning.com) is one of the world's leading innovators in materials science, with a 170-year track record of life-changing inventions. Corning applies its unparalleled expertise in glass science, ceramic science, and optical physics along with its deep manufacturing and engineering capabilities to develop category-defining products that transform industries and enhance people's lives. Corning succeeds through sustained investment in RD&E, a unique combination of material and process innovation, and deep, trust-based relationships with customers who are global leaders in their industries. Corning's capabilities are versatile and synergistic, which allows the company to evolve to meet changing market needs, while also helping our customers capture new opportunities in dynamic industries. Today, Corning's markets include optical communications, mobile consumer electronics, display, automotive, and life sciences.

About Sumitomo Electric Industries Ltd.
With a history in electric wire and cable manufacturing, Sumitomo Electric (

https://sumitomoelectric.com/), established in 1897, has invested heavily in research and development to expand and establish new businesses. These efforts have allowed us to create new products and new technologies, as well as diversify our business fields. Currently, Sumitomo Electric operates their businesses on a global basis in five segments: Automotive; Infocommunications; Electronics; Environment & Energy; and Industrial Materials. Sumitomo Electric continues to contribute to society through environmentally friendly and fair business activities. For further information on Sumitomo Electric fiber optics technology, visit our LinkedIn:

https://www.linkedin.com/showcase/sumitomo-electric-fiber-optics-products/.

NEC is a registered trademark of NEC Corporation. All Rights Reserved. Other product or service marks mentioned herein are the trademarks of their respective owners. © NEC Corporation.