NTT DOCOMO to Establish a 5G Consortium in Thailand with Leading Partners
TOKYO, JAPAN, February 3, 2021 — NTT DOCOMO and an international group of other leading firms jointly announced today that they have signed a basic agreement to establish a consortium to provide 5G solutions, first in Thailand and later in other Asia Pacific countries with the possible inclusion of additional partners. The initial members of the 5G Global Enterprise solution Consortium (5GEC) will be ACTIVIO Inc., AGC Inc., Advanced Wireless Network Co., Ltd., EXEO ASIA Co., Ltd., FUJITSU LIMITED, Loxley Public Company Limited, Mobile Innovation Co., Ltd., NEC Corporation, NEC Networks & System Integration Corporation, NTT Communications, NTT DATA INSTITUTE OF MANAGEMENT CONSULTING, Inc., NTT DOCOMO, INC., and NTT Ltd.

As global enterprises digitally transform their overseas operations, the consortium's mission, by coordinating each member's strength such as advantages in network technologies or sales and marketing networks, will be to provide such companies with professional consultation regarding 5G solutions, especially flexible and highly secure private 5G networks that function independently of public networks offered by local telecommunications operators. Through the consortium, the participating members will offer the one-stop delivery of private 5G systems and related managed services, capitalizing on the key characteristics of 5G, including Enhanced Mobile Broadband (eMBB), Ultra Reliable Low Latency Communications (URLLC) and Massive Machine Type Communications (mMTC).

Demonstration tests are planned in Thailand in the second half of this year. Commercial services are expected to launch in 2022, targeting vertical industries such as manufacturing and construction companies based in Thailand. Thereafter, the partnership plans to expand into other markets, especially in the Asia Pacific region where many manufacturing companies with high needs for digital transformation are located.

The consortium will draw on NTT DOCOMO's pioneering leadership in Open Radio Access Network (O-RAN), high expandability and open interfaces to support various mobile frequencies in each country and connect devices provided by various vendors. As a result, the consortium expects to provide users with highly flexible and optimized private 5G networks.

The consortium looks forward to resolving societal and business issues by way of providing world-class 5G private-wireless services, and hopes to contribute to realize a rich society by advancing the digital transformation of companies with business units abroad.
1.

Consortium Name :
5G Global Enterprise solution Consortium (5GEC)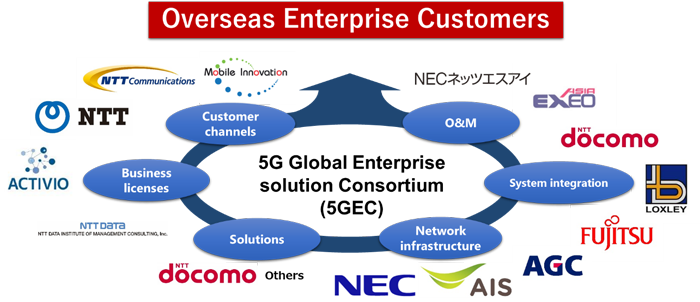 2.

Roles of Consortium Members
| | |
| --- | --- |
| ACTIVIO | Applications for certification of radio equipment and import, arrangement of certification labeling and acquisition of radio business license |
| AGC | Provision of thin, small-footprint, advanced-design proprietary antenna products and improvement of indoor-coverage solutions, mainly for mm-Wave |
| Advanced Wireless Network Co., Ltd. | Provision of network connectivity |
| EXEO ASIA | Construction of network infrastructure including RAN |
| FUJITSU | Provision of and verification support for network communication equipment and solutions |
| Loxley | System integration & engineering |
| Mobile Innovation | Support for building customer channels |
| NEC | Provision of and verification support for network communication equipment and solutions (NEC Network design and construction, maintenance and operation (NEC Networks & System Integration Corporation) |
| NTT Communications | Development of customer channels |
| NTT DATA INSTITUTE OF MANAGEMENT CONSULTING | Support for developing customer channels and solution discovery |
| NTT DOCOMO | Project coordination, 5G Solution, Design of wireless networks and Integration of O-RAN compliant equipment |
| NTT Ltd. | Development of customer channels |
Attachment:

Consortium Details
About ACTIVIO Inc.
ACTIVIO is a company that provides IoT related services with a base in Thailand. Our mission is to spread IoT technology to ASEAN countries to realize a smart society. We mainly provide services such as application of certification for wireless equipment, importing, installation at sites and IoT solution development.

About AGC Inc.
AGC Inc. is the parent company of the AGC Group, a world-leading glass solution provider and supplier of flat, automotive and display glass, chemicals, ceramics and other high-tech materials and components. Based on more than a century of technical innovation, the AGC Group has developed a wide range of cutting-edge products. The AGC Group employs some 55,000 people worldwide and generates annual sales of approximately 1.5 trillion Japanese yen through business in about 30 countries. For more information, please visit

www.agc.com/en

About Advanced Wireless Network Co., Ltd.
Advanced Wireless Network Co.,Ltd is the subsidiary of Advanced Info Service Public Company Limited or AIS, the no. 1 leader in Digital Life Service Provider, which has the most spectrum for service, total 1450 MHz, and has the most amount of users over 40.9 million subscribers (as of September 2020). AIS is ready to drive Thailand with innovation from 5G technology, which currently covering 77 provinces as the first service provider by 3 businesses such as Mobile phone service, High-speed internet service under the brand of AIS Fibre, and digital services in 5 domains, including video, cloud, digital payment, Internet of Things (IoT), and services with partners, as well as expanding into new business groups like AIS eSports services, and AIS Insurance. All of this, to support the strength of the digital infrastructure of the country, including increasing the capacity of the industrial sector and improving the quality of life for Thais at the same time, which in line with the spirit of AIS as a Digital Life Service Provider, which is ready to bring digital services to enhance the quality of life for Thais.

About EXEO ASIA Co., Ltd.
EXEO ASIA COMPANY LIMITED was established on 3rd January 2018 as one of the overseas subsidiaries of KYOWA EXEO Corporation that is the Major Telecommunication and Engineering construction company in Japan. Our missions are to provide Network System, Wireless Network System, Server System, any Wiring constructions and various solutions related IP such as PABX, CCTV, IoT and so on. We could provide those Maintenance Support Service as well. For more information, please visit

http://www.exeoasia.com/

About Fujitsu
Fujitsu is the leading Japanese information and communication technology (ICT) company offering a full range of technology products, solutions and services. Approximately 130,000 Fujitsu people support customers in more than 100 countries. We use our experience and the power of ICT to shape the future of society with our customers. Fujitsu Limited (TSE:6702) reported consolidated revenues of 3.9 trillion yen (US$35 billion) for the fiscal year ended March 31, 2020. For more information, please see

www.fujitsu.com.

About Loxley Public Company Limited
Loxley Public Company Limited was established since 1939 in Thailand. Over the last 82 years, Loxley has expanded and developed into different businesses. Nowadays, there are 5 Strategic Business Groups in Loxley: 1) Information Technology, 2) Network Solutions, 3) Energy, 4) Trading and 5) Services. We use our experience and products to provide integrated services covering areas of ICT, infrastructure, network solutions, printing, TV and radio transmission systems, transport systems, control systems, energy and alternative energy, security systems and etc. We are committed to provide high-quality products and services to our customers. For more information, visit Loxley at

www.loxley.co.th.

About Mobile Innovation Co., Ltd.
Mobile Innovation Company Limited is a company specializing in Real-Time fleet tracking and management system and Global IoT Services with efficient aftersales services. We are providing services to more than 100 corporate companies, both Japanese and Thai companies, transporting manufacturing parts and products, agriculture, constructions, and consumer products including passengers.

www.mobileinnovation.asia

About NEC Corporation
NEC Corporation has established itself as a leader in the integration of IT and network technologies while promoting the brand statement of "Orchestrating a brighter world." NEC enables businesses and communities to adapt to rapid changes taking place in both society and the market as it provides for the social values of safety, security, fairness and efficiency to promote a more sustainable world where everyone has the chance to reach their full potential. For more information, visit NEC at

https://www.nec.com .

About NEC Networks & System Integration Corporation
NEC Networks & System Integration provides solutions to a broad array of customers such as enterprises, telecommunications carriers, and central and local governments from a customer's perspective. The Company is characterized by its strong ability to provide integrated services covering all areas of information and communications technology (ICT) with the network as its core, from planning and consultation to system design, system integration, and construction, as well as maintenance, operation, outsourcing, and business process outsourcing (BPO). The ability to provide facility management such as office furniture, air conditioning, and lighting systems, in addition to ICT, is also a strength unique to the Company.

www.nesic.co.jp/english/

About NTT Communications
NTT Communications solves the world's technology challenges by helping enterprises overcome complexity and risk in their ICT environments with managed IT infrastructure solutions. These solutions are backed by our worldwide infrastructure, including industry leading, global tier-1 public and private networks reaching over 190 countries/regions, and more than 500,000m2 of the world's most advanced data center facilities. Our global professional services teams provide consultation and architecture for the resiliency and security required for your business success, and our scale and global capabilities in technology world are unsurpassed. Combined with NTT Ltd., NTT Data, and NTT DOCOMO, we are NTT Group.


www.ntt.com |

Twitter@NTT Com |

Facebook@NTT Com |

LinkedIn@NTT Com

About NTT DATA INSTITUTE OF MANAGEMENT CONSULTING, Inc.
NTT DATA INSTITUTE OF MANAGEMENT CONSULTING, was established in 1991 as a 100% subsidiary of NTT Data, the largest system integrator in Japan. With approximately 400 professionals and staffs, we deliver cutting-edge consulting and advisory services in such area as public, financial and industry sector.

https://www.nttdata-strategy.com/english/

About NTT DOCOMO, INC.
NTT DOCOMO, Japan's leading mobile operator with over 80 million subscriptions, is one of the world's foremost contributors to 3G, 4G and 5G mobile network technologies. Beyond core communications services, DOCOMO is challenging new frontiers in collaboration with a growing number of entities ("+d" partners), creating exciting and convenient value-added services that change the way people live and work. Under a medium-term plan toward 2020 and beyond, DOCOMO is pioneering a leading-edge 5G network to facilitate innovative services that will amaze and inspire customers beyond their expectations.

www.nttdocomo.co.jp/english.

About NTT Ltd.
NTT Ltd. is a leading global technology services company. We partner with organizations around the world to shape and achieve outcomes through intelligent technology solutions. For us, intelligent means data driven, connected, digital and secure. As a global ICT provider, we employ more than 40,000 people in a diverse and dynamic workplace that spans 57 countries, trading in 73 countries and delivering services in over 200 countries and regions. Together we enable the connected future. Visit us at

hello. global.ntt

NEC is a registered trademark of NEC Corporation. All Rights Reserved. Other product or service marks mentioned herein are the trademarks of their respective owners. © NEC Corporation.