NEC and CSC e-Governance Services form a strategic alliance to deliver innovative digital services for rural areas in India
New Delhi, India and Tokyo, Japan, 15 May, 2019 - NEC Corporation (NEC; TSE: 6701) today announced that NEC Technologies India (NECTI), a wholly owned subsidiary, and CSC e-Governance Services India Ltd (CSC SPV) have formed a strategic alliance to jointly develop and deliver new digital services to approximately 900 million citizens living in rural areas of India.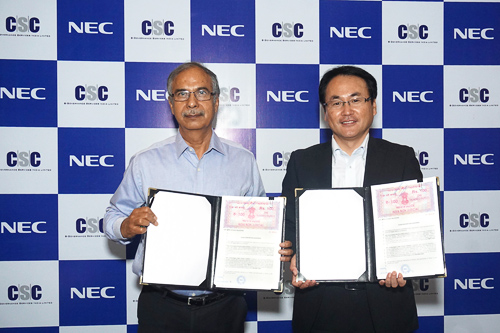 Dr. Dinesh Kumar Tyagi, CEO, CSC e-Governance Services India (left)
Takayuki Inaba, Managing Director, NEC Technologies India (right)
As part of this alliance, NECTI has decided to make an equity investment in CSC SPV to become the third-biggest shareholder.

NEC and CSC SPV also created a joint-working group within CSC SPV to develop new, innovative digital services for citizens living in rural areas of India. With more than 470,000 transactions occurring at CSCs (*) across India every day, CSC will be able to launch, refine and tweak the variety and efficiency of services on offer by leveraging NEC's expertise in areas such as AI and data analytics. These AI and data analytics driven initiatives will improve service experience across various sectors, including finance, education and healthcare, among others.

Mr. Takayuki Inaba, Managing Director, NEC Technologies India, said, "As a leading provider of ICT solutions, we are delighted to extend our involvement with CSC SPV to digitally empower residents in rural areas. With this strategic alliance, our innovative technologies will unlock new opportunities and bring additional value to citizens, CSC operators as well as CSC SPV."

Dr. Dinesh Kumar Tyagi, CEO, CSC SPV, said, "The association with NECTI will help in utilising technologies for delivery of various services to citizens, especially those living in rural India. Education, financial inclusion and telemedicine are the areas where innovative technologies can be utilised to improve the quality of life for people living in rural India."

NECTI and CSC SPV had previously worked together with leading Indian banks to provide financial inclusion services for residents who are out of coverage from traditional bank branches and ATMs.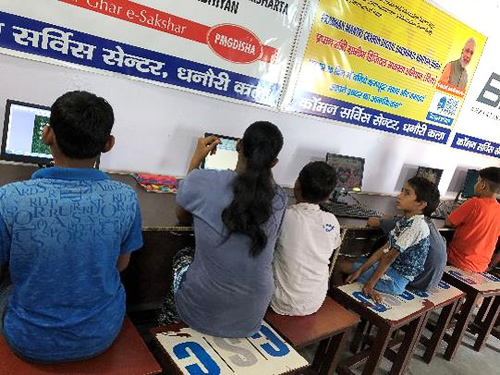 Common Services Center
Launched in 2017, this financial inclusion service allows users to perform bank transactions, including receiving subsidies from the government, by verifying their identity through biometric scans at CSCs across the country without having to travel to a distant bank branch.
***
(*)

CSCs are the access points for delivery of essential public utility services, social welfare benefits, healthcare, financial, education and agriculture services, to citizens in rural and remote areas.
About NEC Corporation
NEC Corporation is a leader in the integration of IT and network technologies that benefit businesses and people around the world. The NEC Group globally provides "Solutions for Society" that promote the safety, security, efficiency and equality of society. Under the company's corporate message of "Orchestrating a brighter world," NEC aims to help solve a wide range of challenging issues and to create new social value for the changing world of tomorrow. For more information, visit NEC at https://www.nec.com.
LinkedIn: https://www.linkedin.com/company/nec/
YouTube: https://www.youtube.com/user/NECglobalOfficial
Facebook: https://www.facebook.com/nec.global/
Twitter: https://twitter.com/NEC_corp
About NEC Technologies India Private Limited
NEC is a leader in the integration of IT and network technologies and brings more than 100 years of expertise in technological innovation to provide solutions for empowering people, businesses and society. Headquartered in Japan, NEC started operations in India in the 1950s, accelerating its growth through the expansion of business to global markets. NEC in India expanded its business from telecommunications to public safety, logistics, transportation, retail, finance, unified communication and IT platforms, serving across governments, businesses as well as individuals. With its Centre of Excellence for analytics platform solutions, big data, biometrics, mobile and retail, NEC in India offers innovative new services and solutions for India and global markets. NEC operates across India with offices in New Delhi (head office), Noida, Mumbai, Chennai, and Bengaluru.

For further information please visit: https://in.nec.com/

NEC is a registered trademark of NEC Corporation. All Rights Reserved. Other product or service marks mentioned herein are the trademarks of their respective owners. © NEC Corporation.
About Limited CSC e-Governance Services
CSC e- Governance Service India Limited is a Special Purpose Vehicle (CSC SPV) incorporated under the Companies Act, 1956 by the Ministry of Electronics and Information Technology ( MeitY), Government of India, to monitor the implementation of Common Services Centers Scheme (CSCs). It provides a centralized collaborative framework for delivery of services to citizens through CSCs, besides ensuring systematic viability and sustainability of systems.

Common Services Centers (CSCs) are a strategic cornerstone of the Digital India programme. They are the access points for delivery of various digital services to villages in India, thereby contributing to a digitally and financially inclusive society.

CSCs are more than service delivery points in rural India. They are positioned as change agents, promoting rural entrepreneurship and building rural capacities and livelihoods. They are enablers of community participation and collective action for engendering social change through a bottom-up approach with key focus on the rural citizen.