NEC contributes to monitoring test utilizing 5G conducted by NTT DOCOMO and ALSOK
Tokyo, March 27, 2019 – NEC Corporation today announced that it contributed to a monitoring test utilizing 5G carried out by NTT DOCOMO, INC. and SOHGO SECURITY SERVICES CO.,LTD. (ALSOK) through the provision of a 5G base station system (*1) supporting 4.5 GHz and a remote operation support system.

This test was conducted at Tsurugajo Park, Aizuwakamatsu City, Japan, from February 4 to 6, 2019, in which 5G communications were delivered using a test system consisting of a 5G base station and two 5G mobile stations. High-definition cameras were equipped on the main keep of Tsuruga Castle, and video captured by the cameras was transmitted to a central monitoring center (5G mobile station No.1) in the park. By analyzing the video, the system immediately detected individuals who appeared to be lost or in need of assistance.

During the test, when a senior citizen who appeared to be having difficulty was detected, staff from a central monitoring center contacted a security member in the park, who quickly rushed to the person's assistance by following instructions, including video and information displayed on a pair of smart glasses (5G mobile station No.2) and voice instructions. In addition, video from the smart glasses was transmitted via 5G to the central monitoring center, where facial recognition (*2) verified that the security staff had reached the correct person, which enabled appropriate handling of the situation.

A common challenge for communities with declining populations is that there are few people who can take notice and file a report in the case of an emergency. The use of 5G and AI enables high-definition video to be transmitted and analyzed in real time, thereby enabling safe and secure monitoring.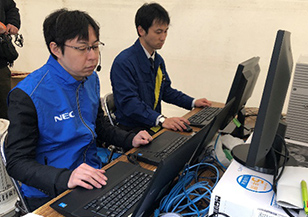 Staff from a central monitoring center
provide instructions based on observations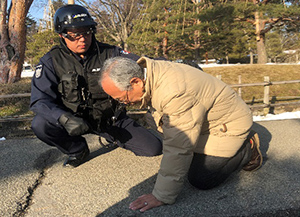 Security member receives instructions and provides assistance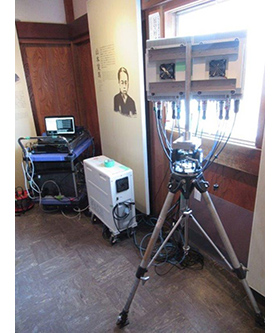 5G base station installed on the main keep of Tsuruga Castle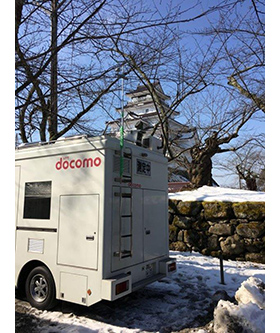 Tsuruga Castle (5G base station) viewed from 5G mobile station
NEC's massive-element AAS base station system supporting 4.5GHz adopts a fully digital control system, which improves the precision of beamforming. The fully digital control system enables simultaneous beamforming in multiple directions from a single massive-element AAS unit. In this demonstration, high-speed and high-capacity communication was achieved by simultaneously using radio resources of the same frequency and the same time for multiple mobile terminals at different positions and directions and performing spatial multiplexing with beams.

NEC's remote operation support system allows field workers and supporters to share video and audio in order to support remote business in real time by using smart glasses and AR (Augmented Reality). Furthermore, field workers wearing smart glasses can establish hands-free communications without stopping their operations, unlike PCs and tablets.

"NEC will continue to develop massive-element AAS base station systems that enable high-speed, large-capacity networks and ultra-large-scale connections, while aiming to commercialize 5G technologies," said Katsumi Tanoue, Deputy General Manager, Wireless Access Solutions Division, NEC Corporation. "NEC will also work with telecommunications carriers and partners in order to create new services and businesses that make use of 5G, as in the case of this trial," he added.

This test included a portion of the results from the FY 2018 5G Comprehensive Demonstration Test conducted by NTT DOCOMO for the Ministry of Internal Affairs and Communications, Japan, entitled "Contract for Study on the Technical Conditions of the Fifth-Generation Mobile Communications Systems that Enables Ultra High-Speed Communications with Average 4-8Gbps in Environments ranging from Demographic Communities to Suburban Environments."
***
*1

The 5G base station and the mobile station equipped with the Massive MIMO antenna that support the 4.5GHz band feature enhancements based on results from "The research and development project for realization of the fifth-generation mobile communications system" commissioned by The Ministry of Internal Affairs and Communications, Japan.

*2


NEC's multimodal biometric authentication brand, Bio-IDiom
https://www.nec.com/en/global/solutions/biometrics/index.html
NEC has been promoting the research and development of biometric authentication technologies since the 1970s. NEC's unique world-class technologies include face, fingerprint, and iris solutions that have been recognized as the world's most accurate.

With these technologies and their track record of success, NEC seeks to contribute to a future where biometric authentication enables the safe and secure utilization of digital technology worldwide.

NEC's Video Face Recognition Technology Ranks First in NIST Testing
https://www.nec.com/en/press/201703/global_20170316_01.html
About NEC Corporation
NEC Corporation is a leader in the integration of IT and network technologies that benefit businesses and people around the world. The NEC Group globally provides "Solutions for Society" that promote the safety, security, efficiency and equality of society. Under the company's corporate message of "Orchestrating a brighter world," NEC aims to help solve a wide range of challenging issues and to create new social value for the changing world of tomorrow. For more information, visit NEC at https://www.nec.com.

LinkedIn: https://www.linkedin.com/company/nec/
YouTube: https://www.youtube.com/user/NECglobalOfficial
Facebook: https://www.facebook.com/nec.global/
Twitter: https://twitter.com/NEC_corp

NEC is a registered trademark of NEC Corporation. All Rights Reserved. Other product or service marks mentioned herein are the trademarks of their respective owners. © NEC Corporation.