NEC develops AI Technology to support stable operation of social infrastructure
Tokyo, December 12, 2018 - NEC Corporation (NEC; TSE: 6701), in collaboration with the National Institute of Advanced Industrial Science and Technology (AIST), today announced the development of an AI technology, "Logical Thinking AI," that supports the stable operation of important social infrastructure, such as plant facilities. Since the technology automatically suggests an optimal recovery procedure in the case of an operating abnormality, even operators with limited experience can determine the most appropriate responses. This helps achieve early recovery from system abnormalities.

In the operation of social infrastructure, experienced experts are heavily relied on due to the complexity of the systems and the magnitude of their social impact. However, a shortage of both operators and training programs is now highlighting the necessity of operational support using AI.

Recently, in consideration of such needs, and in order to draw up appropriate recovery procedures, studies are taking place to advance reinforcement learning (*1), which is a form of machine learning that learns procedures utilizing simulations. However, in the case of large and complex infrastructure, such as plant facilities, enormous amounts of trial and error are necessary, making it difficult to finish learning within a practical period of time.

"This newly developed technology combines logical reasoning technology (*2) and reinforcement learning utilizing simulations. This technology allows for issues to be resolved and the stable operation of social infrastructure to be supported with AI," said Mr. Mikiya Tani, General Manager, Security Research Laboratories, NEC Corporation.
Features of the new technology include the following:
Automatic creation of proper operational procedures utilizing information such as manuals
For social infrastructure such as plant facilities, the logical reasoning narrows down to the recovery procedures that appear to be correct, using recovery procedures for abnormalities that are recorded in manuals and operation terms as well as system behaviors defined in prerequisites and design information. This significantly narrows down the scope of procedures to learn by trial and error with simulations. Even for a large and complex infrastructure in which the variation of procedures is enormous, it can complete the learning in several days.
Learning proper procedures to achieve a goal, while associating with human knowledge
Although it was difficult until now, the technology enables the association of different characteristics of values; "language," described as information in manuals and "sequential numbers," such as operational volume, included in recovery procedures suggested by AI. It learns with the restriction so as to explore proper recovery procedures in a scope that will not deviate significantly from the conditions described in the manuals. This can present not only a recovery procedure, but also its reasons, in a form that people can understand.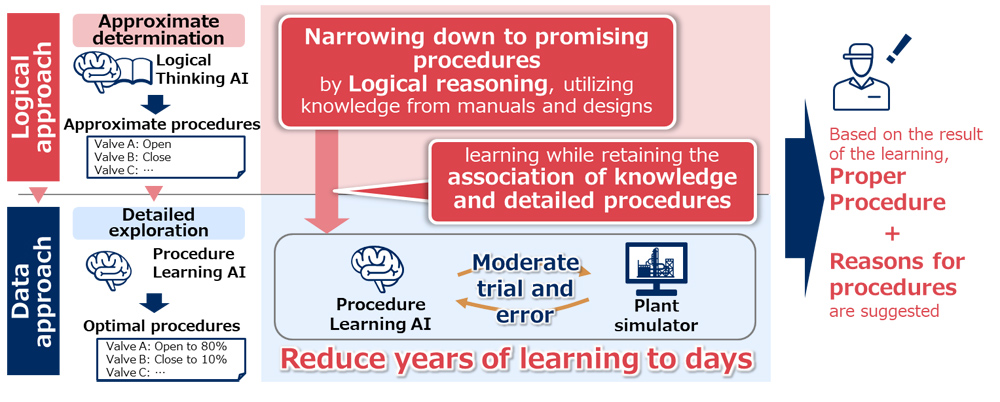 Larger viewLogical Thinking AI assisting plant operations
This achievement was presented at an international conference in the artificial intelligence field, the "International Joint Conference on Artificial Intelligence" (IJCAI2018; term: July 13 to 19, 2018; venue: Stockholm, Sweden). URL: http://www.ijcai-18.org/
***
Notes:
*1)

Reinforcement learning:
A type of machine learning, which learns by repeating trial and error utilizing a trial environment such as simulators

*2)

Logical reasoning:
A type of deductive method that leads to a logical conclusion by applying the "rules" of "if A then B" against an "observed status."
About NEC Corporation
NEC Corporation is a leader in the integration of IT and network technologies that benefit businesses and people around the world. The NEC Group globally provides "Solutions for Society" that promote the safety, security efficiency and fairness of society. Under the company's corporate message of "Orchestrating a brighter world," NEC aims to help solve a wide range of challenging issues and to create new social value for the changing world of tomorrow. For more information, visit NEC at https://www.nec.com.

LinkedIn: https://www.linkedin.com/company/nec/
YouTube: https://www.youtube.com/user/NECglobalOfficial
Facebook: https://www.facebook.com/nec.global/
Twitter: https://twitter.com/NEC_corp

NEC is a registered trademark of NEC Corporation. All Rights Reserved. Other product or service marks mentioned herein are the trademarks of their respective owners. © NEC Corporation.