NTT COMWARE Deploys New Cloud-Based Smart Billing(R) Platform to Support Subscription Businesses
-- Strategic Partnership with NEC and Netcracker will Support Launch Across Business Sectors --
Tokyo, November 22, 2018 - NTT COMWARE CORPORATION (Head office: Minato-ku, Tokyo; President: Satoshi Kurishima, hereinafter NTT COMWARE) will launch the "Smart Billing(R)" platform to support subscription business models in February 2019. "Smart Billing(R)" aims to provide a series of billing functions as a cloud service to support subscription businesses and improve work productivity.
NTT COMWARE develops "Smart Billing(R)" for the business market through a strategic alliance with NEC Corporation (Headquarters: Minato-ku, Tokyo; President and CEO Takashi Niino, hereinafter NEC).
1. Background
As sharing economies have emerged in recent years, the values of the market are changing from "own" to "use." Companies are required to rapidly transform their business into subscription models and build long-term relationships with users. Meanwhile, with the change to the subscription model, there are many issues for companies to solve, such as the initial cost burdens and the formulation of new business processes, including contracts, billing and collection.

NTT COMWARE creates new value for the B2B2X model with this service, capitalizing on its trust and achievements in the industry as a member of the NTT Group, which has been responsible for building, maintaining and operating billing systems to cope with complicated price systems, such as for telephones, long distance calling and mobile telecommunication. The service now presents an optimal plan to solve the problems of corporate customers (hereinafter "corporate users") aiming for change through innovation.
"Smart Billing(R)" was designed as a system to support subscription businesses by consolidating NTT COMWARE's cloud service technologies and know-how in billing systems. In addition, NTT COMWARE and NEC started joint development using the Business Support System (BSS) solution of Netcracker Technology, a wholly owned NEC subsidiary, to provide flexible billing model services. Netcracker Technology has a track record with various operators, including more than 100 telecommunications carriers throughout the world, including Japan. Netcracker's solution has also been validated through acknowledgements from TM Forum and various research companies as a billing platform for large-scale, multinational and advanced clouds.
2. Outline of the Service
"Smart Billing(R)" provides a set of functions, such as merchandise management, contract management, billing/collection, accounting and analysis in the cloud to support business processes and analysis processes for subscription businesses. "Smart Billing(R)" enables corporate users to quickly start a subscription business.
Even corporate users who are using existing systems for some tasks can use the standard APIs provided by "Smart Billing(R)" to share information with enterprise systems, such as CRM and ERP, as well as SaaS of other companies.
To build a long-term relationship with users, it is necessary to utilize usage trend data. "Smart Billing(R)" analyzes usage based on the information handled during the billing process and contributes to improving the lifetime value (LTV) of corporate customers.
3. Future Scenario
"Smart Billing(R)" will be available by February 2019, and the service will be available to corporate customers after April 2019. NTT COMWARE also plans to add various billing platform services in the future. Specifically, the functions will be further expanded to support the launch of new corporate customers and improve their productivity through enhanced SaaS integrations and AI-based functions.
We aim to achieve annual sales of two (2) billion yen in 5 (five) years, and promote the service both in Japan and globally by B2B2X models and the NTT COMWARE/NEC alliance.
Comment from Atsuo Kawamura, Executive Vice President, NEC
NEC is pleased to announce the new service with the BSS solution of Netcracker, an NEC subsidiary, for 'Smart Billing(R)', NTT COMWARE's billing platform, and to become their strategic partner for adopting the service for commercial use. NEC will make every effort in the joint development of 'Smart Billing(R)' with NTT COMWARE. In addition, we will undertake co-creation of new services and businesses through continued transformation of the subscription business with IoT services and advanced usage of AI to realize a society where people, goods, and actions actively connect. Through these efforts, we will continue to collaborate with NTT COMWARE, aiming for the development of 'Smart Billing(R)'.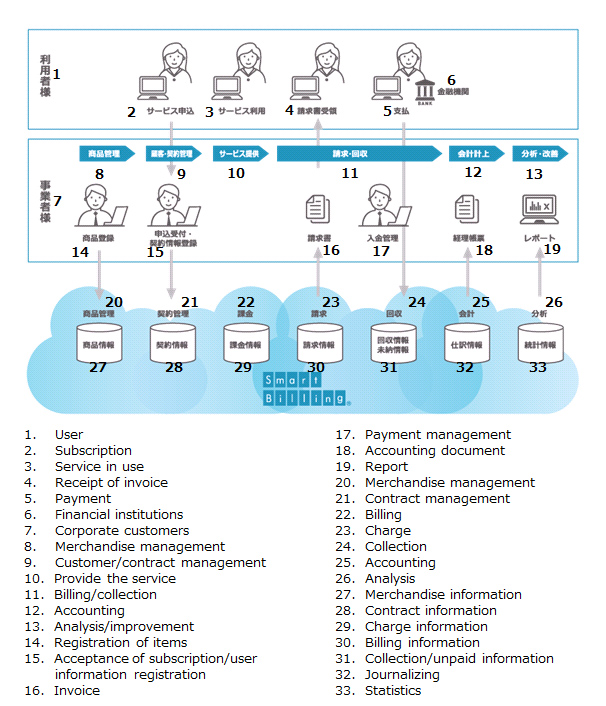 Larger viewImage of Smart Billing(R)
***
Notes:
**

"Smart Billing" is a registered trademark of NTT COMWARE CORPORATION.

**

Netcracker Technology is a wholly owned subsidiary of NEC Corporation.

**

Other company names and product names may be trademarks or registered trademarks of each company.
About NEC Corporation
NEC Corporation is a leader in the integration of IT and network technologies that benefit businesses and people around the world. The NEC Group globally provides "Solutions for Society" that promote the safety, security efficiency and fairness of society. Under the company's corporate message of "Orchestrating a brighter world," NEC aims to help solve a wide range of challenging issues and to create new social value for the changing world of tomorrow. For more information, visit NEC at https://www.nec.com.

LinkedIn: https://www.linkedin.com/company/nec/
YouTube: https://www.youtube.com/user/NECglobalOfficial
Facebook: https://www.facebook.com/nec.global/
Twitter: https://twitter.com/NEC_corp

NEC is a registered trademark of NEC Corporation. All Rights Reserved. Other product or service marks mentioned herein are the trademarks of their respective owners. © NEC Corporation.