NEC and Sightline Systems collect, analyze and visualize IIoT data in coordination with AI
Tokyo, September 12, 2018 - NEC Corporation (NEC; TSE: 6701) and Sightline Systems Japan K.K. (Sightline Japan) today announced the launch of a global solution to collect, analyze and visualize Industrial Internet of Things (IIoT) data in coordination with Sightline Japan's real-time performance management software and NEC's artificial intelligence (AI) engine.

As the IIoT and digital transformation drive the growth of digitization across a wide array of industries, including the manufacturing field, there is increasing demand for efficient operations and the creation of new value through the analysis of collected data.

Sightline System's Sightline Enterprise Data Manager™ (EDM, *1) is renowned for its real-time analysis and visualization of the aggregated and stored data that is widely deployed in numerous financial, telecommunication and manufacturing institutes around the globe. The latest solution now comes with NEC's AI engine, the Invariant Analyzer (*2), capable of automatically learning system behaviors and detecting unusual activities. This enables the early discovery of potential issues, leading to enhanced performance and capacity management, in addition to increasing the efficiency of IT systems and plant lifecycles.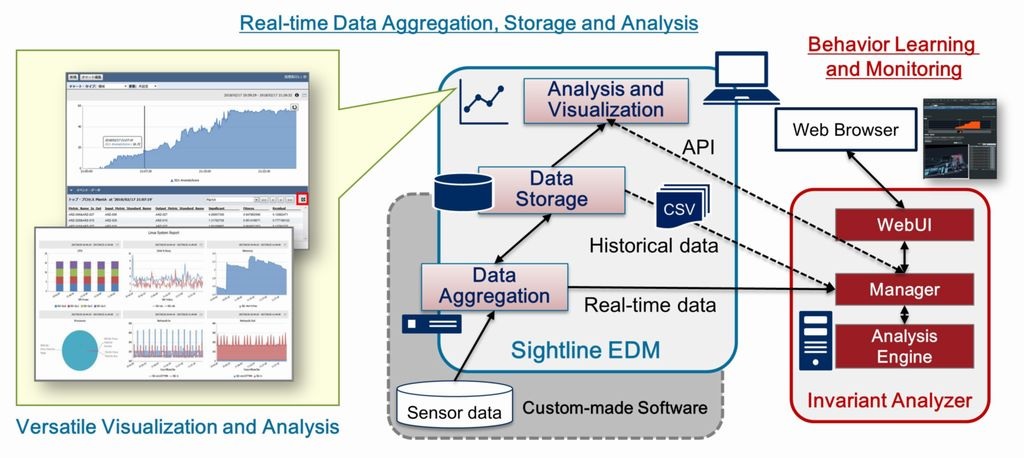 Larger viewSightline EDM and Invariant Analyzer Structure
"Sightline Japan will further strengthen the latest features to support our customers, looking to optimize their system performance and capacity management," said Yusuke Nakagawa, President, Sightline Japan. "Furthermore, we plan to reach out to Sightline Systems HQ with the latest solution with technical transfers in expanding our offering to our global customers as well."

"Our latest work opens up the potential for AI engine usage at the operational level, in addition to allowing customers to track their system activities and convert such data into valuable resources for adjusting their system designs," said Tomoyasu Nishimura, Senior Vice President, NEC Corporation. "Going forward, we plan to further develop and enhance NEC's AI engine availability for enterprises and organizations on a global scale."
***
About Sightline Systems Japan K.K.
Sightline Systems Japan offers IoT/IIoT real-time monitoring, enterprise performance data management, and capacity management solutions as well as related services in Japan.
https://www.sightlinesystems.co.jp/


About Sightline Systems
Sightline Systems offers a real-time operations intelligence solution focused on analytics, root-cause analysis, performance management, correlation of data and predictive analysis from any source — critical IT systems including mainframes, applications, storage and databases — as well as manufacturing systems including programmable logic controllers (PLC), microprocessors, supervisory control and data acquisition (SCADA) devices, sensors, actuators and loggers. For more than 12 years, Sightline reports a 98% renewal rate from customers in 15 countries that include many Fortune 50 and Global 100 companies in automotive, packaging, electronics, chemical, pharmaceutical, utility, airlines, finance and telecommunications, as well as federal, state and local governments.
http://sightline.com/


About NEC Corporation
NEC Corporation is a leader in the integration of IT and network technologies that benefit businesses and people around the world. The NEC Group globally provides "Solutions for Society" that promote the safety, security efficiency and fairness of society. Under the company's corporate message of "Orchestrating a brighter world," NEC aims to help solve a wide range of challenging issues and to create new social value for the changing world of tomorrow. For more information, visit NEC at https://www.nec.com/

LinkedIn: https://www.linkedin.com/company/nec/
YouTube: https://www.youtube.com/user/NECglobalOfficial
Facebook: https://www.facebook.com/nec.global/
Twitter: https://twitter.com/NEC_corp

NEC is a registered trademark of NEC Corporation. All Rights Reserved. Other product or service marks mentioned herein are the trademarks of their respective owners. © NEC Corporation.