Murcia City, Spain, and NEC jointly establish an innovation center to develop Smart City Solutions
Tokyo, Japan & Madrid, Spain - July 2, 2018 – NEC Corporation (NEC; TSE: 6701) today announced that NEC Iberica, a wholly-owned subsidiary of NEC Europe Ltd., and Murcia City, Spain, have signed an agreement to develop an "innovation center" in collaboration with the University of Murcia. Through this agreement, NEC will provide technology and knowledge in order to jointly develop Smart City solutions for multiple areas of the city.

The innovation center and the solutions tested there will serve as a reference for the Smart Murcia project, which will collect and analyse city information in real time in order to make decisions for the public welfare, improve the city's daily operations, coordinate multiple city services, strengthen safety and improve the quality of life for residents.

The Murcia City Council will promote the creation of applications using data analysed by the innovation center platform, helping to advance the provision of public services. Moreover, the innovation center will provide free access to its data in order to promote the generation of new proposals for the improvement of city infrastructure, such as public roads, transport, parks and gardens.

"Since the beginning of the Smart Murcia Smart City project, we have focused on the daily needs of Murcia and the formation of effective partnerships. NEC is an international leader in innovation whose specialized urban solutions will enable us to improve the development of Murcia and its digital transformation," said José Ballesta, Mayor of Murcia.

"With this agreement, we are excited to see Murcia join NEC's Smart City network, which includes communities across the United Kingdom, Japan, Portugal, Spain and more. The objective of this network is to share data that facilitates the implementation of Smart concepts, taking advantage of experience and knowhow," said Hironobu Kurosaki, President, NEC Europe Ltd.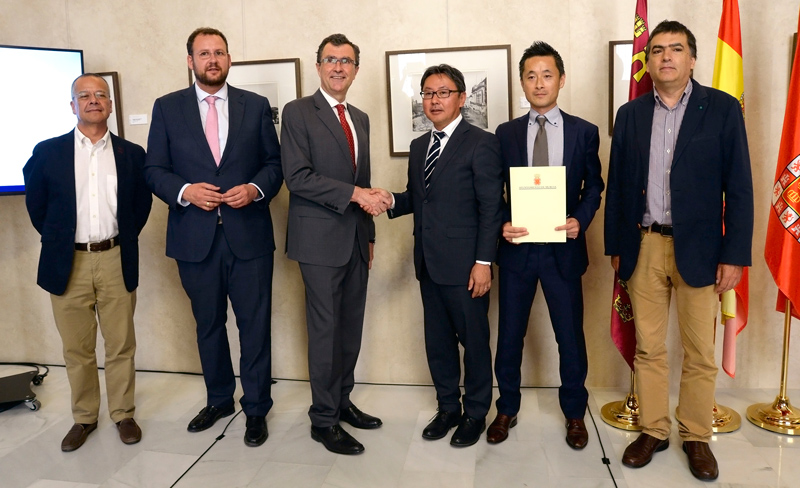 Larger viewJosé Ballesta, Mayor of Murcia (pictured third from the left) and
Hironobu Kurosaki, President of NEC Europe Ltd. (pictured fourth from the left)
***
About NEC Corporation
NEC Corporation is a leader in the integration of IT and network technologies that benefit businesses and people around the world. The NEC Group globally provides "Solutions for Society" that promote the security, safety, efficiency and fairness of society. Under the company's corporate message of "Orchestrating a brighter world," NEC aims to help solve a wide range of challenging issues and to create new social value for the changing world of tomorrow. For more information, visit NEC at https://www.nec.com.
LinkedIn: https://www.linkedin.com/company/nec/
YouTube: https://www.youtube.com/user/NECglobalOfficial
Facebook: https://www.facebook.com/nec.global/
Twitter: https://twitter.com/NEC_corp

NEC is a registered trademark of NEC Corporation. All Rights Reserved. Other product or service marks mentioned herein are the trademarks of their respective owners. © NEC Corporation.
About NEC Europe Ltd.
NEC Europe Ltd. is a wholly owned subsidiary of NEC Corporation, a leader in the integration of IT network technologies that benefit businesses and people around the world. NEC Europe Ltd. is building upon its heritage and reputation for innovation and quality by providing its expertise, solutions and services to a broad range of customers, from telecom operators to enterprises and the public sector. For additional information, please visit the NEC Europe Ltd. home page at: https://uk.nec.com/.