NEC X appoints Dr. PG Madhavan as CXO
- Leading the acceleration of startups that leverage breakthrough technologies -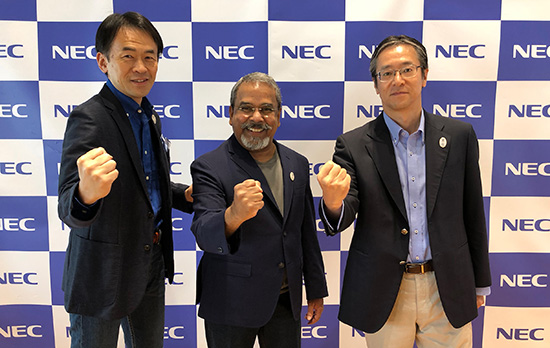 (from left: Osamu Fujikawa, Senior Vice President, NEC;
Dr. PG Madhavan, Chief Acceleration Officer (CXO), NEC X;
Motoo Nishihara, Senior Vice President, NEC)
Tokyo, Japan and Santa Clara, CA – July 2, 2018 - NEC Corporation (NEC; TSE: 6701) today announced that Dr. PG Madhavan has been appointed Chief Acceleration Officer (CXO) of NEC X, Inc., an NEC subsidiary based in Santa Clara, California, that capitalizes on the region's startup ecosystem to drive the development of new business. Dr. Madhavan is expected to split his time between Silicon Valley and Tokyo, leading the acceleration of startups that leverage breakthrough innovations from NEC's Central Research Laboratories worldwide.

During the NEC X launch event on June 20, 2018 in Tokyo, Dr. Madhavan commented that, "Personally, I see NEC X as a 'crucible' where we add various elements, such as Lab IP, business acumen, accelerator and other key ingredients, to create an 'alloy' that is unique and strong – these are the NEC X startups that we aim to produce."

After obtaining his Ph.D. in Electrical and Computer Engineering from McMaster University, Canada, and Masters in Biomedical Engineering from IIT, Madras, Dr. Madhavan pursued original research in Random Field Theory and Computational Neuroscience as a professor at the University of Michigan, Ann Arbor, and Waterloo University, Canada, among others. His next career in corporate technology saw him assume product leadership roles at Microsoft, Bell Labs, Rockwell Automation and lastly, GE Aviation. Later, PG founded and was CEO at 2 startups (and CTO at 2 others) leading all aspects of startup life.

Recently, he has made major contributions to Data Science through the creation of "Systems Analytics," a blend of Systems Theory and Machine Learning (book by the same title published in 2016) that provides a pathway to formally incorporate "dynamics" into Machine Learning.

Dr. Madhavan's academic, corporate technology and startup careers promise to shape his innovation and business creation leadership activities at NEC X.

"Dr. Madhavan has a distinguished record of blazing new paths in the IT field and helping to guide others towards the realization of their goals," said Osamu Fujikawa, Senior Vice President, NEC. "We are proud to have him leading the acceleration efforts of NEC X, excited about the potential of our startup projects, and look forward to cultivating their contributions to business and society."
***
About NEC Corporation
NEC Corporation is a leader in the integration of IT and network technologies that benefit businesses and people around the world. The NEC Group globally provides "Solutions for Society" that promote the safety, security efficiency and fairness of society. Under the company's corporate message of "Orchestrating a brighter world," NEC aims to help solve a wide range of challenging issues and to create new social value for the changing world of tomorrow. For more information, visit NEC at https://www.nec.com.

LinkedIn: https://www.linkedin.com/company/nec/
YouTube: https://www.youtube.com/user/NECglobalOfficial
Facebook: https://www.facebook.com/nec.global/
Twitter: https://twitter.com/NEC_corp

NEC is a registered trademark of NEC Corporation. All Rights Reserved. Other product or service marks mentioned herein are the trademarks of their respective owners. © NEC Corporation.