NEC establishes "NEC X" in Silicon Valley
- Accelerating new business development with cutting-edge technologies -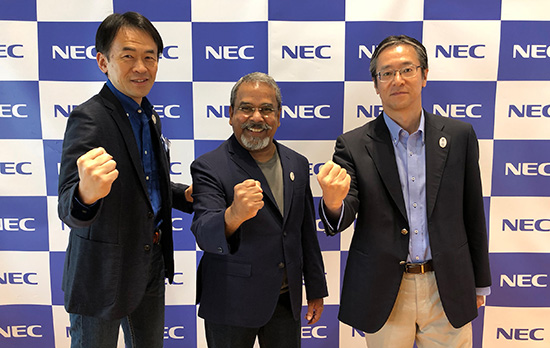 Tokyo, June 20, 2018 - NEC Corporation (NEC; TSE: 6701) today announced the establishment of NEC X, Inc. (NEC X) in Santa Clara, California, in the heart of Silicon Valley, in order to capitalize on the region's startup ecosystem and accelerate the development of new business based on the strengths of NEC's Central Research Laboratories technologies. Osamu Fujikawa, senior vice president with NEC and head of the company's Business Innovation Unit, is slated to become the CEO of NEC X as it begins operations in July 2018.

NEC X will leverage the ecosystem of NEC's talent and technologies in order to promote commercialization through open innovation. The new company will cultivate competitive technologies and human resources that possess an entrepreneurial spirit and make important contributions to NEC's creation of new social value.

NEC has a wide range of original and world leading technologies that have sprung from the company's global research centers. Until now, these have primarily been used for product development and commercialization within the company.

NEC X will encourage the participation of startups and venture capital firms endowed with the innovative business ideas of Silicon Valley, as well as receive support in the creation of new business from accelerator companies, while joining an ecosystem of new business development. These initiatives will result in the creation of an "outbound style" of business that actively provides state-of-the-art technology and new business ideas.

As one of the new company's first initiatives, NEC X will begin implementing the "NEC Accelerator Program" in July 2018 in order to launch the first startups in early 2019. This program is being created and promoted together with Singularity University (*1), a leading provider of incubator and accelerator programs in Silicon Valley.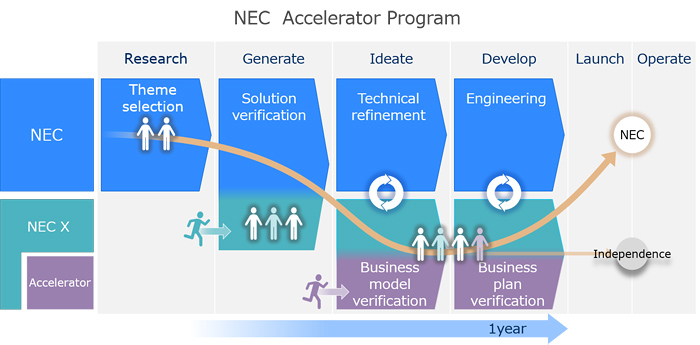 "We are delighted to hear that NEC is increasing their investment in the United States," said William Hagerty, U.S. Ambassador to Japan. "They, like so many other companies, have recognized that the U.S. market presents unparalleled opportunities for business development, and that now is the best time ever to expand their corporate footprint in America. We wish NEC every success with its latest venture."

"We established Singularity University to educate individuals and organizations about exponential thinking and technologies, to empower visionary leaders with an abundant mindset and to build strong communities," said Rob Nail, CEO and Associate Founder, Singularity University. "NEC X will catapult NEC forward to serve partners and customers in ways previously unimaginable. Singularity University is humbled and thankful to NEC for their partnership."

"NEC is now accelerating the monetization of its competitive technologies by creating diverse alliances as part of the 'strengthening of business development capabilities' in the 'restructuring of execution capabilities' that are outlined in the Mid-term Management Plan 2020 (*2) that NEC announced in January 2018," said Osamu Fujikawa, Senior Vice President, NEC Corporation. "The establishment of NEC X is an important advancement in this process, following the founding of dotData, Inc. (*3) earlier this year."

For more information on NEC X, please see the following link:
http://nec-x.com/
***
About NEC Corporation
NEC Corporation is a leader in the integration of IT and network technologies that benefit businesses and people around the world. The NEC Group globally provides "Solutions for Society" that promote the safety, security efficiency and fairness of society. Under the company's corporate message of "Orchestrating a brighter world," NEC aims to help solve a wide range of challenging issues and to create new social value for the changing world of tomorrow. For more information, visit NEC at https://www.nec.com.

LinkedIn: https://www.linkedin.com/company/nec/
YouTube: https://www.youtube.com/user/NECglobalOfficial
Facebook: https://www.facebook.com/nec.global/
Twitter: https://twitter.com/NEC_corp

NEC is a registered trademark of NEC Corporation. All Rights Reserved. Other product or service marks mentioned herein are the trademarks of their respective owners. © NEC Corporation.