NEC Launches System Invariant Analysis Technology Package for AI Engines
Tokyo, April 23, 2018 - NEC Corporation (NEC; TSE: 6701) today announced the launch of its System Invariant Analysis Technology Package for artificial intelligence (AI) engines, the "NEC Advanced Analytics – Invariant Analyzer V2.1." This sophisticated software visualizes a system's operational status and detects errors through the automatic modeling of a system's behaviors.

The recent growth of digitization has created heavy demand for safe and efficient system operations through the analysis of a wide range of collected sensor data. In addition to its introduction in power plants, NEC's System Invariant Analysis Technology, which is one of the company's AI technologies, has been used in hundreds of verification cases, including failure prediction in manufacturing and petrochemical plants. Moreover, it has been highly evaluated for its unique method of monitoring relations among sensors and the performance of real-time analysis.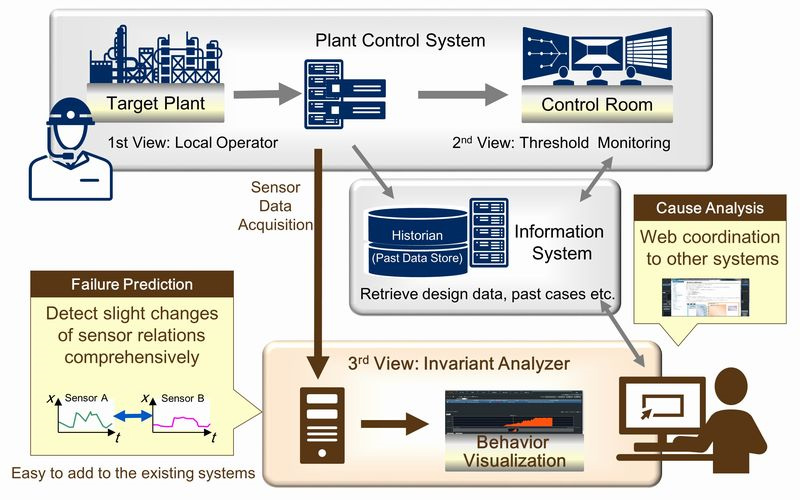 Larger viewIntroduction of Invariant Analysis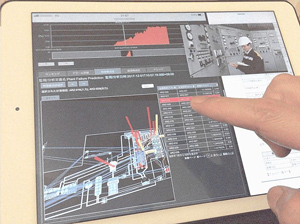 Visualization Screen
Main features of this new product include the following:
Automatic modeling of a system's behavior from past sensor data
The software is able to automatically model a system's operational status from collected sensor data of the systems in plants and factories. Moreover, by comparing and analyzing the sensor data collected in real time with the model of normal behaviors, signs of anomalies are detected at an early stage, including their location and the extent of their impact. Such analysis results can be used not only for failure recoveries, but also for providing feedback on product designs.
Monitoring the system's operational status
Along with the function to visualize the invariant relations among the sensors and the analysis results on a dedicated screen, the package provides an AI engine as a software product. This enables users to independently carry out standard analysis and performance assessment using past data, making it easy to add the AI engine to an existing monitoring control system.
Providing a support service to aid in the introduction and initial operations of the software
NEC also offers a support service to provide lectures on the software's operations, support for installing the software and responses to enquiries. This initial support will allow even first-time users and plants without an experienced data analyst who is familiar with AI analysis to introduce and utilize the software.
"Our System Invariant Analysis Technology has already been well established in the manufacturing industry, and with its flexible capabilities of automatically detecting abnormal patterns and activity, data can be sourced and collected from numerous embedded devices under numerous circumstances," said Tomoyasu Nishimura, Senior Vice President, NEC Corporation. "This allows us to consider application of the technology throughout a wide range of extreme environments, including the remote frontiers of the space industry."
***
About System Invariant Analysis Technology
https://www.nec.com/en/global/solutions/bigdata/technology/index.html#invariant

About NEC Corporation
NEC Corporation is a leader in the integration of IT and network technologies that benefit businesses and people around the world. The NEC Group globally provides "Solutions for Society" that promote the security, safety, efficiency and fairness of society. Under the company's corporate message of "Orchestrating a brighter world," NEC aims to help solve a wide range of challenging issues and to create new social value for the changing world of tomorrow. For more information, visit NEC at https://www.nec.com.
LinkedIn: https://www.linkedin.com/company/nec/
YouTube: https://www.youtube.com/user/NECglobalOfficial
Facebook: https://www.facebook.com/nec.global/
Twitter: https://twitter.com/NEC_corp

NEC is a registered trademark of NEC Corporation. All Rights Reserved. Other product or service marks mentioned herein are the trademarks of their respective owners. © NEC Corporation.