NEC releases Data Utilization Platform Service for Smart Cities using FIWARE
Tokyo, Japan - February 27, 2018 - NEC Corporation (NEC; TSE: 6701) today announced the release of its Data Utilization Platform Service for Smart Cities utilizing FIWARE (*2), the infrastructure software developed and implemented by the Future Internet Public-Private Partnership Program (FI-PPP, *1), which is the next-generation Internet public-private initiative program in the European Union (EU). Sales to local governments and area developers will commence in April 2018.

The new service accumulates data from a variety of sectors (disaster management, tourism, transportation, energy, environment, etc.) covering cities and regions, including data collected through the Internet of Things (IoT) technologies in the cloud, and provides this data after sharing, analyzing and processing it, aiming to address urban issues such as the vitalization of communities and safety. NEC will provide the service as one of the integrated IoT platforms of the NEC the WISE IoT Platform (*3) that underpins digital transformation.

The service will provide support for creating vibrant communities through the integrated use of urban-related data that helps visualize and identify urban issues, optimize administrative services and create new value with new services.

The service will launch today in Takamatsu City, Japan and in Kakogawa City, Japan in March this year ahead of its official release.

By using the service, Takamatsu City will address issues in the disaster management and tourism promotion, while Kakogawa City will address safety and security issues, both promoting the implementation of Smart Cities based on the use of the data in the cities.

Primary features of the Data Utilization Platform Service are described below: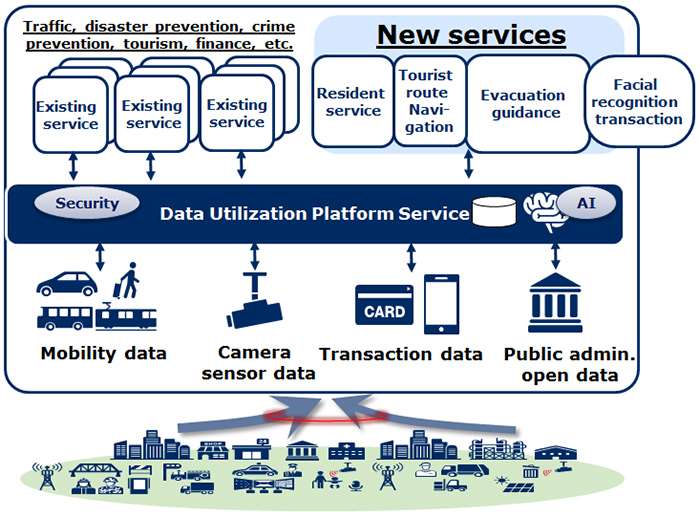 Overview of the Data Utilization Platform Service
Integrating urban data into the service for collection and accumulation and sharing the data mutually will create new cross-sector services.
All kinds of functions required for the implementation of Smart Cities will be provided as standard services, e.g. a data publication site that lists up the collected data and a geographical information system that visualizes a city.
| Name of function | Overview |
| --- | --- |
| Data publication site | A portal site that lists up the types of data collected and accumulated in the platform and publicizes the access methods to the data for data users |
| Geographical information system | A function that provides geographical information to applications |
| Real-time analysis | A function that analyzes the collected data in real time and outputs the results |
| Context information management | A function that controls things and information that exist in cities as data (context information) in an integrated manner and provides open API to data providers and data users. |
| Historical data storage | A function that accumulates and refers to the history of context information |
| Binary data storage | A storage function that controls binary data from images and videos |
| API management | A management function for administrators to support the handling of Web API and secure proxy settings. |
| Identity management | A management function for administrators to support the handling of user life-cycle functions. |
Creation of new services through cross-sector and cross-regional data accumulation and interchange
Aiming at implementing the interoperability of diversified data, the service specifies a standard data model for unifying data formats and also prepares an open Application Programming Interface (API), which is the global standard, including Next Generation Service Interfaces (NGSI). This will allow the smooth integration, accumulation and processing of the data collected from different sectors and regions, enabling the creation of new services responding to regional issues.
Provision of strong security and one-stop support, essential for data utilization
Implemented on NEC Cloud IaaS, NEC's cloud platform service, the service provides further advanced data utilization and a safe, secure environment in combination with NEC's advantageous services such as AI and security services. Moreover, it carries out verifications combining numerous Open Source Software (OSS) packages taking advantage of NEC's knowledge of OSS, while ensuring its openness. In this way, NEC provides one-stop support to OSS adopted in the service.
Upon this announcement, NEC received the following endorsements from Mr. Ulrich Ahle, CEO of FIWARE Foundation, a FIWARE promoting body, Mr. Hideto Onishi, Mayor of Takamatsu City, which is an early user of this solution, Mr. Yasuhiro Okada, Mayor of Kakogawa City, another early user, and Yuji Onoda, Director of the Future City Creation Promotion Division at NEC.

FIWARE Foundation welcomes the commercial launch of NEC's "FIWARE-based data-sharing platform for Smart Cities". FIWARE has the best-suited APIs for utilizing open data and sensor data and has been used in many cities in Europe and other regions for building smart services. I am convinced that such a platform will be used by many players in Japan leading to the creation of a variety of smart services and also to the formation of an ecosystem of data utilization, both of which will accelerate the cities in Japan to become smarter."
FIWARE Foundation CEO Ulrich Ahle
With the aim of addressing region-specific issues, Takamatsu City became the first city in Japan to use FIWARE as a common data platform through using grant of the Ministry of Internal Affairs and Communications of Japan (the Data Utilization Smart City Promotion Project). We expect FIWARE, which complies with international standards and facilitates the cross-sectoral interoperability of data, to be more widely used both in Japan and overseas by NEC's efforts.
Mr. Hideto Onishi, Mayor of Takamatsu City
Kakogawa City adopted FIWARE for collecting data from multiple sectors, including safety and security, for analysis purposes with the aim of becoming a city selected by young families based on the comprehensive strategy for overcoming population decline and vitalizing the local economy. We will endeavor to construct an implementation structure where citizens, academics, private companies and many other parties can participate in efforts for resolving regional issues.
Mr. Yasuhiro Okada, Mayor of Kakogawa City
NEC has been involved in the development of FIWARE since 2011 and has provided FIWARE-based solutions to Santander, Spain and other cities. Our new Data Utilization Platform Service is a foundation for urban management and business that leverages FIWARE to verify information independently and enhance security. By utilizing NEC's advanced ICT strengths, including AI and IoT technologies, we will make contributions to the digital transformation of companies and communities through innovative co-creation.
Yuji Onoda, Director of the Future City Creation Promotion Division at NEC
***
About NEC Corporation
NEC Corporation is a leader in the integration of IT and network technologies that benefit businesses and people around the world. By providing a combination of products and solutions that cross utilize the company's experience and global resources, NEC's advanced technologies meet the complex and ever-changing needs of its customers. NEC brings more than 100 years of expertise in technological innovation to empower people, businesses and society. For more information, visit NEC at https://www.nec.com.

The NEC Group globally provides "Solutions for Society" that promote the safety, security, efficiency and equality of society. Under the company's corporate message of "Orchestrating a brighter world," NEC aims to help solve a wide range of challenging issues and to create new social value for the changing world of tomorrow. For more information, please visit

https://www.nec.com/en/global/about/vision/message.html

NEC is a registered trademark of NEC Corporation. All Rights Reserved. Other product or service marks mentioned herein are the trademarks of their respective owners. © NEC Corporation.