NEC ensures communications speed for self-driving automobiles
- Adaptive network control enables real-time information sharing -
Tokyo, February 5, 2018 - NEC Corporation (NEC; TSE: 6701) today announced the development of an adaptive network control technology that allows automobiles to share information about their surroundings in real-time, even in unstable communication environments featuring numerous vehicles and communication terminals.

In recent years, expectations have been growing for the introduction of self-driving automobiles, automated guided vehicles (AGV) at factories and drones for deliveries. However, in order to avoid collisions and ensure the safety of self-driving vehicles, it is necessary for vehicles to share information about their surroundings in real-time through mobile networks.

In terms of self-driving automobiles, guidelines established by the 3rd Generation Partnership Project (3GPP) require that at least 95% of communications reach their destination within 100 milliseconds.

In a mobile network, however, as the number of communication terminals that are connected to a radio base station increases, the communication delay for each terminal also increases. Moreover, communication delays may differ from terminal to terminal and may fluctuate every second. As a result, it has been nearly impossible to consistently reduce communications delays to below 100 milliseconds while in busy areas, such as major intersections.

In response to this, NEC has developed an adaptive network control technology for controlling networks that prioritizes certain urgent communication terminals based on their communications flow, then immediately assigns bandwidth and communication time (radio resources) to these terminals, rather than their less urgent counterparts. This helps to ensure that data transmission is complete within the 100 millisecond target time.

This technology has been tested in a simulated traffic environment where 100 automobiles and 100 pedestrians were using a variety of communication terminals, such as smartphones, while connected to an LTE radio base station. This testing verified that an automobile's communication delay could be shortened to 100 milliseconds or less and the rate of successful communication could reach 95%. This represents an improvement of more than five times over the conventional Proportional Fairness method of communications.

"We will continue our efforts to verify and commercialize this technology as we aim to see it applied to social systems in many different areas, such as self-driving automobiles, AGVs at factories, and drones for deliveries," said Yuichi Nakamura, General Manager, NEC System Platform Research Laboratories.

Part of this network control technology was recently developed through "The research and development of a high-efficiency communication system for a mobile phone network that covers numerous devices." The Ministry of Internal Affairs and Communications leads this research in which NEC has been involved since FY2016.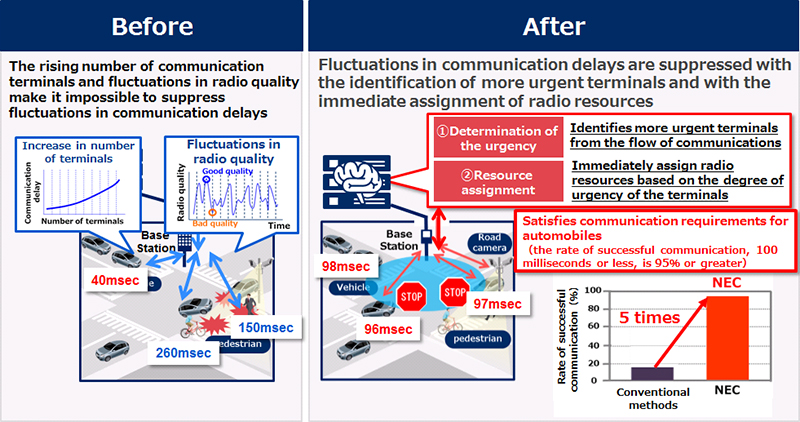 Larger viewNEC's adaptive network control technology
***
About NEC Corporation
NEC Corporation is a leader in the integration of IT and network technologies that benefit businesses and people around the world. By providing a combination of products and solutions that cross utilize the company's experience and global resources, NEC's advanced technologies meet the complex and ever-changing needs of its customers. NEC brings more than 100 years of expertise in technological innovation to empower people, businesses and society. For more information, visit NEC at http://www.nec.com.

The NEC Group globally provides "Solutions for Society" that promote the safety, security, efficiency and equality of society. Under the company's corporate message of "Orchestrating a brighter world," NEC aims to help solve a wide range of challenging issues and to create new social value for the changing world of tomorrow. For more information, please visit

http://www.nec.com/en/global/about/vision/message.html

NEC is a registered trademark of NEC Corporation. All Rights Reserved. Other product or service marks mentioned herein are the trademarks of their respective owners. © NEC Corporation.