JAL and NEC use AI to automate purchase prediction analysis
- Utilizing AI to automatically discover patterns in customer purchase behavior through the analysis of vast amounts of data -
Tokyo, November 07, 2017 - Japan Airlines Co., Ltd. (JAL) and NEC Corporation (NEC; TSE: 6701) today announced the completion of test demonstrations conducted between September and November 2017 in which artificial intelligence (AI) was used to analyze access log and other data from a flight booking website run by JAL and to perform predictive analysis for the purchase of airline tickets. These tests proved that AI can be used to conduct analysis with the same precision as a data scientist in a shorter period of time.

JAL is currently promoting the advancement of data analysis leveraging AI in marketing and various other fields, but has faced challenges that include a scarcity of data scientists with advanced analytical skills and uncertainty as to how best to utilize the enormous amounts of data it possesses.

To address these challenges, JAL joined NEC in conducting tests utilizing Predictive Analytics Automation Technology (*1), part of NEC's portfolio of cutting-edge AI technologies known collectively as "NEC the WISE" (*2), and succeeded in confirming its effectiveness.

The test demonstrations targeted JAL Mileage Bank members (JMB members) and utilized diverse and large-scale data collected via JAL's flight booking website, including Web access logs, member information (*3), and passenger boarding history. Aiming to learn more about the behavior of JMB members when purchasing tickets online, these tests were used to determine whether or not it would be possible to estimate feature quantities (data items effective for analysis) and automatically design a prediction model using Predictive Analytics Automation Technology.

These tests showed that feature quantities for distinctive customer behaviors, including the number of times users had browsed pages and the number of times specified credit cards were used over time spans not previously contemplated by data scientists, could be discovered from large quantities of log data that would ordinarily require long periods of time for analysis. It was also confirmed that this process offers a level of accuracy equivalent to that of prediction models designed by highly experienced data scientists.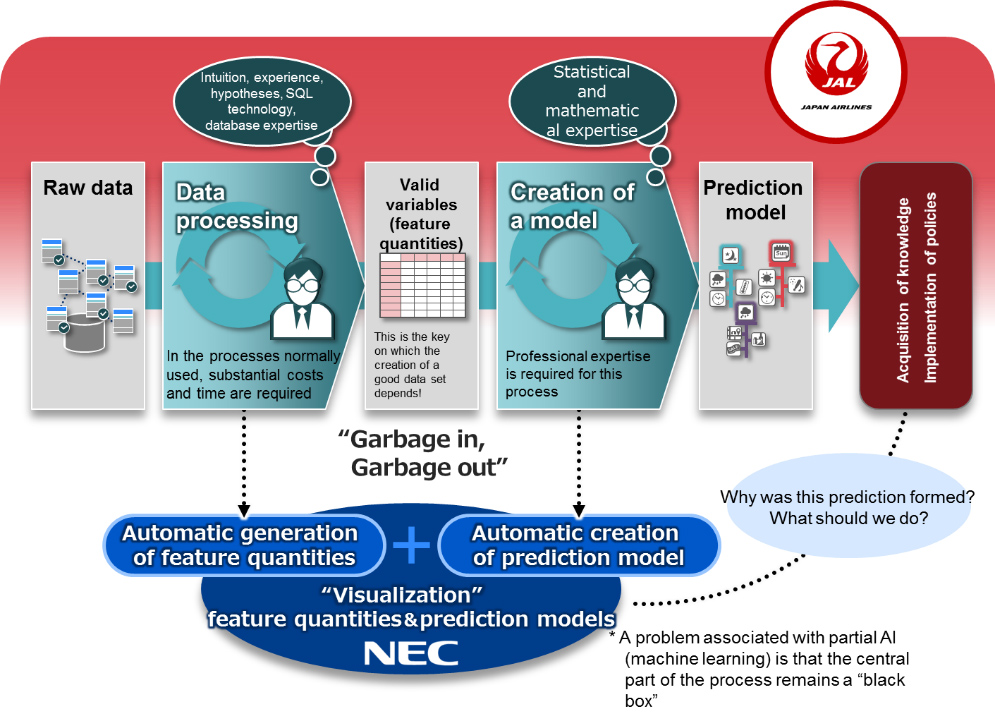 Larger viewWorkflow for building a data analysis/prediction model
Now able to quickly grasp what kind of purchasing behaviors are exhibited by JMB members using the JAL website, JAL can send out notifications for special offers at times that are most appropriate for its customers. In addition, since predictive models can be built in a short period of time, JAL will be able to plan and implement far more promotions than currently possible.

The Predictive Analytics Automation Technology used in these demonstration tests makes it possible to create prediction models that can rapidly form predictions for a variety of operations. This is based on its ability to automatically design and discover feature quantities without prior knowledge of working operations or analyses; it is also able to work with data in domains other than marketing, such as aircraft maintenance data.

Going forward, the two companies plan to continue verifying this technology to facilitate more advanced analysis of the vast amounts of data possessed by JAL, with the aim of providing better flight services to customers.
***
About NEC Corporation
NEC Corporation is a leader in the integration of IT and network technologies that benefit businesses and people around the world. By providing a combination of products and solutions that cross utilize the company's experience and global resources, NEC's advanced technologies meet the complex and ever-changing needs of its customers. NEC brings more than 100 years of expertise in technological innovation to empower people, businesses and society. For more information, visit NEC at http://www.nec.com.

The NEC Group globally provides "Solutions for Society" that promote the safety, security, efficiency and equality of society. Under the company's corporate message of "Orchestrating a brighter world," NEC aims to help solve a wide range of challenging issues and to create new social value for the changing world of tomorrow. For more information, please visit

http://www.nec.com/en/global/about/vision/message.html

NEC is a registered trademark of NEC Corporation. All Rights Reserved. Other product or service marks mentioned herein are the trademarks of their respective owners. © NEC Corporation.