NEC face recognition system reinforces safety at Taipei Summer Universiade
- Staff identities confirmed without stopping for cameras -
Tokyo, October 27, 2017 - NEC Corporation (NEC; TSE: 6701) today announced the successful provision of an entrance control system equipped with face recognition at the 29th Universiade, an international multi-sport event for university athletes, which recently took place in Taipei, Taiwan. The system allowed authorized persons to enter the venue by confirming their identity as they walked, without having to stop in front of a camera.

The system was installed at the main operation center of Taipei Arena and managed the entrance of nearly 750 members of the organizing staff. This helped to ensure that the event operated safely, securely and efficiently by facilitating the rapid entrance of staff through accurate authentication.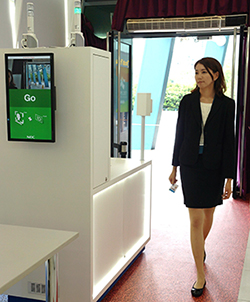 NEC Face recognition system provided at Taipei Summer Universiade
The system utilized NEC's AI engine for face recognition, NeoFace, featuring the world's No.1 accuracy (*), in order to authenticate individuals of the organizing staff. The facial images of individuals entering the facilities were taken as they approached the gate. As soon as staff passed their ID cards over a reader, facial recognition confirmed their identity. As a result, staff did not have to stop in front of a camera as they were smoothly authenticated while walking.

The use of this system helped to prevent unauthorized entrance through the borrowing, lending or theft of an ID card, as well as entrance by means of false ID cards.

"NEC has been developing face recognition technology for nearly 30 years. We have now introduced the technology through more than 100 systems in 40 countries. By leveraging this success, we aim to expand our provision of face recognition technology as part of contributing to the safety and security of communities in Taiwan and throughout the world," said Henry Lee, President, NEC Taiwan Ltd.
***
About NEC Corporation
NEC Corporation is a leader in the integration of IT and network technologies that benefit businesses and people around the world. By providing a combination of products and solutions that cross utilize the company's experience and global resources, NEC's advanced technologies meet the complex and ever-changing needs of its customers. NEC brings more than 100 years of expertise in technological innovation to empower people, businesses and society. For more information, visit NEC at http://www.nec.com.

The NEC Group globally provides "Solutions for Society" that promote the safety, security, efficiency and equality of society. Under the company's corporate message of "Orchestrating a brighter world," NEC aims to help solve a wide range of challenging issues and to create new social value for the changing world of tomorrow. For more information, please visit

http://www.nec.com/en/global/about/vision/message.html

NEC is a registered trademark of NEC Corporation. All Rights Reserved. Other product or service marks mentioned herein are the trademarks of their respective owners. © NEC Corporation.