NEC launches Center of Excellence for Analytics Platform & Solutions in India
- Strengthening support for utilization of big data analysis services globally -
Tokyo & New Delhi, June 6, 2017- NEC Corporation (NEC; TSE: 6701) and NEC Technologies India Private Limited (NTI) today announced the launch of a "Center of Excellence for Analytics Platform & Solutions" (COE-APS) for promoting solutions and services of NEC's Big Data & Analytics Platform, "Data Platform for Hadoop (DPH)". The COE-APS will simplify digital transformation and act as a one stop shop for both customers and partners in the Telecom, Retail, Banking, Financial Services, Insurance and Manufacturing sectors, as well as Government organizations. NEC aims to achieve revenue of more than $100M USD within 3 years of the COE-APS' establishment, which is being set-up with an overall investment of $10M USD over the same period.

The COE-APS will initially focus on markets that include Japan, India, Singapore, Philippines and Hong Kong, then gradually expand services throughout APAC and other regions. In order to support these growing operations, NEC plans to organize a team of 100 professionals within the first few years, as the Global Big Data & Analytics market is expected to reach $210B USD by 2020 (*1). Hadoop alone is expected to reach $50.2B USD by 2020 (*2). With the industry already facing a shortage in talent, specifically in Hadoop and analytics areas, the establishment of the COE-APS will help NEC to leverage India's strong talent base.

In recent years, the exponential growth in data processing is straining the capabilities of conventional databases and data warehouse solutions. With the advent of Big Data & Analytics solutions, customers can be reassured that data is comprehensively and reliably analyzed, thereby enabling them to make well-informed decisions at the right time.

Moreover, the COE-APS will leverage the computational power and scalability of NEC's specialized Hardware for Big Data & Analytics in order to flexibly handle the ever increasing demand for storage and computation by Hadoop.

The DPH features open source Hadoop from Hortonworks, as well as an analytics and Business Intelligence layer, making it a first-of-its-kind (*3) solution-in-a-box that frees customers from the burden of searching for the individual building blocks of big data analytics, and enables them to generate value from the enormous pools of data.

NEC has an accomplished record of contributing to national projects in India, including the Delhi Mumbai Industrial Corridor (DMIC) and the Unique Identification Authority of India (UIDAI), which is aligned with the Government's "Digital India" initiative. For the DMIC, NEC established a Logistics Data Bank (LDB) that tracks almost 70% of containers in India (*4). In terms of the UIDAI, NEC provides a large-scale biometrics identification system which registered more than 1 billion people since its deployment.

"The key to success for organizations today is to make fast and informed decisions by extracting insights out of the huge volumes of data that are available to them. The new Center of Excellence is an important step towards utilizing big data analytics and NEC's Data Platform for Hadoop to provide benefits for government bodies and enterprises in India and across the world," said Tomoyasu Nishimura, Senior Vice President, NEC Corporation. "Going forward, we aim to continue driving digital transformation for industries of all sizes and markets."
***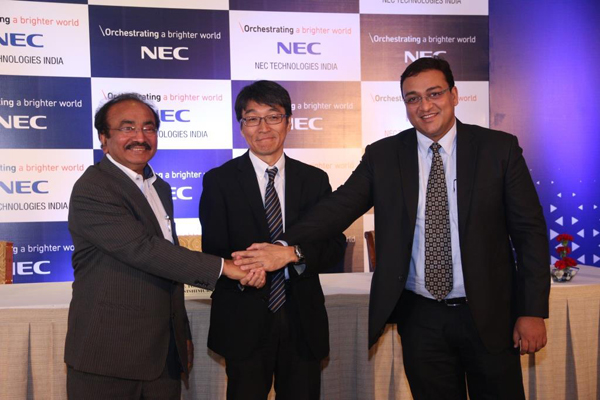 COE-APS Launch Ceremony
(from left) Anil Gupta, NEC Technologies India Private Limited, CEO & MD;
Tomoyasu Nishimura, Senior Vice President, NEC Corporation;
Piyush Sinha, NEC Technologies India Private Limited, Director & DMICD CEO
About NEC Corporation
NEC Corporation is a leader in the integration of IT and network technologies that benefit businesses and people around the world. By providing a combination of products and solutions that cross utilize the company's experience and global resources, NEC's advanced technologies meet the complex and ever-changing needs of its customers. NEC brings more than 100 years of expertise in technological innovation to empower people, businesses and society. For more information, visit NEC at http://www.nec.com.

The NEC Group globally provides "Solutions for Society" that promote the safety, security, efficiency and equality of society. Under the company's corporate message of "Orchestrating a brighter world," NEC aims to help solve a wide range of challenging issues and to create new social value for the changing world of tomorrow. For more information, please visit

http://www.nec.com/en/global/about/vision/message.html

About NEC Technologies India Private Limited
NEC Technologies India Private Limited (NTI) has been operating in India since October 2005, providing product development, global product maintenance and global business enablement services. NTI is a 100% subsidiary of NEC Corporation. NTI's vision is to expand the global business of NEC Group and play a vital role in developing products and solutions, providing pre and post sales operations. It focuses on providing solutions for emerging opportunities in Retail, Finance, Biometrics, Logistics, Public Safety, Smart Energy, e-governance and Infrastructure fields. NTI has its head office in India – Noida and another office in Bengaluru, and also has other branch offices in Japan, U.S. and Singapore.
For more information, please visit: http://www.nectechnologies.in

NEC is a registered trademark of NEC Corporation. All Rights Reserved. Other product or service marks mentioned herein are the trademarks of their respective owners. © NEC Corporation.