NEC Collaborates with DHC to promote SDN Business in China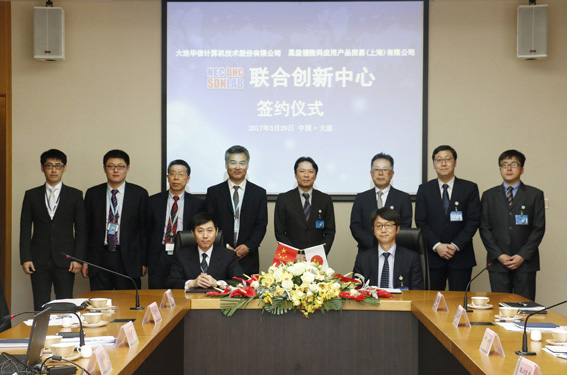 Front left: DHC, President, Yue Wang
Front right: NEC China, President, Naoki Yoshida

Tokyo, March 30, 2017 - NEC Corporation (NEC; TSE: 6701) today announced a collaboration with Chinese software developer and provider Dalian Hi-Think Computer Technology Corp. (DHC) for promoting software-defined networking (SDN) business in China.

Through this collaboration, DHC has already introduced NEC's SDN products at its data center, and as of April 2017, DHC will launch a cloud service that utilizes SDN technology. Introducing SDN, which defines and controls networks through software, makes it possible to quickly change network settings. It also enables the automation of network monitoring and operation, achieving reductions in network operating costs.

In order to link DHC's customer base and technological capabilities with NEC's SDN-related know-how, the companies will establish the DHC-NEC SDN Union Innovation Center. This center will utilize the strengths of both companies to provide comprehensive support for the design, construction, operational management and maintenance of SDN services to meet the needs of customers. Moreover, they will make use of the center to expand sales of SDN-supportive products for the Chinese market.
***
About NEC Corporation
NEC Corporation is a leader in the integration of IT and network technologies that benefit businesses and people around the world. By providing a combination of products and solutions that cross utilize the company's experience and global resources, NEC's advanced technologies meet the complex and ever-changing needs of its customers. NEC brings more than 100 years of expertise in technological innovation to empower people, businesses and society. For more information, visit NEC at http://www.nec.com.

The NEC Group globally provides "Solutions for Society" that promote the safety, security, efficiency and equality of society. Under the company's corporate message of "Orchestrating a brighter world," NEC aims to help solve a wide range of challenging issues and to create new social value for the changing world of tomorrow. For more information, please visit

http://www.nec.com/en/global/about/vision/message.html

NEC is a registered trademark of NEC Corporation. All Rights Reserved. Other product or service marks mentioned herein are the trademarks of their respective owners. © NEC Corporation.