NEC joins FIWARE Foundation as a platinum member
- Accelerating smart city and IoT-related business -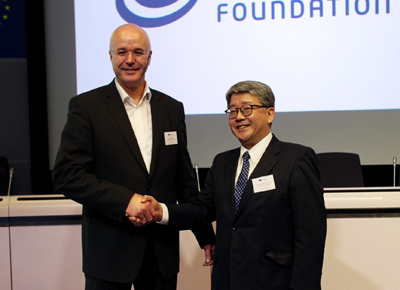 (from left) Mr. Ulrich Ahle, CEO of the FIWARE Foundation;
Mr. Yasunori Mochizuki, Senior Vice President, IoT Strategy, NEC Corporation
Tokyo, March 17, 2017 - NEC Corporation (NEC; TSE: 6701) today announced that it has joined the FIWARE Foundation e.V., a non-profit organization promoting the dissemination of FIWARE technology (*1), as a platinum member. NEC is the first and only Japanese company to join the Foundation.

NEC will join the board of directors and technical steering committee of the FIWARE Foundation, the foundation's decision-making authorities, thereby contributing to development, standardization and promotion of the FIWARE technology to accelerate smart city and smart industry businesses utilizing IoT (Internet of Things).

FIWARE is a middleware platform that was developed under the European Union's Future Internet Public-Private Partnership (FI-PPP) project. It is open-source software that has a standardized set of open APIs, aiming to promote the cross-industrial use of data and service collaborations among the companies and municipalities that provide public services.

Many cities and companies in Europe and other parts of the world have adopted FIWARE for their smart city-related systems. For instance, NEC has provided FIWARE-based solutions to Santander, Spain, to help advance the city's waste collection management service and also to Wellington, New Zealand, to help forecast traffic volume and understand the environmental situations in the city, contributing to safe, secure and efficient communities. Kawasaki City, Japan, will also capitalize on NEC know-how to optimize its industrial waste collection services.

NEC will enhance its IoT solutions by combining FIWARE with NEC's existing assets, such as its set of cutting-edge AI technologies, "NEC the WISE" (*2), and system integration platform, the "NEC the WISE IoT Platform" (*3).

"The FIWARE Foundation is a visible commitment of European businesses to bring more innovative internet services to consumers, citizens, businesses and the public sector. We welcome NEC as a platinum member of the FIWARE Foundation and are looking forward to writing the future story of FIWARE together with NEC. I'm proud of the commitment of NEC to provide FIWARE-based offerings also to the market in Japan especially in the area of Smart Cities and Smart Industry, which are also focus areas of the FIWARE Foundation," said Ulrich Ahle, CEO of the FIWARE Foundation which is headquartered in Germany.

"NEC will provide advanced social solutions and contribute to the realization of a super smart society (Society 5.0), for which FIWARE's unique capabilities, including cross-industrial use of data and service collaborations, will play a crucial role," said Yasunori Mochizuki, Senior Vice President, IoT Strategy, NEC Corporation.
***
About NEC Corporation
NEC Corporation is a leader in the integration of IT and network technologies that benefit businesses and people around the world. By providing a combination of products and solutions that cross utilize the company's experience and global resources, NEC's advanced technologies meet the complex and ever-changing needs of its customers. NEC brings more than 100 years of expertise in technological innovation to empower people, businesses and society. For more information, visit NEC at http://www.nec.com.

The NEC Group globally provides "Solutions for Society" that promote the safety, security, efficiency and equality of society. Under the company's corporate message of "Orchestrating a brighter world," NEC aims to help solve a wide range of challenging issues and to create new social value for the changing world of tomorrow. For more information, please visit

http://www.nec.com/en/global/about/vision/message.html

NEC is a registered trademark of NEC Corporation. All Rights Reserved. Other product or service marks mentioned herein are the trademarks of their respective owners. © NEC Corporation.