NEC and MTS increase radio line network transmission capacity up to 10 Gbps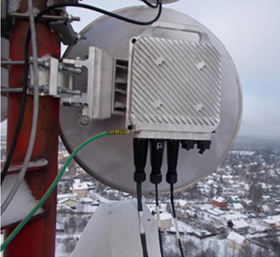 Tokyo, Japan & Saint Petersburg, Russia - March 3, 2017 - NEC Corporation (NEC; TSE: 6701) today announced that JSC NEC Neva Communications Systems, a wholly owned subsidiary, and Mobile TeleSystems PJSC (NYSE: MBT, MOEX: MTSS), a leading telecommunications operator in Russia, have successfully tested the iPASOLINK EX Advanced system. This innovative ultra-compact radio communication system features a transmission capacity of 10 Gbps, which is several times higher than existing analogue systems currently available in Russia.
Testing of the iPASOLINK EX Advanced system was carried out in the northwest region of the Russian Federation at distances of 3 km to 8 km under harsh weather conditions. Tests confirmed high data transmission capacity and low latency, both of which are integral to the launching of LTE and 5G networks. Moreover, this new solution can be effectively applied in areas where optical fiber trenching is difficult or impossible, and offers capacity on par with that of transport networks when compared to PON technology.

Weighing in at just 3 kilograms, the compact iPASOLINK EX Advanced system boasts advanced functionalities enabling users to reduce system installation and integration costs. Adaptive Modulation and Bandwidth Radio (AMBR), a notable feature of the iPASOLINK EX Advanced system, enables maximum channel capacity in conditions of mist and precipitation that ordinarily make it difficult to transmit radio waves.

"Testing of the new iPASOLINK EX model demonstrated strong performance and high data transmission under severe weather conditions. We have seen that two hops ensure 10 Gbps data transmission capacity at a distance of 4.8 kilometers between stations while one hop provides 8 Gbps at a distance of 8.3 km. This will allow us to increase data traffic throughput from 3 to 20 times on radio lines at such distances. We will therefore be able to fully leverage the potential of 3G and 4G equipment at remote base stations, as well as to create a reserve for 5G network construction," commented Dmitry Smirnov, the Technical Director of MTS in Saint Petersburg.

Akihiro Sakurai, Managing Director of JSC NEC Neva Communications Systems, said, "The new iPASOLINK EX model is an innovative and reliable solution that completely meets the growing requirements of modern telecommunications markets. Installation of the new iPASOLINK EX Advanced system allows carriers to not only flexibly increase transmission capacity but also increase the length of radio communication line intervals while maintaining high data transmission speeds."
***
About NEC Corporation
NEC Corporation is a leader in the integration of IT and network technologies that benefit businesses and people around the world. By providing a combination of products and solutions that cross utilize the company's experience and global resources, NEC's advanced technologies meet the complex and ever-changing needs of its customers. NEC brings more than 100 years of expertise in technological innovation to empower people, businesses and society. For more information, visit NEC at http://www.nec.com.

The NEC Group globally provides "Solutions for Society" that promote the safety, security, efficiency and equality of society. Under the company's corporate message of "Orchestrating a brighter world," NEC aims to help solve a wide range of challenging issues and to create new social value for the changing world of tomorrow. For more information, please visit

http://www.nec.com/en/global/about/vision/message.html

NEC is a registered trademark of NEC Corporation. All Rights Reserved. Other product or service marks mentioned herein are the trademarks of their respective owners. © NEC Corporation.
About NEC Neva Communications Systems
JSC "NEC Neva Communications Systems" was established in May 1997 as a local factory of NEC's digital switching system and provides engineering, system integration and professional services. NEC has owned 100 percent of its shares since Autumn 2009. For detailed information, please, visit the website http://ru.nec.com.

***
Mobile TeleSystems PJSC ("MTS" - NYSE:MBT; MOEX:MTSS) is the leading telecommunications group in Russia, Central and Eastern Europe. We provide wireless Internet access and fixed voice, broadband and pay-TV to over 100 million customers who value high quality of service at a competitive price. Our wireless and fixed-line networks deliver best-in-class speeds and coverage throughout Russia, Ukraine, Armenia, Turkmenistan and Belarus. To keep pace with evolving customer demand, we continue to grow through innovative products, investments in our market-leading retail platform, mobile payment services, e-commerce and IT solutions. For more information, please visit: www.mtsgsm.com.
***
Some of the information in this press release may contain projections or other forward-looking statements regarding future events or the future financial performance of MTS, as defined in the safe harbor provisions of the U.S. Private Securities Litigation Reform Act of 1995. You can identify forward looking statements by terms such as "expect," "believe," "anticipate," "estimate," "intend," "will," "could," "may" or "might," and the negative of such terms or other similar expressions. We wish to caution you that these statements are only predictions and that actual events or results may differ materially. We do not undertake or intend to update these statements to reflect events and circumstances occurring after the date hereof or to reflect the occurrence of unanticipated events. We refer you to the documents MTS files from time to time with the U.S. Securities and Exchange Commission, specifically the Company's most recent Form 20-F. These documents contain and identify important factors, including those contained in the section captioned "Risk Factors" that could cause the actual results to differ materially from those contained in our projections or forward-looking statements, including, among others, the severity and duration of current economic and financial conditions, including volatility in interest and exchange rates, commodity and equity prices and the value of financial assets; the impact of Russian, U.S. and other foreign government programs to restore liquidity and stimulate national and global economies, our ability to maintain our current credit rating and the impact on our funding costs and competitive position if we do not do so, strategic actions, including acquisitions and dispositions and our success in integrating acquired businesses, potential fluctuations in quarterly results, our competitive environment, dependence on new service development and tariff structures, rapid technological and market change, acquisition strategy, risks associated with telecommunications infrastructure, governmental regulation of the telecommunications industries and other risks associated with operating in Russia and the CIS, volatility of stock price, financial risk management and future growth subject to risks.