NEC develops compact and lightweight massive-element active antenna system for 5G communications
- Provides more than 15 times the throughput of LTE -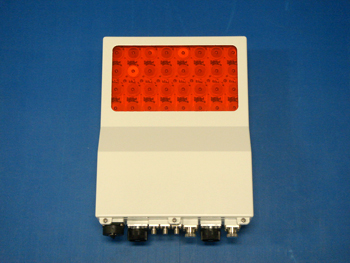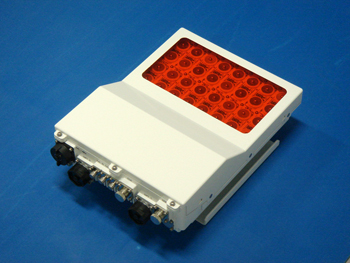 Massive-element active antenna system developed by NEC
Tokyo, February 27, 2017
-
NEC Corporation
today announced that it has developed a compact and light-weight massive-element Active Antenna System (AAS) that supports the low super high frequency (SHF) (
*
) band and is well suited for use with next-generation 5G wireless communication standards.
The newly developed AAS, which supports the 100MHz bandwidth, adopts a fully digital control system that enables the forming of precise directional signals (beams) in multiple-input multiple-output (MIMO) systems for devices such as smartphones and tablets, through the use of 64 antenna elements. These features enable high spectral efficiency, at more than 15 times the throughput of LTE per cell (
**
), even in environments where terminals are unevenly distributed and moving.
Also, NEC integrated the antenna and wireless processing components into one unit through the use of highly integrated circuits and highly dense printed circuit boards, in order to develop a practical system that is compact and lightweight (26 cm ×34cm, 6kg).
"Massive-element active antenna systems that utilize the low-SHF band are an important component in realizing high-speed and high-capacity communications needed for 5G," said Katsumi Tanoue, Deputy General Manager, Mobile Radio Access Network Division, NEC Corporation. "Through verification trials using the newly developed AAS, we will evaluate the usefulness of technologies for increasing spectral efficiency and contribute to the commercialization of 5G."
This announcement includes results from the project on "5G R&D Activities for High Data Rate and Low-Power Consumption Radio Access Technologies with Higher-Frequency-Band and Wider-Bandwidth Massive MIMO" sponsored by Japan's Ministry of Internal Affairs and Communications.
NEC will exhibit the above product and its other efforts in 5G systems at Mobile World Congress 2017 to be held in Barcelona, Spain from February 27 to March 2, 2017.
***
(*)

Super High Frequency: Radio waves with wavelengths from one to ten centimeters that fall within the microwave band with frequencies from 3GHz to 30GHz. Low-SHF refers to radio waves at frequencies of 3GHz to 6GHz.
About NEC Corporation
NEC Corporation is a leader in the integration of IT and network technologies that benefit businesses and people around the world. By providing a combination of products and solutions that cross utilize the company's experience and global resources, NEC's advanced technologies meet the complex and ever-changing needs of its customers. NEC brings more than 100 years of expertise in technological innovation to empower people, businesses and society. For more information, visit NEC at http://www.nec.com.

The NEC Group globally provides "Solutions for Society" that promote the safety, security, efficiency and equality of society. Under the company's corporate message of "Orchestrating a brighter world," NEC aims to help solve a wide range of challenging issues and to create new social value for the changing world of tomorrow. For more information, please visit

http://www.nec.com/en/global/about/vision/message.html

NEC is a registered trademark of NEC Corporation. All Rights Reserved. Other product or service marks mentioned herein are the trademarks of their respective owners. © NEC Corporation.