NEC launches compact converged packet optical transport system for constructing metro networks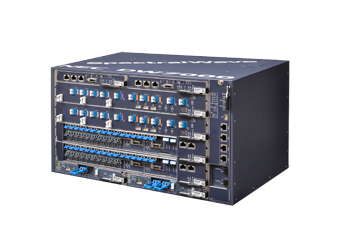 SpectralWave DW7000 (6U shelf)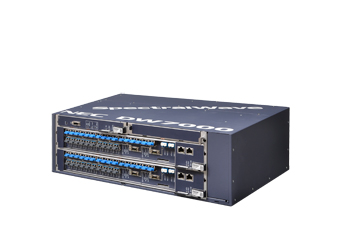 SpectralWave DW7000 (3U shelf)
Tokyo, February 24, 2017 - NEC Corporation (NEC; TSE: 6701) today announced the addition of a compact model to its SpectralWave DW7000 series of converged packet optical transport systems for ultra-high-speed optical transmission that can be used to construct urban high-capacity networks (metro networks).
This new model makes it possible for the basic functions necessary for the ring-type connection configuration widely used in metro networks to be mounted on a 6U shelf, which is less than half the size of that conventionally used for mounting (*1). It is also possible to mount individual functions on a 3U shelf. An ODU-AGR card equipped with GbE, SDH, SAN, and other (*2) interfaces used for 100 Gigabit Ethernet (100GbE), 10GbE, and existing network services will also be offered as an option. By utilizing this card, users will be able to construct new metro networks and accommodate existing services such as enterprise network services, thereby contributing to improved operational efficiency of network infrastructure and reductions in capital investment.
Furthermore, thanks to integration using the latest digital signal processor (DSP) (*3), NEC was able to reduce the size of the transponder for sending and receiving optical signals to one-fourth that of conventional transponders, as well as decrease power consumption by approximately 38%, achieve approximately 1.4 times the transmission distance, and deliver a maximum transmission capacity of 25.6 Tbps per fiber.
"Network infrastructure supporting 5G, the next generation of wireless communications networks, needs to be capable of accommodating high-capacity, advanced services and existing network services, as well as reducing capital investment," said Takehiko Toyohara, General Manager, Converged Network Division, NEC Corporation. "Since this new product comes equipped with a variety of interfaces enabling the construction of metro networks and the accommodation of existing network services with a compact device, users can boost the operational efficiency of their network infrastructure and bring down capital investment."
NEC plans to showcase this compact converged packet optical transport system at Mobile World Congress (MWC), which is scheduled to be held in Barcelona, Spain from February 27 to March 2, 2017.
***
Note:
*1)

According to NEC research as of February 24, 2017. Based on comparison with the DW7000 model for core networks.

*2)

Ethernet, SDH, SONET and OTN.
Optional support for SAN, InfiniBand, CPRI, Video, and PDH is available.

*3)

Utilizing some of the research results obtained through two R&D initiatives commissioned by Japan's Ministry of Internal Affairs and Communications (i.e., "Research and Development of Ultra-High-Speed and Low-Power-Consumption Network Technologies" and "Research and Development of Next-Generation Optical Network Technologies Supporting the Distribution of Big Data").
About NEC Corporation
NEC Corporation is a leader in the integration of IT and network technologies that benefit businesses and people around the world. By providing a combination of products and solutions that cross utilize the company's experience and global resources, NEC's advanced technologies meet the complex and ever-changing needs of its customers. NEC brings more than 100 years of expertise in technological innovation to empower people, businesses and society. For more information, visit NEC at http://www.nec.com.

The NEC Group globally provides "Solutions for Society" that promote the safety, security, efficiency and equality of society. Under the company's corporate message of "Orchestrating a brighter world," NEC aims to help solve a wide range of challenging issues and to create new social value for the changing world of tomorrow. For more information, please visit

http://www.nec.com/en/global/about/vision/message.html

NEC is a registered trademark of NEC Corporation. All Rights Reserved. Other product or service marks mentioned herein are the trademarks of their respective owners. © NEC Corporation.