NEC to provide digital terrestrial TV equipment for public broadcasting services in the Philippines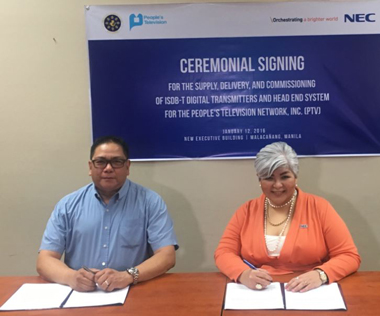 Dino Apolonio, General Manager, People's Television Network, Inc. (left)
Elizabeth Pangan, President, NEC Philippines (right)
Tokyo, Japan & Manila, Philippines - January 23, 2017 - NEC Corporation (NEC; TSE: 6701) and NEC Philippines, Inc. announced today the signing of a contract to provide digital terrestrial TV equipment for the People's Television Network, Inc. (PTNI), the public broadcasting service for the Republic of the Philippines.
This contract supports the expansion of digital terrestrial TV broadcasting in the Philippines, which has been gaining momentum since November 2013, when the country adopted the Integrated Services Digital Broadcasting Technologies (ISDB-T) standard.
Under this contract, PTNI is scheduled to introduce digital terrestrial TV transmitters and compression multiplexers across six locations* in the Philippines by July 2017. NEC is providing total support for the introduction of these units, including their provision, installation, and the training of personnel.
The equipment that NEC is slated to provide features some of the world's highest levels of power efficiency, and is highly evaluated for superior reliability in the broadcasting field.
"NEC is proud to be working with PTNI to expand the delivery of high quality broadcasting to a larger audience in the Philippines," said Elizabeth Pangan, President, NEC Philippines. "As part of NEC's focus on providing Solutions for Society, this equipment will help to ensure that broadcasting and access to information is reliably maintained, especially during times of emergency, such as when powerful storms strike the region."
NEC began providing digital terrestrial TV transmitters for international markets in 1998, when it provided equipment for the world's first commercial digital terrestrial broadcasting service in the United Kingdom. Since then, NEC has shipped more than 4,500 transmitters to over 50 countries throughout the world.
***
About NEC Corporation
NEC Corporation is a leader in the integration of IT and network technologies that benefit businesses and people around the world. By providing a combination of products and solutions that cross utilize the company's experience and global resources, NEC's advanced technologies meet the complex and ever-changing needs of its customers. NEC brings more than 100 years of expertise in technological innovation to empower people, businesses and society. For more information, visit NEC at http://www.nec.com.

The NEC Group globally provides "Solutions for Society" that promote the safety, security, efficiency and equality of society. Under the company's corporate message of "Orchestrating a brighter world," NEC aims to help solve a wide range of challenging issues and to create new social value for the changing world of tomorrow. For more information, please visit

http://www.nec.com/en/global/about/vision/message.html

NEC is a registered trademark of NEC Corporation. All Rights Reserved. Other product or service marks mentioned herein are the trademarks of their respective owners. © NEC Corporation.
About NEC Philippines, Inc.
NEC Philippines was incorporated in January 11, 1996, though prior to this, NEC was already present in the Philippines through its Manila Representative Office since the 1960s. NEC Philippines is primarily a sales, marketing & services company engaged in the supply of telecommunications equipment, computer systems, network, IP and Data Networks, ICT Integration, IT solutions and services, among others. NEC Philippines also recently launched NECare Center, its 24x7 support center that not only provides after sales and warranty support, but also offers other services like IT integration, project management and other IT- and networking-related services. Please visit http://ph.nec.com/