NEC provides Swiss Post with the latest mail processing systems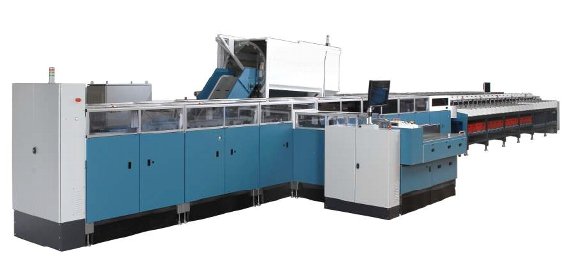 NEC's Latest Mail Processing Systems (Culler Facer Cancellers) at Swiss Post
Tokyo, December 19, 2016 - NEC Corporation (NEC; TSE: 6701) today announced that Swiss Post, Switzerland's national postal service, has signed a contract for Culler Facer Cancellers (CFC) in support of postal automation. NEC is scheduled to supply thirteen systems for three of Swiss Post's large-scale mail sorting centers by February 2019*.
These CFCs automatically identify the destination of small postal items and process them based on their size, thickness and weight, as well as adjust their alignment and manage the application of postmarks, all of which was formerly carried out by hand.
In addition to being able to effectively sort small size packages that have conventionally been difficult for machines to process, these advanced new CFCs are capable of processing as many as 38,000 postal items per hour the size of C4 envelopes (used for A4 size documents), the thickness of 8mm and a weight of 300g.
In 2003, Swiss Post initiated its ReEngineering of the Mail Automation (REMA) project for improving the sorting structure of the company's mail process. As part of this project, NEC has provided eight Flat Sorting Machines for automatically reading the destinations and sorting large postal items. NEC regards this latest order of CFCs as recognition of the company's technological strength and contributions to Swiss Post.
Since entering the field in 1961, NEC has delivered postal automation systems to more than fifty countries throughout the world. Looking forward, NEC will continue capitalizing on the latest technologies to improve postal administrations across the globe.
***
About NEC Corporation
NEC Corporation is a leader in the integration of IT and network technologies that benefit businesses and people around the world. By providing a combination of products and solutions that cross utilize the company's experience and global resources, NEC's advanced technologies meet the complex and ever-changing needs of its customers. NEC brings more than 100 years of expertise in technological innovation to empower people, businesses and society. For more information, visit NEC at http://www.nec.com.

The NEC Group globally provides "Solutions for Society" that promote the safety, security, efficiency and equality of society. Under the company's corporate message of "Orchestrating a brighter world," NEC aims to help solve a wide range of challenging issues and to create new social value for the changing world of tomorrow. For more information, please visit

http://www.nec.com/en/global/about/vision/message.html

NEC is a registered trademark of NEC Corporation. All Rights Reserved. Other product or service marks mentioned herein are the trademarks of their respective owners. © NEC Corporation.