NEC Completes Asia Pacific Gateway Submarine Cable
- 100Gbps submarine cable between Japan and Singapore -
Tokyo, November 17, 2016 - NEC Corporation (NEC; TSE: 6701) today announced it has finished construction of the Asia Pacific Gateway (APG) Submarine Cable connecting Japan, South Korea, Mainland China, Taiwan, Hong Kong, Vietnam, Thailand, Malaysia and Singapore.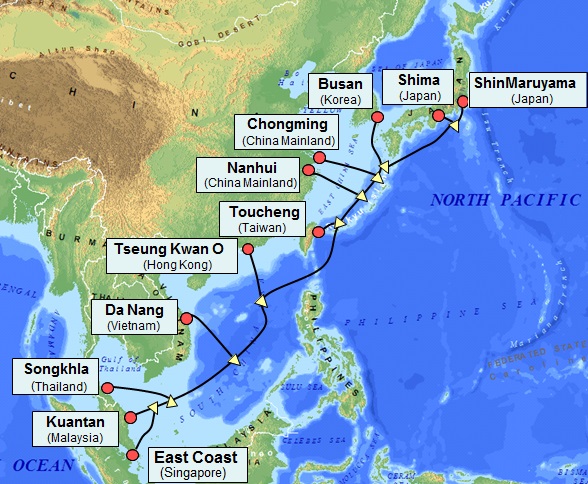 Asia Pacific Gateway Cable System Map
The APG Submarine Cable, with a total length of approximately 10,900 km, is owned by a consortium of 13 members* and features 100 Gigabit per second (Gbps) optical transmission capabilities that deliver a capacity of more than 54Tbps.
"NEC is honored to have been selected as the supplier for APG," said Shunichiro Tejima, Executive Vice President and Head of the Telecom Carrier Business Unit at NEC Corporation. "We hope to see our partnership with the consortium further enhanced through NEC's ability to provide real-time technical support for the operation and maintenance of this advanced submarine cable."
NEC has more than 40 years of experience in the submarine cable business and is recognized as one of the world's top submarine system vendors. NEC has laid a total of more than 250,000 kilometers of submarine cable—the equivalent of six trips around the earth.
*Members include: CAT, China Mobile International, China Telecom, China Unicom, Chunghwa Telecom, KT Corporation, LG Uplus, NTT Communications, StarHub, Global Transit, Viettel, VNPT
***
About NEC Corporation
NEC Corporation is a leader in the integration of IT and network technologies that benefit businesses and people around the world. By providing a combination of products and solutions that cross utilize the company's experience and global resources, NEC's advanced technologies meet the complex and ever-changing needs of its customers. NEC brings more than 100 years of expertise in technological innovation to empower people, businesses and society. For more information, visit NEC at http://www.nec.com.

The NEC Group globally provides "Solutions for Society" that promote the safety, security, efficiency and equality of society. Under the company's corporate message of "Orchestrating a brighter world," NEC aims to help solve a wide range of challenging issues and to create new social value for the changing world of tomorrow. For more information, please visit

http://www.nec.com/en/global/about/vision/message.html

NEC is a registered trademark of NEC Corporation. All Rights Reserved. Other product or service marks mentioned herein are the trademarks of their respective owners. © NEC Corporation.