NEC develops a prototype fingerprint sensing device for newborns and infants
Tokyo, October 14, 2016 - NEC Corporation (NEC; TSE: 6701) today announced the development of the world's first*1 fingerprint sensing device prototype capable of capturing fingerprint images of newborns and infants. The device, researched and developed in conjunction with Michigan State University*2, underwent extensive testing in field applications in Dayalbagh, India. The prototype device successfully captured the fingerprint images of over 300 children, including more than 100 from infants younger than 6 months, one of whom was just six hours old*3.

Until now, fingerprint identification for infants and newborns has been very difficult due to the small-sized, soft and delicate fingers of such young children. This is especially true when using the existing large fingerprint capturing devices with small children, compounding the difficulty of capturing quality and useful prints.

NEC's new compact device (D72mm x W35mm x H7.5mm) is ergonomically designed, slim and light weight (less than 50g), with a rounded and tapered edge finish that is comfortable for the child as well as the operator. The device rests securely in the operator's hand, making it exceptionally portable and allowing for easy, accurate capture of infant fingerprints.

The new device adopts a combination of a 1,270 pixels per inch (ppi) high resolution CMOS image sensor for high quality image capture and a special glass plate formed from bundled fiberglass for image enhancement. Using the device, fingerprint images are captured within a few seconds. An operator simply holds the infant's finger and places it on the sensor surface. A preview of the image is displayed on a portable device to which the sensor is connected and the image can be saved with the click of a switch on the device. The switch and the preview window simplify the entire capturing process, making fingerprint imaging comfortable for both the child and the operator.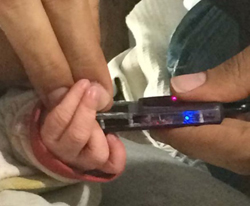 NEC prototype fingerprint imaging device for newborns and infants
"The provision of these technologies based on this prototype will allow NEC to contribute to the solution of important social problems, such as the optimized management of immunization and food supplies, and the reliable management of birth certification, by ensuring precise verification of the identity of newborns and infants through fingerprint authentication," said Ryoji Hayashi, General Manager, 2nd Government and Public Solutions Division, NEC Corporation.
***
About NEC Corporation
NEC Corporation is a leader in the integration of IT and network technologies that benefit businesses and people around the world. By providing a combination of products and solutions that cross utilize the company's experience and global resources, NEC's advanced technologies meet the complex and ever-changing needs of its customers. NEC brings more than 100 years of expertise in technological innovation to empower people, businesses and society. For more information, visit NEC at http://www.nec.com.

The NEC Group globally provides "Solutions for Society" that promote the safety, security, efficiency and equality of society. Under the company's corporate message of "Orchestrating a brighter world," NEC aims to help solve a wide range of challenging issues and to create new social value for the changing world of tomorrow. For more information, please visit

http://www.nec.com/en/global/about/vision/message.html

NEC is a registered trademark of NEC Corporation. All Rights Reserved. Other product or service marks mentioned herein are the trademarks of their respective owners. © NEC Corporation.