NEC to provide digital TV transmitters for Colombia's public broadcasting service
Tokyo & Bogotá, October 4, 2016 - NEC Corporation (NEC; TSE: 6701) and NEC de Colombia S.A. today announced that they will provide digital TV transmitters for Radio Television Nacional de Colombia (RTVC), Colombia's public broadcasting service, in support of expanding the country's terrestrial digital broadcasting.

In order to provide viewers with even higher-quality video and make the most effective use of radio waves, Colombia is promoting the transition from analog broadcasting to digital terrestrial broadcasting by the end of 2019.

NEC's project is slated to be fully operational by August 2017, featuring 37 units of DVB-T2 equipment under the European digital broadcasting standard, deployed in 16 locations throughout the country. In combination with existing equipment, approximately 88% of Colombia will have access to the superior quality of terrestrial digital broadcasting when this project is complete.

RTVC is utilizing NEC's cutting edge DTU-H10/M10/L-10 digital TV broadcasting transmitters, featuring some of the world's highest levels of power efficiency, and highly evaluated for exceptional performance in the broadcasting field.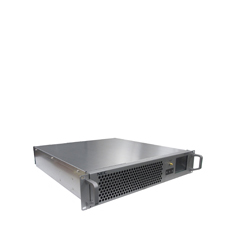 DTU-L10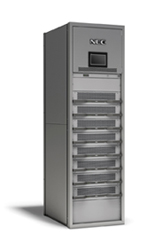 DTU-M10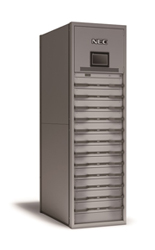 DTU-H10

NEC began providing digital TV broadcasting transmitters for international markets in 1998, when it provided equipment for the world's first commercial terrestrial digital broadcasting service in the United Kingdom. Since then, NEC has shipped more than 4,000 transmitters to over 50 countries throughout the world.

"This project is very important for NEC and we are proud to see the Colombian government providing our state of the art DVB-T2 Digital Terrestrial Television System (DTT), resulting in the expansion of broadcast network coverage countrywide and promoting the social inclusion of all Colombian residents," said Javier Ortiz Ardila, President of NEC de Colombia S.A.
***
About NEC Corporation
NEC Corporation is a leader in the integration of IT and network technologies that benefit businesses and people around the world. By providing a combination of products and solutions that cross utilize the company's experience and global resources, NEC's advanced technologies meet the complex and ever-changing needs of its customers. NEC brings more than 100 years of expertise in technological innovation to empower people, businesses and society. For more information, visit NEC at http://www.nec.com.

The NEC Group globally provides "Solutions for Society" that promote the safety, security, efficiency and equality of society. Under the company's corporate message of "Orchestrating a brighter world," NEC aims to help solve a wide range of challenging issues and to create new social value for the changing world of tomorrow. For more information, please visit

http://www.nec.com/en/global/about/vision/message.html

NEC is a registered trademark of NEC Corporation. All Rights Reserved. Other product or service marks mentioned herein are the trademarks of their respective owners. © NEC Corporation.