NEC provides Buenos Aires metro with comprehensive security system
Buenos Aires, Argentina, & Tokyo, Japan – March 15, 2016 - NEC Corporation (NEC; TSE: 6701) and NEC Argentina announced today the completion of a comprehensive security system for the 100+ stations, workshops, garages and commercial areas of the Buenos Aires City metro (subway).
NEC Argentina was selected in 2015 by the Subterráneos de Buenos Aires Sociedad Estado (SBASE) to provide, install and operate the USD1.5 million dollar system, which is based on an agreement that includes command and control centers, more than 600 IP devices, CCTV, integration with the pre-existing technology, access control systems and intrusion detection systems. The system began operating in February 2016 and NEC will continue coordinate ongoing maintenance.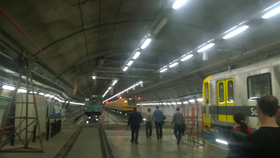 Garage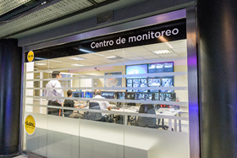 Monitoring Center
Primary features of the security solution include the following:
- Security Cameras – More than 370 cameras, including fixed HD cameras and night-vision PTZ domes.
- Comprehensive Security Centers – 30 operator workstations and video walls in monitoring centers located in strategic points of the metro line as well as in Buenos Aires City police departments.
- Infrastructure – Approximately 70 switches and 40 centralized and decentralized management and recording servers for new and existing devices.
- Access Control System – More than 10 control access points for authorized staff integrated to the core system.
- Video Analysis System – This allows the recognition of people and objects in the video streams from all of the system's cameras.
- Intrusion Detection System – Intrusion detection in the metro workshops and garages. This features approximately 30 control panels, 50 controllers and 300 sensors integrated to the core system.
"By strengthening the security of the metro we are improving the overall quality of service," said Juan Pablo Piccardo, president, SBASE. "With the help of these new technologies and cameras, we are able to detect and resolve a wide range of issues quickly and effectively."
"This project is a great source of pride for NEC Argentina, not only for its magnitude and complexity, but also because our technologies are helping to improve such an important public transport system as the metro, enabling safer and cleaner services for all passengers," said Héctor Yuasa, COO, NEC Argentina.
Moreover, additional technologies are being implemented through concept testing and demo installations. NEC Argentina will continue rendering its support to enhance public safety through new and innovative technologies and associations to reach communities across the country.
***
About NEC Argentina– www.nec.com.ar
NEC Argentina offers solutions for IT and telecom operators, enterprises and governments alike. The company also develops projects in the areas of broadcasting and integrated security. With over 40 years experience in the local market, NEC Argentina is a subsidiary of NEC Corporation, a leading global technology company.
About NEC Corporation
NEC Corporation is a leader in the integration of IT and network technologies that benefit businesses and people around the world. By providing a combination of products and solutions that cross utilize the company's experience and global resources, NEC's advanced technologies meet the complex and ever-changing needs of its customers. NEC brings more than 100 years of expertise in technological innovation to empower people, businesses and society. For more information, visit NEC at
http://www.nec.com
.
Based on its Mid-term Management Plan, the NEC Group globally provides "Solutions for Society" that promote the safety, security, efficiency and equality of society. Under the company's corporate message of "Orchestrating a brighter world," NEC aims to help solve a wide range of challenging issues and to create new social value for the changing world of tomorrow. For more information, please visit
http://www.nec.com/en/global/about/solutionsforsociety/message.html
.

NEC is a registered trademark of NEC Corporation. All Rights Reserved. Other product or service marks mentioned herein are the trademarks of their respective owners. © NEC Corporation.