NEC launches new touchscreen POS "TWINPOS G5000" series
- Supporting middleware that allows preventative maintenance -
Tokyo, Japan - March 1, 2016 - NEC Corporation (NEC; TSE: 6701) today announced the launch of the TWINPOS G5000 series, a new lineup of touchscreen POS terminals. Shipments are scheduled to begin from March 2016 in Greater China, followed by Southeast Asia, the Middle East, North America, Latin America, and other regions.
TWINPOS G5000 series models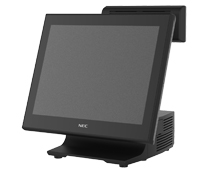 Standard model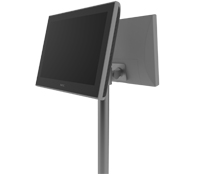 Pole-mount model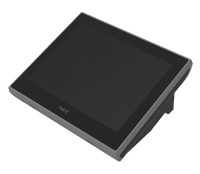 Low-profile model
The new TWINPOS G5000 series provides an extensive lineup of standard, pole-mount, wall-mount, and other models, enabling flexibility for installation in a variety of store layouts. In addition, the use of a bezel-free display avoids ingress of water drops and dust from the front of the display. Moreover, the new series offers easy maintenance of key components such as the hard disk drive, Random Access Memory (RAM) and power supply unit.

The new product supports NEC's middleware that collects operational status of the POS terminal, including accumulated operating time, CPU load and internal temperature to detect actual and impending failures. Furthermore, the middleware visualizes remaining life of key components. The information obtained by the middleware enables preventative maintenance or quick recovery from failure, which in turn reduce opportunity losses resulting from POS terminal malfunctions.

Moreover, the TWINPOS G5000 series contributes to efficient chain store operations when used with NEC's business solutions for global retailers (*), which comprehensively covers business needs ranging from store operations to headquarters' operations.

NEC has been assisting non-stop store operations for more than twenty years. Going forward, NEC will provide continuous support for retailers to expand their business through its Life Cycle Management (LCM) services that support every part of the life cycle from planning to development, installation, deployment, and maintenance of ICT equipment for optimized store management.

NEC will showcase the new product at RETAIL TECH JAPAN 2016 at Tokyo Big Sight from 8-10 March 2016.

The TWINPOS G5000 series is part of the NEC Global Enterprise Solutions lineup, NEC's portfolio of continually upgraded and expanded solutions and services offered globally to enterprise customers in retail, distribution, manufacturing, and other fields.
***
Note
About NEC Corporation
NEC Corporation is a leader in the integration of IT and network technologies that benefit businesses and people around the world. By providing a combination of products and solutions that cross utilize the company's experience and global resources, NEC's advanced technologies meet the complex and ever-changing needs of its customers. NEC brings more than 100 years of expertise in technological innovation to empower people, businesses and society. For more information, visit NEC at http://www.nec.com.

Based on its Mid-term Management Plan, the NEC Group globally provides "Solutions for Society" that promote the safety, security, efficiency and equality of society. Under the company's corporate message of "Orchestrating a brighter world," NEC aims to help solve a wide range of challenging issues and to create new social value for the changing world of tomorrow. For more information, please visit
http://www.nec.com/en/global/about/solutionsforsociety/message.html.

NEC is a registered trademark of NEC Corporation. All Rights Reserved. Other product or service marks mentioned herein are the trademarks of their respective owners. © NEC Corporation.