NEC develops massive-element antenna for 5G base stations
Tokyo, Japan - February 22, 2016 - NEC Corporation (NEC; TSE: 6701) today announced it has developed a prototype of A4-sized massive-element Active Antenna System (AAS) for 5G small cell base stations.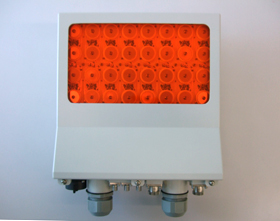 Massive-element AAS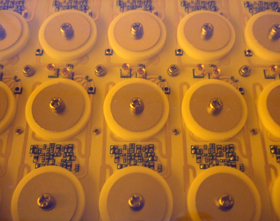 Antenna elements
The low-SHF (*1) band-compatible AAS combines the antenna and RF components through the use of a newly developed high-density printed circuit board and an IC that integrates the high radio frequency circuit with the digital circuit, achieving the practical compact size.
In addition, the new AAS has achieved fully-digitized operation of antenna beam control and MIMO (*2) precoding. This improves the precision of beam forming and achieves high spectral efficiency even when a user distribution is lopsided within a cell or under conditions where there are frequent user movements within a cell, thus contributing to the provision of high-capacity communications. When used in conjunction with NEC's spatial multiplexing technologies, the AAS can achieve more than ten times greater per-cell throughput (*3) compared with conventional LTE base station.

NEC has conducted a series of trial and experiments of 5G-related technologies with mobile operators such as NTT DOCOMO. NEC and NTT DOCOMO are now working on a new experiment using NEC's AAS.

"5G communications achieve higher speeds and increased capacity through the utilization of high frequency bands which are capable of securing wider bandwidth. On the other hand, high frequency bands face the issue of heavy propagation loss in communications. As a solution to this issue, NEC has focused on beamforming technologies which improve communication distances and reduce interference, and engaged in the research, development and demonstration of the massive-element AASs that enable more precise beam forming," said Nozomu Watanabe, General Manager, Mobile Radio Access Network Division, NEC Corporation. "The AAS we recently developed utilizes the low-SHF band that is expected to enter into commercial use around 2020. Moving forward, NEC will continue to take the lead in development and demonstration testing aimed at the practical use of AAS."

NEC's AAS will be featured at Mobile World Congress 2016 in Hall3 on stand #3N10, Fira Gran Via, Barcelona on 22-25 February 2016.
***
Notes
(*1)

Super High Frequency: Radio waves with wavelengths from one to ten centimeters that fall within the microwave band with frequencies from 3GHz to 30GHz. Low-SHF refers to radio waves at frequencies of 3GHz to 6GHz.
About NEC Corporation
NEC Corporation is a leader in the integration of IT and network technologies that benefit businesses and people around the world. By providing a combination of products and solutions that cross utilize the company's experience and global resources, NEC's advanced technologies meet the complex and ever-changing needs of its customers. NEC brings more than 100 years of expertise in technological innovation to empower people, businesses and society. For more information, visit NEC at http://www.nec.com.

Based on its Mid-term Management Plan, the NEC Group globally provides "Solutions for Society" that promote the safety, security, efficiency and equality of society. Under the company's corporate message of "Orchestrating a brighter world," NEC aims to help solve a wide range of challenging issues and to create new social value for the changing world of tomorrow. For more information, please visit
http://www.nec.com/en/global/about/solutionsforsociety/message.html.

NEC is a registered trademark of NEC Corporation. All Rights Reserved. Other product or service marks mentioned herein are the trademarks of their respective owners. © NEC Corporation.