NEC reinforces agricultural ICT for global markets
- Farming solution implemented in commercial fields in cooperation with Kagome. -
*** For immediate use November 11, 2015


Tokyo, November 11, 2015 - NEC Corporation (NEC; TSE: 6701) today announced the development of a new Large-Scale Farming Analysis Solution for crop cultivation as part of reinforcing the company's global deployment of information and communications technology (ICT) solutions for increasing crop yields and agricultural efficiency.

The solution creates virtual fields based on weather, soil and vegetation data obtained from sensors, satellites and drones, as well as farming activity data, such as irrigation and fertilizer use. The solution then creates growth simulations for these virtual fields, providing customized insights for farming the land, predicting future yields, appropriate harvesting times and more.

The solution also enables the optimized use of water, fertilizer, and agrochemicals in accordance with the growth of crops and weather conditions, enabling yields to be maximized. Moreover, the solution streamlines harvesting based on predicted yield and appropriate timing, and assists with the operation of processing plants by controlling planting times, thereby optimizing the food and agriculture value chain as a whole.

Traditionally, the improvement of a farm's production took place over a long period of time as a result of experience and know-how related to cultivating the same crops in the same area. However, this new solution achieves scientific modelling based on the growth level of crops and environmental conditions, without requiring a long-term accumulation of data. This is accomplished through cooperation with leading companies and research institutes with a track record in the agriculture ICT domain, as well as NEC's proprietary big data analysis technology. This makes it possible to carry out highly accurate simulations for new areas and crops at an early stage, achieving sustainable agriculture that responds flexibly to changing conditions.

In collaboration with international food manufacturing and processing companies, NEC is conducting tests with this solution to promote its commercialization. As a first step, the company has signed a cooperation agreement with Kagome Co., Ltd. to develop cultivation technology for processing tomatoes. Since March 2015, the two companies have conducted tests utilizing this solution at a farm in Portugal belonging to a Kagome subsidiary. Results to date include the following:
Visualization of the water saturation and nitrogen stress levels of specific sections of cultivated land and analysis of the causes of yield differences between plots
Development of optimized cultivation methods
Prediction of the appropriate time for harvesting and maximizing yield as much as one month prior to harvesting
"Since October 2015, Kagome has worked in collaboration with NEC to conduct tests utilizing this solution with an Australia-based subsidiary. In order to respond to the increase in demand for tomatoes due to rising global populations, Kagome is implementing initiatives to increase the unit yield (yield per area) in existing production regions. This latest development of cultivation technology for tomatoes is one such initiative," said Takeshi Saeki, Chief Financial Officer, Global Tomato Company, Kagome.

"NEC focuses on the development of social solutions utilizing its in-house analysis, forecasting, control and mathematical analysis technology to deliver value to the agriculture value chain, including materials, production, processing and distribution," said Osamu Fujikawa, General Manager, Corporate Business Development Division, NEC Corporation. "In this way, NEC aims to help achieve the reforms that will satisfy the growing world demand for food, ensure equitable distribution and expand the availability of safe and secure food environments for all."
***
Tests conducted in tomato fields in Portugal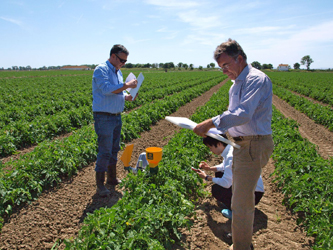 Tests conducted in tomato fields in Portugal
About NEC Corporation
NEC Corporation is a leader in the integration of IT and network technologies that benefit businesses and people around the world. By providing a combination of products and solutions that cross utilize the company's experience and global resources, NEC's advanced technologies meet the complex and ever-changing needs of its customers. NEC brings more than 100 years of expertise in technological innovation to empower people, businesses and society. For more information, visit NEC at http://www.nec.com.

Based on its Mid-term Management Plan 2015, the NEC Group globally provides "Solutions for Society" that promote the safety, security, efficiency and equality of society. Under the company's corporate message of "Orchestrating a brighter world," NEC aims to help solve a wide range of challenging issues and to create new social value for the changing world of tomorrow. For more information, please visit
http://www.nec.com/en/global/about/solutionsforsociety/message.html.

NEC is a registered trademark of NEC Corporation. All Rights Reserved. Other product or service marks mentioned herein are the trademarks of their respective owners. ©2015 NEC Corporation.