NEC strengthens ICT platform products and systems supporting IoT solutions
*** For immediate use November 9, 2015

Tokyo, November 9, 2015 - NEC Corporation (NEC; TSE: 6701) today announced a plan to increase the number of employees for product and service development to 1,000 by the end of fiscal 2016 in order to strengthen ICT platform products that support Internet of Things (IoT) solutions. This initiative is focused on IoT-related technologies centered around edge computing, such as integrated operations management for a broad range of components, including devices, data analysis and others.

Policy for strengthening ICT platform products and systems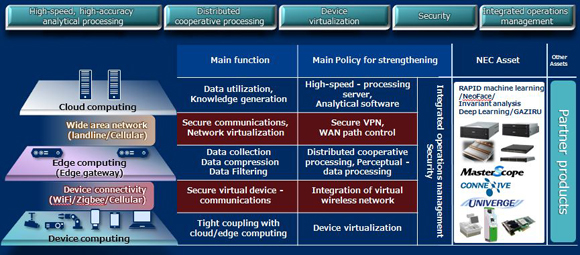 Policy for strengthening ICT platform products and systems
To ensure security and real-time processing, NEC will drive development and expand sales of ICT Platform products under the following five policies to link the real world seamlessly with cyberspace in a five-layer model of its own design.
High-speed, high-accuracy analytical processing for processing a large volume of data collected from numerous devices in real time and using such data effectively
Distributed and cooperative processing for executing applications in the best layers and realizing efficient systems in response to load fluctuations
Device virtualization for processing data collected from a large number of devices safely and efficiently
Guaranteeing security in all five layers
Integrated operations management of devices and networks for all 5 layers of NEC's IoT model
Based on these policies, NEC will offer the following new products:
DX2000 – a high-integration server ideal for the analysis of massive and diverse data
he DX2000 is a high-integration server that is able to accommodate 572 servers in a rack. This product is ideal for real-time analysis that requires the high-speed parallel processing of massive, large-sized and diverse data. The DX2000 is able to complete analysis that conventional systems take several hours to perform in a few seconds or a few minutes when it is combined with pre-validated Hadoop parallel processing middleware. The product has also made it possible to save power and space with a high level of integration. NEC expects that it will be able to reduce operating costs by 30% compared with previous NEC x86 rack servers in its model case.



DX2000

DX2000 (within a rack)



ExpEther 40G – a product enabling the connection of computer resources in remote locations
ExpEther is a technology that enables servers to connect remote computer resources, such as CPUs, GPUs and hard disks, through Ethernet without constraints such as computer installation locations, chassis capacity and power distribution. The new ExpEther 40G Board and ExpEther 40G I/O Expansion Unit have high-speed 40G Ethernet. Users can expand I/O devices flexibly by inserting various peripherals into the I/O Expansion Unit in accordance with PCI Express, such as GPGPUs and SSDs. This product also enables high-speed and secure communications using TWINE, an original high-speed, lightweight encryption technology developed by NEC.



ExpEther 40G Board

ExpEther 40G I/O Expansion Unit



Collaboration Assistant – a service enabling the operation of peripherals connected to a smart device from the cloud
Scheduled for release in fiscal 2016 (Cloud service version)
Collaboration Assistant is a cloud computing service that enables data collection through peripherals such as sensors, and allows equipment operation and application use from remote locations.

For example, Collaboration Assistant enables skilled engineers and the like to share data and the state of operations collected by field workers using their smartphones via cloud service centers. This service contributes to the improvement of field work efficiency by enabling users to reach beyond the limitations of location and distance in order to make the most of a variety of expertise.



Using a smart device to share field information
"NEC is focusing on the social solutions business," said Shinichi Shoji, Executive Vice President of NEC Corporation. "We will empower our IoT business by leveraging our strengths in software-defined networking (SDN), big data, cloud computing and cybersecurity technologies to offer advanced social infrastructure which is fully utilizing information and communication technology (ICT)."
***
About NEC Corporation
NEC Corporation is a leader in the integration of IT and network technologies that benefit businesses and people around the world. By providing a combination of products and solutions that cross utilize the company's experience and global resources, NEC's advanced technologies meet the complex and ever-changing needs of its customers. NEC brings more than 100 years of expertise in technological innovation to empower people, businesses and society. For more information, visit NEC at http://www.nec.com.

Based on its Mid-term Management Plan 2015, the NEC Group globally provides "Solutions for Society" that promote the safety, security, efficiency and equality of society. Under the company's corporate message of "Orchestrating a brighter world," NEC aims to help solve a wide range of challenging issues and to create new social value for the changing world of tomorrow. For more information, please visit
http://www.nec.com/en/global/about/solutionsforsociety/message.html.

NEC is a registered trademark of NEC Corporation. All Rights Reserved. Other product or service marks mentioned herein are the trademarks of their respective owners. ©2015 NEC Corporation.