NEC to work with Royal Borough of Greenwich for smart city solutions
London borough to benefit from big data analytics and visualisation
*** For immediate use October 22, 2015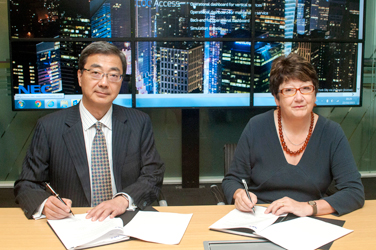 (Left) Nobuhiko Nakatsu, Chief Operating Officer, NEC Europe
(Right) Councillor Denise Hyland, Leader of the Royal Borough of Greenwich
London, UK & Tokyo, Japan, 22nd October 2015 - NEC Corporation (NEC; TSE: 6701) announced today that NEC Europe, its wholly owned subsidiary, has signed a Memorandum of Understanding (MoU) with the Royal Borough of Greenwich in London to collaborate on the use of big data analytics and visualisation to improve public and commercial services for local residents, as part of the newly-announced Greenwich Smart City Strategy.

Digital Greenwich, a wholly owned subsidiary of the Royal Borough of Greenwich, promotes the development of the digital economy in the borough. This includes developing innovative smart city technologies and approaches to support the economic, social and physical regeneration of the borough - making it a better place for people to live, visit and work in.

"Working with NEC will enable us to improve a wide range of services, including transport, social care, housing, waste management, smart grid and many others," said Councillor Denise Hyland, leader of the Royal Borough of Greenwich. "NEC's expertise in analysing data gathered in the borough, and the insights this will generate, will be a vital part of our smart city strategy."

Smart city innovation will aim to help the borough to address the challenges of increasing population and visitors, and higher demands for services, while balancing these requirements with financial and resource constraints.

For example, traffic congestion leads to high levels of pollution and greenhouse gas emissions. Using data analytics and visualisation can improve journey planning and alternatives to car use, and thus reduce these problems, improving air quality for local residents and travellers.

A smart city solutions platform will also make the data open and available to local entrepreneurs and app developers, enabling them to create new services which are designed first and foremost with the needs of people of Greenwich in mind. This will spur the development of new skills and the growth of new digital businesses in the borough.

The scope of this MoU includes the implementation of the Cloud City Operations Centre, NEC's cloud-based smart city management platform, in the Royal Borough of Greenwich. This will enable Digital Greenwich to visualise and analyse real-time and historical data from the Internet of Things (IoT) sensors across the city for monitoring Key Performance Indicators (KPIs) relating to a wide range of public services.

"Greenwich has a comprehensive and ambitious smart city strategy," said Dejan Bojic, Director of Smart City Solutions Programme at NEC Europe. "NEC's capabilities in big data, analytics and IoT mean we can help the borough to improve the quality of life for its residents and visitors, while also increasing the efficiency of service provision."

The Royal Borough of Greenwich is a local government area in London, and is home to more than a quarter of a million people - with the population estimated to rise by 34% between 2010 and 2028. It is a popular visitor destination, and is the site of the O2 Arena, one of the busiest entertainment venues in the world.
***
About NEC Corporation
NEC Corporation is a leader in the integration of IT and network technologies that benefit businesses and people around the world. By providing a combination of products and solutions that cross utilize the company's experience and global resources, NEC's advanced technologies meet the complex and ever-changing needs of its customers. NEC brings more than 100 years of expertise in technological innovation to empower people, businesses and society. For more information, visit NEC at http://www.nec.com.

Based on its Mid-term Management Plan 2015, the NEC Group globally provides "Solutions for Society" that promote the safety, security, efficiency and equality of society. Under the company's corporate message of "Orchestrating a brighter world," NEC aims to help solve a wide range of challenging issues and to create new social value for the changing world of tomorrow. For more information, please visit
http://www.nec.com/en/global/about/solutionsforsociety/message.html.

NEC is a registered trademark of NEC Corporation. All Rights Reserved. Other product or service marks mentioned herein are the trademarks of their respective owners. (C)2015 NEC Corporation.