NEC Launches New Fault Tolerant Servers Offering Continuous Availability with Enhanced Support for Virtualization
*** For immediate use October 13, 2015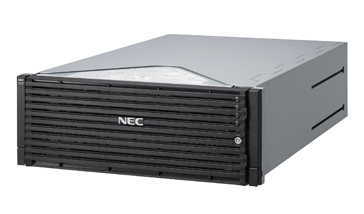 R320e-M4
Tokyo, Japan, 13 October, 2015 - NEC Corporation (NEC; TSE: 6701) announced today the launch of two new "Express5800/ft series" of servers based on the Intel® Xeon® E5-2600 v3 product family; the mid-range "NEC Express5800/R320e-M4," and the "NEC Express5800/R320e-E4" entry model.

The Express5800/ft series consists of Fault Tolerant (FT) servers that incorporate duplex CPU and memory in order to reduce the risk of system stoppage caused by hardware failures.

The new R320e-M4 model is equipped with the 12-core Intel® Xeon® Processor E5-2670 v3 CPU, and has achieved a processing performance 20% higher than the existing model (*). In addition, its improved communication performance with external storage systems and enhanced memory capacity enable an increase in the number of virtual servers that can be run on a single server by 1.2 times, thus reducing installation space and operating costs.

The optimized cooling design of the new models now supports operation in an environment of 40 degrees Celsius (104 degrees Fahrenheit), five degrees higher than the existing models. This enables data centers to operate at a higher temperature, thereby reducing operating costs for air conditioning and contributing to energy savings.

The R320e models are newly equipped with USB3.0 ports to support the Removable Disk Exchange system (RDX) for backup. Users may now choose between the RDX media or conventional tape media, according to their needs.

"In enterprise IT, virtualization has become a mainstream method for reducing installation space and operation costs. In this sense, it is necessary to further improve the support for virtualization in the fault tolerant server field," said Shigeru Matsuura, Deputy General Manager, Global Platform Division, NEC Corporation. "With a 20% higher processing performance than conventional models, the latest NEC fault tolerant servers enable greater use of virtual servers and accommodate user needs for system virtualization."

Availability
NEC's new Fault Tolerant servers will be available on October 23, 2015 in Asian markets and progressively distributed worldwide. Shipping dates differ according to model and country.
***
About NEC Corporation
NEC Corporation is a leader in the integration of IT and network technologies that benefit businesses and people around the world. By providing a combination of products and solutions that cross utilize the company's experience and global resources, NEC's advanced technologies meet the complex and ever-changing needs of its customers. NEC brings more than 100 years of expertise in technological innovation to empower people, businesses and society. For more information, visit NEC at http://www.nec.com.

Based on its Mid-term Management Plan 2015, the NEC Group globally provides "Solutions for Society" that promote the safety, security, efficiency and equality of society. Under the company's corporate message of "Orchestrating a brighter world," NEC aims to help solve a wide range of challenging issues and to create new social value for the changing world of tomorrow. For more information, please visit
http://www.nec.com/en/global/about/solutionsforsociety/message.html.

NEC is a registered trademark of NEC Corporation. All Rights Reserved. Other product or service marks mentioned herein are the trademarks of their respective owners. © NEC Corporation.