NEC contributes to NTT DOCOMO's LTE-Advanced Service at the Top of Mt. Fuji
*** For immediate use August 19, 2015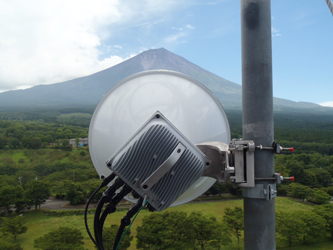 iPASOLINK EX
Tokyo, Japan, August 19, 2015 - NEC Corporation (NEC; TSE: 6701) has delivered its iPASOLINK EX ultra-compact microwave communications system to support NTT DOCOMO's launch of the "PREMIUM 4G™" LTE-Advanced service at the top of Mt. Fuji, Japan's tallest mountain.

iPASOLINK EX is a wireless transmission unit supporting the E-band spectrum covering 70-80GHz frequencies. As it supports ultra-multilevel modulation (256QAM) technology, high capacity transmission of up to 3.2Gbps, on a par with fiber optic cable, is possible. Moreover, as the units are compact, lightweight and take up only limited space, they can be installed at various outdoor locations without large scale installation works. Since it is difficult to run fiber optic cables to mountainous areas such as the top of Mt. Fuji, iPASOLINK EX units have been introduced as a wireless transmission network connecting base station equipment installed at the tops and bases of mountains.

Yuzo Kurokami, deputy general manager, Mobile Wireless Solutions Division, NEC Corporation said: "During the summer season, Mt. Fuji is a popular destination for many tourists from Japan and abroad, and mobile data traffic at the top of the mountain is sharply increased mainly due to climbers' use of social media. We are delighted to have been chosen to help NTT DOCOMO offer the PREMIUM 4G™ service in order to provide the climbers with an enhanced quality of experience."

Moreover, NEC has already delivered LTE-Advanced compatible high capacity base station equipment for NTT DOCOMO's "PREMIUM 4G™" service which started from March 2015. Looking ahead, NEC will continue to bolster its partnership with NTT DOCOMO and contribute to the upgrading and expansion of its service.

Since its release, NEC's PASOLINK series has established a delivery track record of more than 2.5 million units (*) in 153 countries around the world. In addition to wireless transmission networks for mobile operators, the PASOLINK series has been adopted for a wide range of applications including networks for public safety and broadcasting.
***
About NEC Corporation
NEC Corporation is a leader in the integration of IT and network technologies that benefit businesses and people around the world. By providing a combination of products and solutions that cross utilize the company's experience and global resources, NEC's advanced technologies meet the complex and ever-changing needs of its customers. NEC brings more than 100 years of expertise in technological innovation to empower people, businesses and society. For more information, visit NEC at http://www.nec.com.

Based on its Mid-term Management Plan 2015, the NEC Group globally provides "Solutions for Society" that promote the safety, security, efficiency and equality of society. Under the company's corporate message of "Orchestrating a brighter world," NEC aims to help solve a wide range of challenging issues and to create new social value for the changing world of tomorrow. For more information, please visit
http://www.nec.com/en/global/about/solutionsforsociety/message.html.


NEC is a registered trademark of NEC Corporation. All Rights Reserved. Other product or service marks mentioned herein are the trademarks of their respective owners. (C)2015 NEC Corporation.