Message for students 2019: Salita Sombatsiri
Bringing socially beneficial technology to the world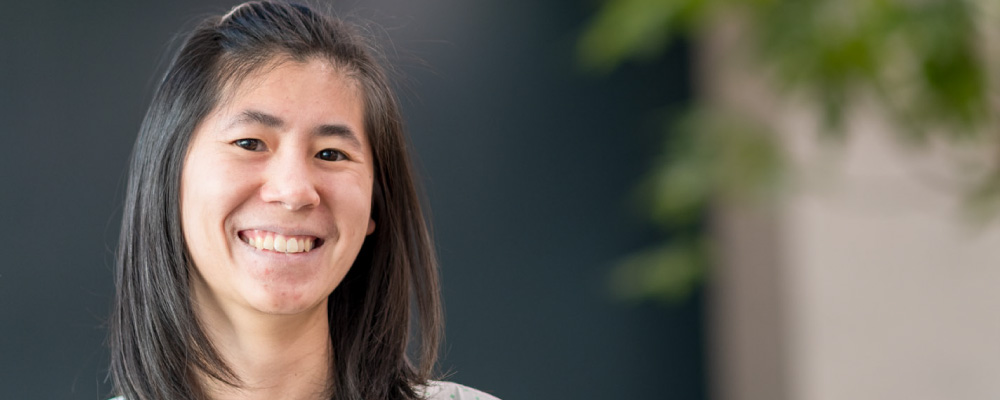 Data Science Research Laboratories
Salita Sombatsiri
Salita Sombatsiri was born in Thailand. After earning a master's degree from a Japanese university and starting toward a doctoral degree, she entered NEC in 2016. She is currently engaged in the research of hardware used in NEC neural networks, while also working to complete her doctoral degree.
Aiming for technology that can contribute to society through accelerated processing
I am now working on the research and development of hardware at the Data Science Research Laboratories. Specifically, my main research theme is acceleration technology for convolutional neural networks (CNN). Although CNN is used in applications such as image recognition, the current technology is facing the issue of insufficient processing speed. At present, one of the major aims is to achieve acceleration that can reduce this processing time and enable immediate processing. Thanks to the support of everyone involved, we presented our paper on this CNN, entitled "Parallelism-Flexible Convolution Core for Sparse Convolutional Networks", at the 2018 Workshop on Synthesis and System Integration of Mixed Information Technologies (SASIMI) international conference, where it won the Outstanding Paper Award. We have taken one technological step forward, but in the future, I hope that we can continue to make progress in our research toward achieving further acceleration and practical applications.
I became interested in NEC when my academic supervisor at graduate school introduced me to the company. Though I was studying abroad at a university in Japan, I gradually felt the need to begin thinking about finding a place of employment as I entered my third year of my doctoral degree program. At the time, my professor told me about a company called NEC, which was searching for researchers. Actually, my professor was interacting with people from NEC through his work, so he told me about it. As a company, NEC has a deep relationship with academia.
I was only aware of NEC as a company that made electronic devices such as computers then (laughter), but as I learned more, I found that it was involved in the development of many social solutions all around the world. Since I had the desire to perform research that would benefit society, I thought it would be a good match, so I applied. That is how I ended up at NEC.
Research environment that offers support for doctoral studies
When I entered NEC, I stopped my doctoral studies before completion. However, everyone in the company was concerned about this, and they encouraged me to follow through and finish the degree. So now, to complete my doctoral degree, I am currently attending university while working at the company. I am enrolled at Osaka University, so I go to the Kansai area about once every two months, and I am doing the research and exams required until graduation. I am extremely grateful to my superiors and the company for providing this support.
My superiors and senior colleagues are really kind, and many of them are excellent researchers, which stimulates me to further efforts. In particular, I am impressed with the fact that everyone has broad knowledge not just in their own research areas, but in other fields related to their research. At university, it was good to simply focus on your own research, but when you seek to apply the research technology to actual solutions, it is essential to have broad knowledge. Everyone around me has knowledge in a wide range of fields, and I definitely think that they all have great imagination and vision. In order to create technology and solutions that can contribute to society, it is not enough to have knowledge just in your own specialized area. I believe it is essential to conduct a wide assessment of needs, such as what is actually required in society, or what can make cities more livable. I, too, would like to broaden my perspective and pursue research into technology that can contribute to society.
Extensive system of support for researchers from overseas
NEC employs researchers from overseas, like me. I went to university in Japan, so the Japanese language was not a disability for me. But even for people who cannot speak Japanese, there is no trouble with communication, because the Japanese researchers can speak English. I usually switch between English and Japanese as appropriate when communicating with people in the company. In addition, at NEC, there is extensive support for researchers who enter the company from overseas. For example, there is a system of providing Japanese language classes for those who want them. The instructors provide private Japanese lessons, which helps to eliminate any anxiety about living in Japan.
I also had a preconception that employees at Japanese companies were required to work until late at night (laughter), but at NEC, there is no need to worry about that. There is great respect for work-life balance, and no pressure to work overtime.
I feel extremely fortunate about entering NEC. I am blessed to have excellent superiors, senior colleagues, and co-workers, and am able to lead an extremely good life as a researcher. Moving forward, I would like to consider how to develop technology that can be directed back toward society. I hope to output results as actual applications, and continue research into technology that can help the world. I would also be happy to be able to develop global solutions that can also benefit my birthplace of Thailand.